Media Centre
The Mills Fabrica Announces Partnership with H&M Foundation Global Change Award
10 April 2019 – The Mills Fabrica is excited to announce a new partnership with H&M Foundation Global Change Award (GCA), the leading innovation challenge initiated to accelerate the shift from a linear to circular fashion industry to protect the planet.
Sharing the same vision, The Mills Fabrica and H&M Foundation Global Change Award aim to reinvent the fashion and textile industry through supporting the entrepreneurs who are developing innovations for a more sustainable world. The partnership is primarily dedicated to GCA startups who are embarking on their exploration of Asia as a market for manufacturing or retail.
As a key industry hub, Hong Kong is one of the three chosen destinations for the one-year long GCA 'Innovation Accelerator Program' (alongside Stockholm and New York), as part of the grand prize for their annual challenge that is awarded to the five winners. Here, they receive exclusive industry insight, networking opportunities and knowledge about circularity in the fashion value chain. This makes The Mills in Hong Kong the ideal location to extend the support for and development of the GCA startups after they complete the innovation challenge and act as a platform to nurture and take their business to the next stage.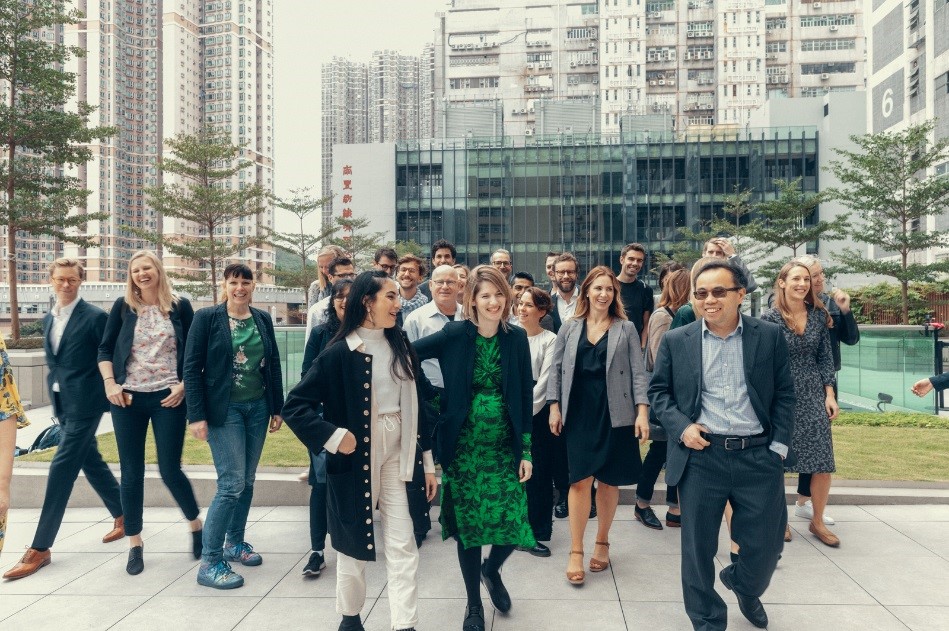 H&M Foundation Global Change Award alumni at The Mills
 "We are very excited about partnering with The Mills Fabrica to provide the Global Change Award winners continued insights, growth and impact beyond the GCA Accelerator. A foothold in Hong Kong and Asia combined with the network, access and support from The Mills Fabrica unlocks a critical springboard for these changemakers to truly reinvent fashion."
– Erik Bang, Innovation Lead at H&M Foundation
A leading example of a startup revolutionizing the techstyle industry whilst making a positive impact on the world is Unspun – who are building customized jeans with the smallest impact and the largest life span through innovative technology and sustainable sourcing. In 2017, Unspun was awarded the GCA Early Bird Prize and has since joined Fabrica's Incubation Program and become one of its investment portfolio startups. With both H&M Foundation Global Change Award and Fabrica's support, Unspun have gone on to share their story at international events, held countless pop-ups, received press coverage from global media; all the while further developing their revolutionary 3D weaving machine and sourcing new sustainable fabrics for their on-demand jeans production.
With its coworking space, Fabrica Lab (prototyping lab) and Techstyle X (experiential retail store), Fabrica will support selected GCA alumni with their development in Asia through a flexible, customized incubation and residency program. This will include residency at Fabrica's coworking space in the heart of Tsuen Wan, Hong Kong with access to its state-of-the-art prototyping lab and retail exposure at Techstyle X at The Mills Shopfloor which showcases the latest techstyle innovations. Moreover, through The Mills Fabrica's extensive network, startups will benefit from connections to manufacturers, brands, investors, research centers, academic institutions and be invited to showcase/share their innovations and stories at events and conferences across Asia and worldwide. And where mutually beneficial, have the potential to join Fabrica's Incubation Program at the end of their residency and opportunity to receive investment from Fabrica Fund.
"Through this partnership, we hope to provide H&M Foundation's Global Change Award startups with the necessary tools and equipment, access to key Asian markets and a network of world class manufacturers, brands and retailers to take their business to the next level and further their innovations to create a more sustainable techstyle industry."
– Vanessa Cheung, Managing Director of Nan Fung Development and Founder of The Mills
Having just launched, The Mills Fabrica/H&M Foundation Global Change Award (GCA) Residency Program has officially welcomed its first startup, moral fiber – whose mission is to use science to make plastics climate-positive.
"We look forward to working with The Mills to accelerate the adoption of moral fiber technology and are excited to play a role in advancing breakthrough circular materials solutions for the fashion industry."
– Akshay Sethi, Co-Founder of moral fiber

How moral fiber works
The goal of this collaboration is not only limited to improving sustainability within the fashion industry across borders, but in the hope that it will inspire and spark ideas among innovators who collectively can initiate change to safeguard the planet.