Blog
The First-Ever Green Is The New Black Virtual Conscious Festival
Green Is The New Black: Creating a Conscious World
The planet's average surface temperature has risen 0.9 degrees Celsius since the late 19th century (NOAA – National Ocean and Atmospheric Administration), global sea levels have increased by 8 inches since 1880 and is accelerating every year (National Geographic), causing ice caps to melt and more weather-related disasters. Rising carbon emissions, deforestation and overconsumption have all had a catastrophic effect on mother nature. The hard facts are there – so what can we do to change this dangerous path that humanity continues to walk down?
Championing conscious living since 2015, Green Is The New Black (GITNB) empowers individuals like you and me to take positive action and leave the world a better place than how we found it. Through their annual Conscious Festival and platform promoting sustainable brands and offering engaging content to an annual global reach of over 2 million across all channels, GITNB educates people on the importance of living consciously and how to take action. With their #LittleGreenSteps mantra, GITNB works with brands and corporates to help them implement real change within their businesses and minimise their carbon footprint on this planet, from strategizing a brand's sustainability initiatives to communicating their brand authentically to audiences.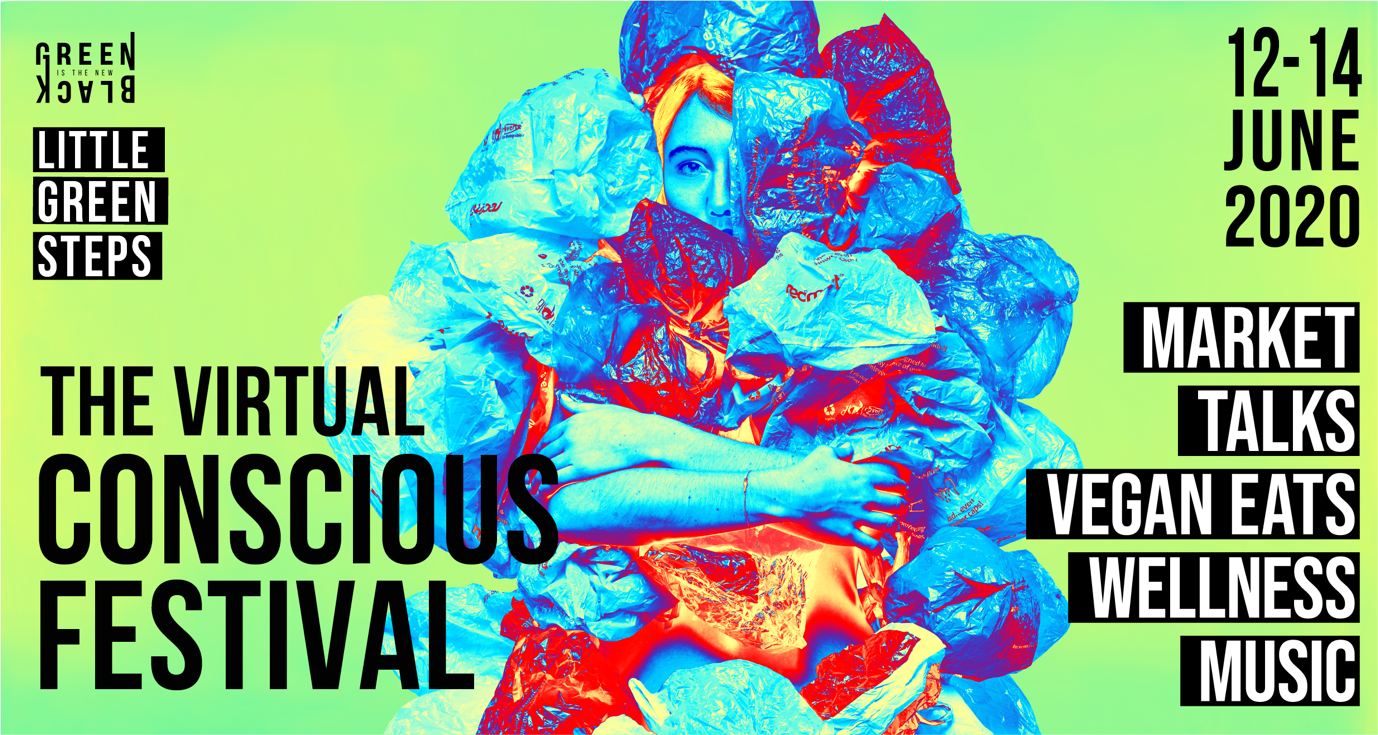 The Conscious Festival Goes Virtual
As society adapts to the new normal of online events, for the first-time ever, Green Is The New Black held their Conscious Festival virtually. Attracting over 1300 attendees, the three-day immersive virtual event drew in audiences from around the globe, all united by one mission: embracing a more sustainable lifestyle by reconnecting with themselves, others, and the planet.
With an agenda packed full of inspiring talks (categorised into 4 streams: business, wellbeing, planet and fashion), mindful workshops, conscious marketplace of brands and live entertainment, visitors were able to dive into a virtual GITNB world. As far as online events go, Green Is The New Black Virtual Conscious Festival had it all.
Festival Highlights
'We Don't Have Time,' was the powerful opening keynote by Ingmar Rentzhog, Founder and CEO of the world's largest social network for climate action that goes by the same name (We Don't Have Time). Delivering his speech from Stockholm, his message was loud and clear, "we don't have time to wait for climate action." This set the tone for the rest of the Festival, aimed to inspire attendees to live more consciously and take the necessary steps now, for a better future for our planet.
In addition to the ongoing climate crisis, 2020 has seen the world experience the worst global health crisis of our generation and in the spotlight more recently and rightly so, the social injustice pandemic. These issues were addressed during the talks and the tough conversations were had. Live from New York, on the topic 'Racism & Environment – This is Everyone's Fight,' Keshia Hannam, Speaker, Writer & Activist said, "if we are privileged enough to care about maintaining a liveable planet, then we must be actively anti-racist." She goes on to say that the "racial inequality crisis is intimately entwined with the climate crisis" – our efforts must be devoted to fighting both of them.
As a proud supporting partner, Fabrica held a panel discussion on the 'Future of Fashion', moderated by our co-director Alexander Chan who was joined by: Christine Goulay, Head of Sustainable Innovation – Kering, Sophia Scott, co-founder and co-director – GROUNDTRUTH, Geraldine Wharry, Founder and Managing Director – Trend Atelier and Tamsin Lejeune – Common Objective. A startling fact was revealed by Geraldine Wharry, "we have enough clothing for 6 more generations." This highlights the sheer scale of overproduction and overconsumption within fashion. Adopting innovative materials, digitalisation, and online resources/platforms such as Common Objective and SupplyCompass (which enable brands and manufacturers to produce better and more sustainably) create opportunities for the fashion industry to reduce its negative environmental impact.
Effective storytelling from both brands and manufacturers, transparency, and educating the consumer on where their product comes from are also ways in which we can help reduce the devastating impacts that the industry is having on the world. Dialogue needs to happen and collaboration – a word that was spoken frequently throughout the event – is essential if we want to effect change on an international scale.
One of our portfolio companies, ADAY, featured on a panel 'Planet-Centric Design' who shared with the audience about their "long-lasting, versatile, seasonless staples," designed with the consumer and planet in mind. Millie Maidens, ADAY's Design Lead, spoke about how before every product line is launched, they ask their strong 6000+ customer-base for feedback on their past products, what they want to see next and what essential items can be integrated into their existing wardrobes, therefore creating a necessary piece of garment instead of a throwaway.
The Interactive Expo and Workshops
At the Expo, sustainable lifestyle brands including fashion, beauty and food showcased their product/technology to the audience who had the chance to explore, engage and ask questions to the company representatives. A major advantage of the Festival going virtual, was that attendees came from all around the world: Asia, Europe, the US and more. The online marketplace featured a few of our incubatees/portfolio companies including Unspun – perfect-fitting, tailor-made jeans using their digital fit platform, zero-inventory and low waste process, Lumos – smart helmets with integrated LED lighting, turn signals, and smart features to keep cyclists safe and Xtra Brands – sustainable lifestyle brand creating high quality backpacks and accessories. While the diverse workshops included everything from meditation to dance and live music.
What Next? #LITTLEGREENSTEPS Pledge
More often than not, events are seen as a one-off occasion with no real lasting impact. Green Is The New Black is defying this with  #LittleGreenSteps, encouraging individuals, brands and corporates to make their pledge and 'take action now' to start their journey on helping to save people and the planet. By visiting their website www.greenisthenewblack.com/take-action/, you can select from a variety of actions and useful guides to achieve this. The first category is 'carbon neutral' – track, reduce and offset your personal carbon footprint by thinking twice about the products you buy, the flights you take, taking public transport over a taxi, switching your electricity to a green provider or adopting a plant-based diet. The second is 'zero waste' – the three R's, Reduce, Reuse, Recycle – reducing consumption of unnecessary luxuries, saying no to single-use items and recycling products where possible. Other categories in the pipeline are 'Eat', 'Fashion,' 'Travel' and more.
By collectively taking #LittleGreenSteps now, the hope is to save the planet for many generations to come.