Blog
Combating COVID-19 Series: Managing Supply Chain in Challenging Times – Fireside chat with Edwin Keh, CEO of HKRITA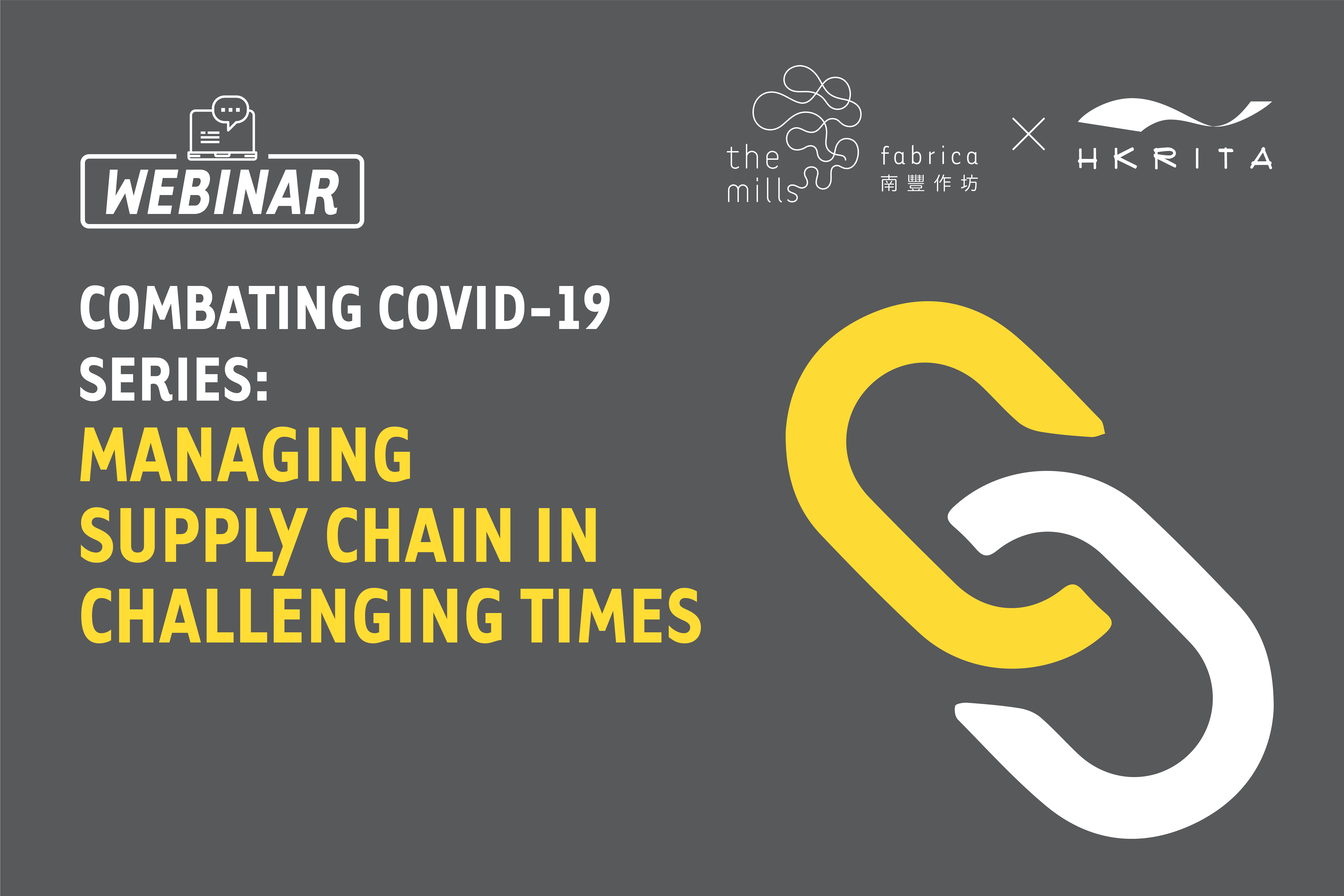 The COVID-19 outbreak has devastated different geographies around the world. The lockdown of economies is causing unprecedented change to global supply chains that can be seen as two-fold; earlier this year, the pandemic forced Asia to be the first region to enter isolation and hence freezing production, leading to delays of shipments to Europe and the United States, impacting inventory management. However, while Asia consumption and its workforce market gradually resumes, European and American markets are almost in complete shutdown. The sharp decline in consumer demand is creating a huge mismatch between production and sales, disrupting the whole supply chain operation.
In the "Managing Supply Chain in Challenging Times" webinar hosted on April 8th 2020, Edwin Keh from The Hong Kong Research Institute of Textiles and Apparel Limited (HKRITA) shared his thoughts on how businesses need to act with speed and agility, work together as an ecosystem, and be relevant today in order to survive.
Up until now, how has COVID-19 impacted the global supply chain?
Outbreak of the virus first emerged in Wuhan, the capital city of Hubei province in China, which then rapidly escalated to a nationwide concern. The Chinese government enforced containment measures to slow down the spread which led the economy into a near complete shutdown. With workers being unable to get back to the factories, production was halted, and the supply of materials was severely disrupted.
While China gradually came out of the lockdown, the rest of the world entered and is continuing to go through a period of uncertainty. The daily increasing number of confirmed cases, especially in the western parts of the world, has forced governments to close borders and limit movement and hence disrupting the logistics and transportation sectors.
Given COVID-19 is highly transmissive through close contact, all regions began to implement social distancing measures. With people staying at home and retail shops shutting down, consumption patterns are changing as a result of demand disruptions. Demand in commodities are rising where consumption in the consumer discretionary sector including retail, restaurants and apparel is significantly decreasing. To fulfil the sudden demand surge in basic resources and healthcare supplies, e-commerce operators like Walmart and Amazon have been hiring and stocking up swiftly. However, most businesses are not prepared to manage their operations in the lockdown. The decline in economic activity has led many companies into financial difficulty with cash reserve running low. While businesses struggle to strive through the current times, we are seeing an unprecedented rise in unemployment with record breaking figures in the traditional consumption economy.
How should we operate in the middle of the pandemic?
1. Relevant data – "Gather data: get the facts right"
Edwin believes that The Stockdale Paradox is the most relevant and vital piece of advice to business survival in the current situation. He quoted the notion made famous by Jim Collins in his classical book "Good to Great": "Confront the most brutal facts of your current reality, whatever they may be; Retain faith that you will prevail in the end, regardless of the difficulties". Through confronting the facts of COVID-19's impact and staying faithful that this pandemic will eventually come to an end, we can overcome this immense crisis together.
This pandemic reveals the vulnerability in the current supply chain system, mainly driven by the lack of transparency centered in tier 2 & 3 of the value chain including suppliers of zippers, buttons, threads, etc. To map out the action plan, it is important to first gather relevant data and understand the complex architecture of the supply chain. Some key data points include suppliers' inventory position, geographical allocation of production, and the rapidly changing cross border logistic restrictions.
As Edwin said, "our attention span is short, and we do not learn from experience". This pandemic gives us an opportunity to map things out and better understand the supply chain landscape and help leaders to assess their survival plan.
2. Survival of the ecosystem
"Make an assessment of what is going on: think of the supply chain as an ecosystem"
The COVID-19 challenge in front of us is "novel", not resembling anything formerly known. With no precedence, we must operate without a playbook. Some companies have fallen back on a predefined emergency plan and responded in a knee-jerk manner. Yet it can be a tragic mistake adopting an intrinsic motivated approach, cancelling orders and leaving manufacturers high and dry.
Supply chain cannot exist in isolation.
Despite the massive disruption, the infrastructure is still intact. However, if there were to be a delink, the system would collapse, and it would take us a long time to rebuild. Facing this global scale crisis, we can survive only if we act as a holistic ecosystem. Edwin pointed out that it is about the survival of the whole ecosystem and not survival of the fittest. All stakeholders should collaboratively map out their dependencies to provide support for each other.
It is also a time for companies and leaders to reinforce their values through their reaction to the crisis. Brands responding positively such as safeguarding employees, committing to pay their suppliers for orders and shipments, could help create goodwill on the brands' image and uphold their core values. Good acts are remembered much longer and are more valuable than the money saved on cancelling orders.
3. Speed and agility
"Act quickly and decisively: make the tough calls"
Speed & agility is paramount as leaders make critical decisions to respond as "the faster we act, the less it costs and the more options we have". Leaders should take decisive actions with a great sense of urgency and change course rapidly based on new data collected.
Our responses need to be disproportionate.
Subject to the magnitude of resources, different parts of the supply chain should pay a different price disproportionately. CEOs cutting their million dollars salaries might help sustain the ecosystem as opposed to reducing factory workers whose day-to-day lives were dependent on their daily wages. Suppliers at the bottom of the pyramid are more vulnerable and hence should receive more help from the resource-rich stakeholders in the ecosystem. Only this way can the whole supply chain strive through the storms together.
This crisis exposes our value system and character. Although it can be a great temptation to make short term decisions, Edwin reinforced that leaders should make a long-term survival plan.
Now is the time for companies to demonstrate the core principles that they believe in. This is an unprecedented opportunity to deal with issues in the supply chain, make it stronger and healthier, and rethink how we create value with new types of services and products.
What can we learn from this experience?
The COVID-19 crisis is creating not only a large magnitude of disruption but also an immense opportunity for businesses to rethink their business models, repurpose and rebuild with more relevancy in the post-pandemic market.
Re-invention for the future is key to surviving in the post-crisis market.
Edwin shared how businesses can find inspiration from The Mills project where the 60-year-old Nan Fung Textiles Mills has been transformed into a business that is relevant today. The existing infrastructure has been revitalized into an experiential retail space and startup incubation platform, creating new values and functionalities for the market. Applying this to the current context, brands should rethink their business models, react to reflect their core values and be relevant for consumers today and in the future. For instance, the HKRITA-managed Garment-to-Garment Recycle System at The Mills Shopfloor is introducing 3D body scanners and new services to respond to the changing environment. Dyson pivoted promptly to design to produce ventilators in 10 days to alleviate the global shortage in the essential medical device and help cope with the huge demand during COVID-19. New Balance redeployed some factories to develop, manufacture and deliver face masks to the hospital communities.
Brands' reactions reinforce their value systems. Doing business in a way that improves the economy and society when in need, is what will influence consumers' perception of the brand and their next purchase decisions.
Final message
Following the short-term survival plan, brands and manufacturers should reimagine the new demand to plan for business continuity in the longer term. In the post-epidemic era, all stakeholders will be challenged by the reshaped global economies and consumption patterns. Emerging from the crisis, consumers preferences will be skewed towards product functionality to maintain health and well-being. How the crisis continues to evolve remains to be seen. Nonetheless, upon surviving the current state, the next phase will be focused on how businesses adapt to reach the "new normal" and capture the new market.
Disclaimer
This webinar conducted in zoom and the information, statements, analysis, views, opinions and conclusions contained in this Webinar PowerPoint deck and any related materials have been prepared, compiled or provided by "The Mills Fabrica" (which expression covers those corporate entities include The Mills Limited, Fabrica Incubator Limited, The Mills (BVI) Limited and their subsidiaries, affiliates or partners) as a service to its members/site visitors/readers. They are not intended to constitute advice of any kind or the rendering of legal, consulting or other professional services.
All content found on this Webinar PowerPoint deck and related materials including figures, tables, charts, texts, images, audio, recording or other formats were created for information purposes only. They are meant to provide insights, and are general in nature, and the opinions or recommendations expressed in the Webinar PowerPoint deck are those of the authors only and may not necessarily represent the views of The Mills Fabrica.
All rights reserved. No part of any statement made in the course of this Webinar presentation PowerPoint deck may be used, reproduced, distributed or transmitted in any form or by any means, including photocopying, recording or other electronic or mechanical methods without the prior written consent of The Mills Fabrica.
Although The Mills Fabrica believes that all these information, both written and oral, given in the course of or in connections with the Webinar presentation PopwerPoint deck are correct and up to date, no warranty or representation or accuracy or suitability or reliability as to such presentation is given and no responsibility or liability is accepted by The Mills Fabrica or by any of its agents, directors, employees or by any person giving presentations or providing materials in respect of any loss, claims, costs or expenses, including indirect or consequential damages or lost profit, arising in any way from or in connection with errors or omissions in any information provided. The Mills Fabrica reserves the right to amend the information and the presentation at any time without notice.
The Webinar PowerPoint deck may include links to other resources and websites. These links are provided for convenience only and The Mills Fabrica does not endorse, approve or make any representation or claim regarding their accuracy, copyright, compliance or legality. Nor does it warrant the performance, effectiveness or applicability of any listed sites or links in the Webinar PowerPoint deck.
By acceding to this service or accessing this zoom webinar, you acknowledge and agree that The Mills Fabrica disclaims any and all liability to you or any person for any direct, indirect, implied, punitive, special, incidental or other consequential damages arising directly or indirectly from any access to or participation in or use of the information contained in the Webinar PowerPoint deck.
Registration for a Webinar only constitutes an agreement to attend or participate, but not a contract for consultancy or advice. Registration does not establish any contractual relationship with The Mills Fabrica.