Media Centre
Synthetic Biology Opportunities in Fashion and Food – Report
The Mills Fabrica releases "Synthetic Biology Opportunities in Fashion and Food"  
The report explores the synthetic biology sector, discussing how the technology is incorporated into the fashion and food sectors to solve global sustainability issues 
14 Jul. 2021 – The Mills Fabrica is thrilled to launch a new report – "Synthetic Biology Opportunities in Fashion and Food". Synthetic biology, short for synbio, a new discipline within modern biotechnology that aims to precisely design and redesign new and existing biological systems. This enables the creation of new products with specific, customized functions, offering promising solutions to various industry challenges, including developing bio-based dyes to minimize the use of toxic chemical dyes, creating alternative proteins to reduce the reliance on livestock farming, and more. 
The synbio sector is expected to have high growth potential, projecting to grow at 24% CAGR to 2025.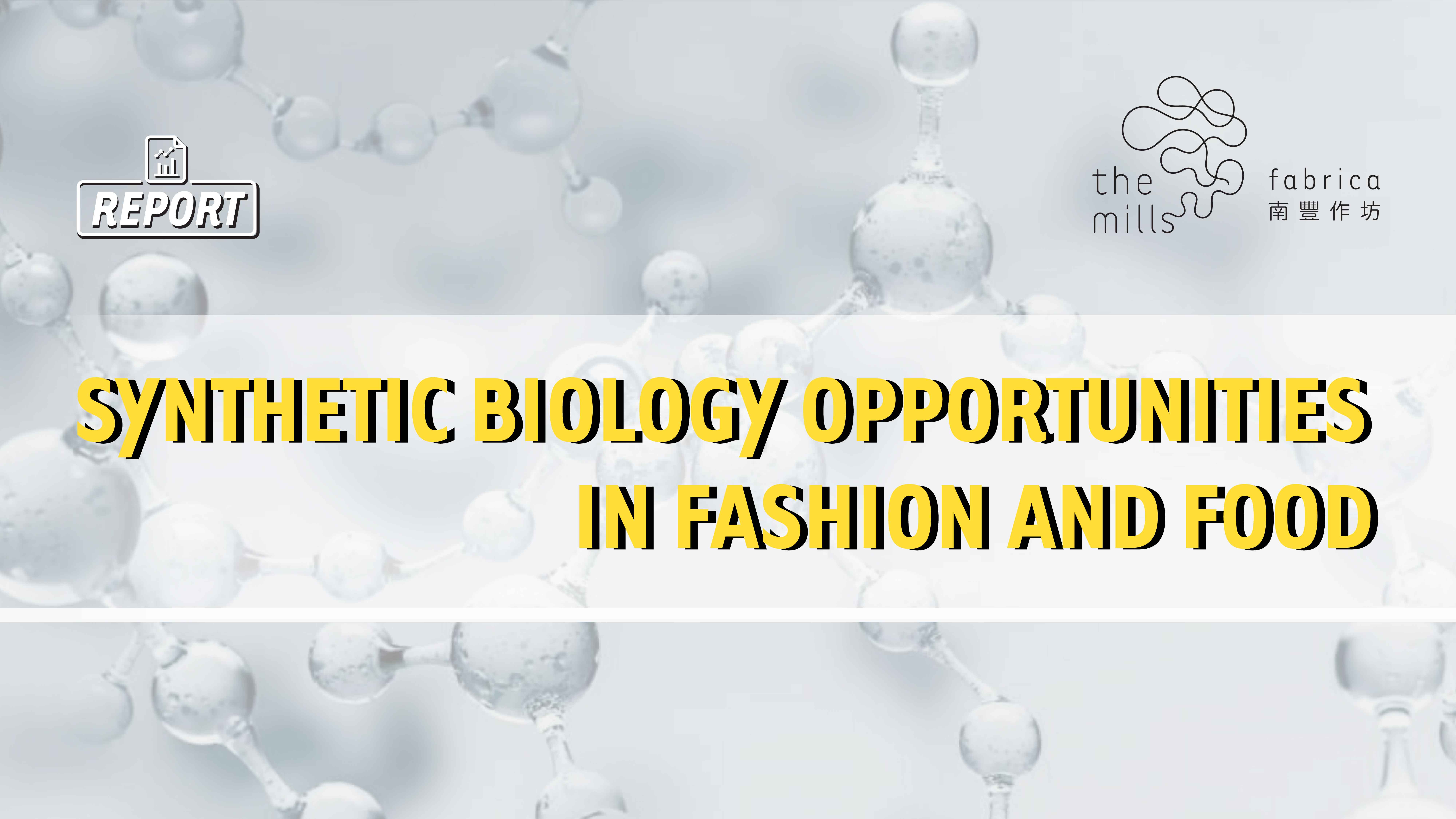 This report serves as a starting guide for industry players and investors interested in getting involved in the synbio space, offering key insights in three focus areas: 
The emergence of synbio 

– explaining how synbio works, identifying key drivers that contribute to the recent synbio boom 

Innovation trends in fashion and food 

– explores innovation trends within the fashion and food industries, discussing how industry issues are addressed in the following categories:

 
Fashion – new materials, textile processing

Food – agriculture, food additives & ingredients, alternative proteins 

 
Building impactful collaborations 

– illustrates the key steps involved when forming corporate-startup collaborations, highlighting the synergies and values brought about via corporate-startup collaborations
If you're interested to learn more, click the button below to download the full report.  
For media enquires, please contact:  
Jenna Chow 
Research, The Mills Fabrica 
jenna.chow@themillsfabrica.com 
About The Mills Fabrica 
The Mills Fabrica is an open platform for technology and lifestyle ("Techstyle") innovations in industries like apparel/ textiles and ag/ food. The Mills Fabrica consists of an incubator, VC fund and an innovation space/ lab/ store. Fabrica's mission is to invest in and support companies who will accelerate the transition into a more sustainable future through innovation and to become a "go-to" platform for Techstyle innovation. For additional information, please visit https://www.themillsfabrica.com. 
Disclaimer
This information, statements, analysis, views, opinions and conclusions contained in this PowerPoint deck and any related materials have been prepared, compiled or provided by "The Mills Fabrica" (which expression covers those corporate entities include The Mills Limited, Fabrica Incubator Limited, The Mills (BVI) Limited and their subsidiaries, affiliates or partners) as a service to its members/site visitors/readers. They are not intended to constitute advice of any kind or the rendering of legal, consulting or other professional services.
All content found on this PowerPoint deck and related materials including figures, tables, charts, texts, images, audio, recording or other formats were created for information purposes only. They are meant to provide insights, and are general in nature, and the opinions or recommendations expressed in the Webinar PowerPoint deck are those of the authors only and may not necessarily represent the views of The Mills Fabrica.
All rights reserved. No part of any statement made in the course of this presentation PowerPoint deck may be used, reproduced, distributed or transmitted in any form or by any means, including photocopying, recording or other electronic or mechanical methods without the prior written consent of The Mills Fabrica.
Although The Mills Fabrica believes that all these information, both written and oral, given in the course of or in connections with the PowerPoint deck are correct and up to date, no warranty or representation or accuracy or suitability or reliability as to such presentation is given and no responsibility or liability is accepted by The Mills Fabrica or by any of its agents, directors, employees or by any person giving presentations or providing materials in respect of any loss, claims, costs or expenses, including indirect or consequential damages or lost profit, arising in any way from or in connection with errors or omissions in any information provided. The Mills Fabrica reserves the right to amend the information and the presentation at any time without notice.
The PowerPoint deck may include links to other resources and websites. These links are provided for convenience only and The Mills Fabrica does not endorse, approve or make any representation or claim regarding their accuracy, copyright, compliance or legality. Nor does it warrant the performance, effectiveness or applicability of any listed sites or links in the PowerPoint deck.
By accessing this PowerPoint deck, you acknowledge and agree that The Mills Fabrica disclaims any and all liability to you or any person for any direct, indirect, implied, punitive, special, incidental or other consequential damages arising directly or indirectly from any access to or participation in or use of the information contained herein.