Blog
You Can Measure What You Can Manage – The Higg Index
Introduction
To educate how to measure a company or product's sustainability performance within the apparel, footwear and textile industries in a standardized way, we hosted a workshop of You Can Measure What You Can Manage – The Higg Index, co-organized with the Sustainable Apparel Coalition (SAC) and Clothing Industry Training Authority (CITA) at The Mills Fabrica on 29th September, 2020.
During the workshop, Marianna Tsien, Senior Director, Business Development and Membership, APAC, from the SAC gave us a holistic overview of the Higg Index suite of tools, in order to measure the sustainability performance of every step of a product's life cycle from sourcing to retail and shared the performance with value chain partners.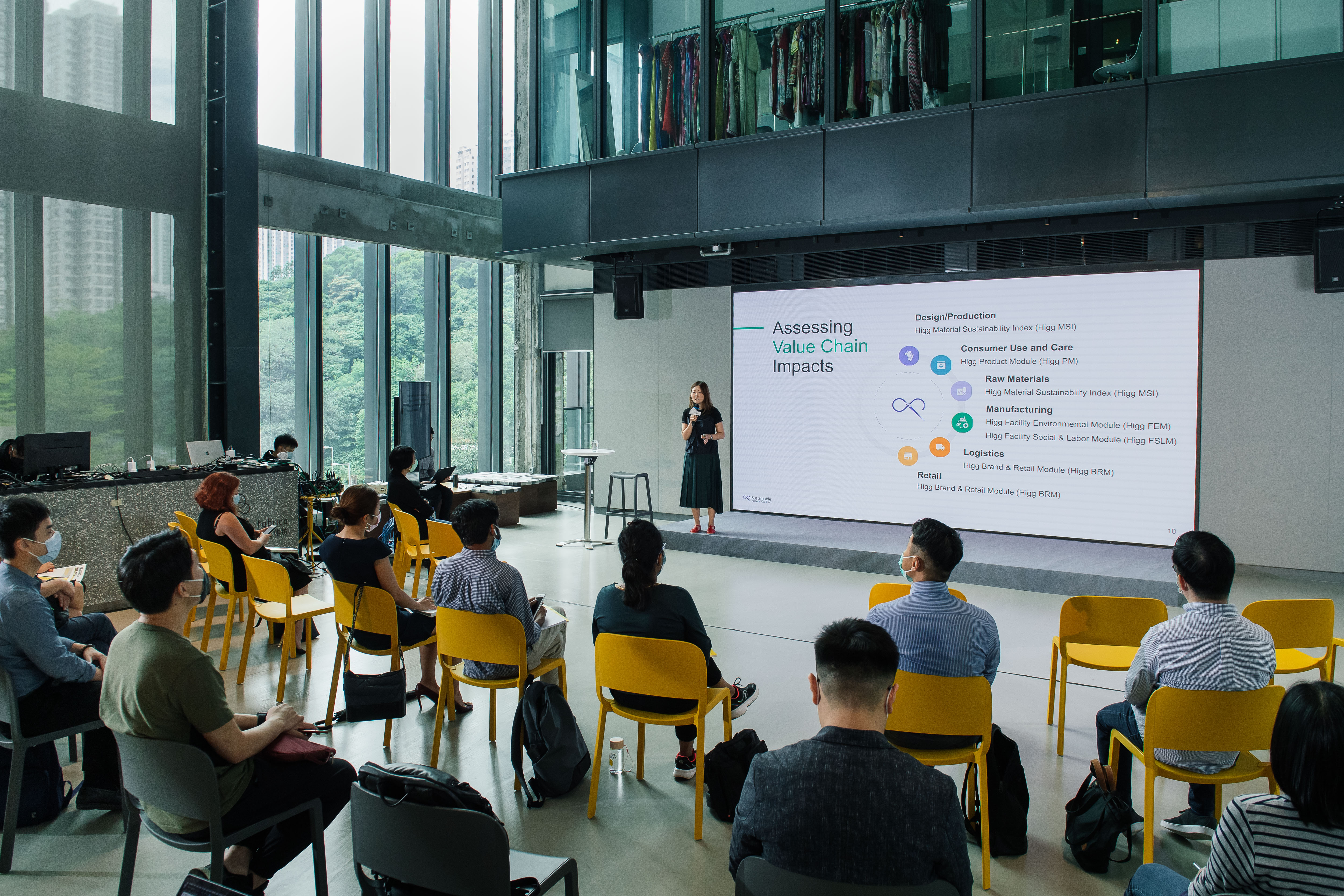 Marianna Tsien from the SAC gave an overview of the Higg Index to onsite and online participants in the Higg Index Workshop.
The Higg Index
The Higg Index consists of three sets of tools that together span across the supply chain, including Higg Facility Tools, Higg Brand & Retail Tools and Higg Product Tools.
1. Higg Facility Tools
The Higg Facility Tools include Higg Facility Environmental Module (Higg FEM) and Higg Facility Social & Labor Module (Higg FSLM). They are an annual self-assessment completed by a manufacturer. Manufacturers can compare their Higg FEM performance with the industry benchmarks after posting their module in the Higg platform.
Higg FEM evaluates the 7 aspects of environmental impact.
Higg FSLM evaluates the 9 aspects of social impacts.
These tools have been widely accepted by international brands and retailers to assess their supply chain's environmental and social impacts.
2. Higg Brand & Retail Tools (Higg BRM)
Brands and Retailers can use the Higg BRM to measure the environmental and social impacts of their operations and make meaningful improvements. Higg BRM assesses a company from a full life-cycle management system perspective, providing scores at key stages from product development to logistics, and end of use.
3. Higg Product Tools
The Higg Product Tools consist of Higg Materials Sustainability Index (Higg MSI) and Higg Product Module (Higg PM).
Higg MSI, measures the impacts of material production from cradle to gate, using LCA approach, empowers designers and sourcing teams to make more sustainable choices during material selection and work with partners and manufacturers to find alternative materials that meet both design and sustainability attributes.
The Higg PM (Part 1) is a newly launched tool since September 2020. The Higg PM measures the environmental impact a product makes throughout its life-cycle. The current tool evaluates the impact of a product from cradle to gate. Higg PM (Part 2) will be launching in the second half of 2021. The Higg PM will be helpful for future product labeling and potential environmental legislation.
Discover more
To learn more about the Higg Index, you are welcome to join the upcoming Future of Design workshop which will be held on 27-29 October, 2020. Register here now!
About the host, Marianna Tsien
Marianna is the Senior Director of Business Development and Membership of APAC, SAC. She focuses on member engagement in strategic development. With the suite of Higg Index tools launched in 2020, the team has been identifying the right tools and resources guiding members to drive adoption of Higg tools and communicate their Higg performance.
About the Sustainable Apparel Coalition (SAC):
The Sustainable Apparel Coalition's vision is of an apparel, footwear, and textile industry that produces no unnecessary environmental harm and has a positive impact on the people and communities associated with its activities. https://apparelcoalition.org/
About Clothing Industry Training Authority (CITA):
The Clothing Industry Training Authority (CITA) was established in September 1975 according to the Industry Training (Clothing Industry) Ordinance to provide training courses for the clothing and textile industry. In the year of 2000, the Authority was successfully accredited with the ISO9001 certification and our quality management system becomes standardized internationally since then. CITA is, in fact, the first Industrial Training organization to obtain such world-class accreditation. With the rapidly changing technology, CITA has been developing new operations coupled with diversified services such as professional consultancy and industry support services. https://www.cita.org.hk/en/