Blog
The Road Ahead – COVID-19 Impact and Innovation Trends in Apparel and Fashion
The Mills Fabrica and Euromonitor International have jointly organized a webinar to discuss the impact of COVID-19 and innovation trends for apparel and fashion. Speaking at the webinar were: Jorge Martin, Global Head of Fashion Research at Euromonitor International, Alexander Chan, Co-Director of The Mills Fabrica and Angus Tsang from the Research team of The Mills Fabrica.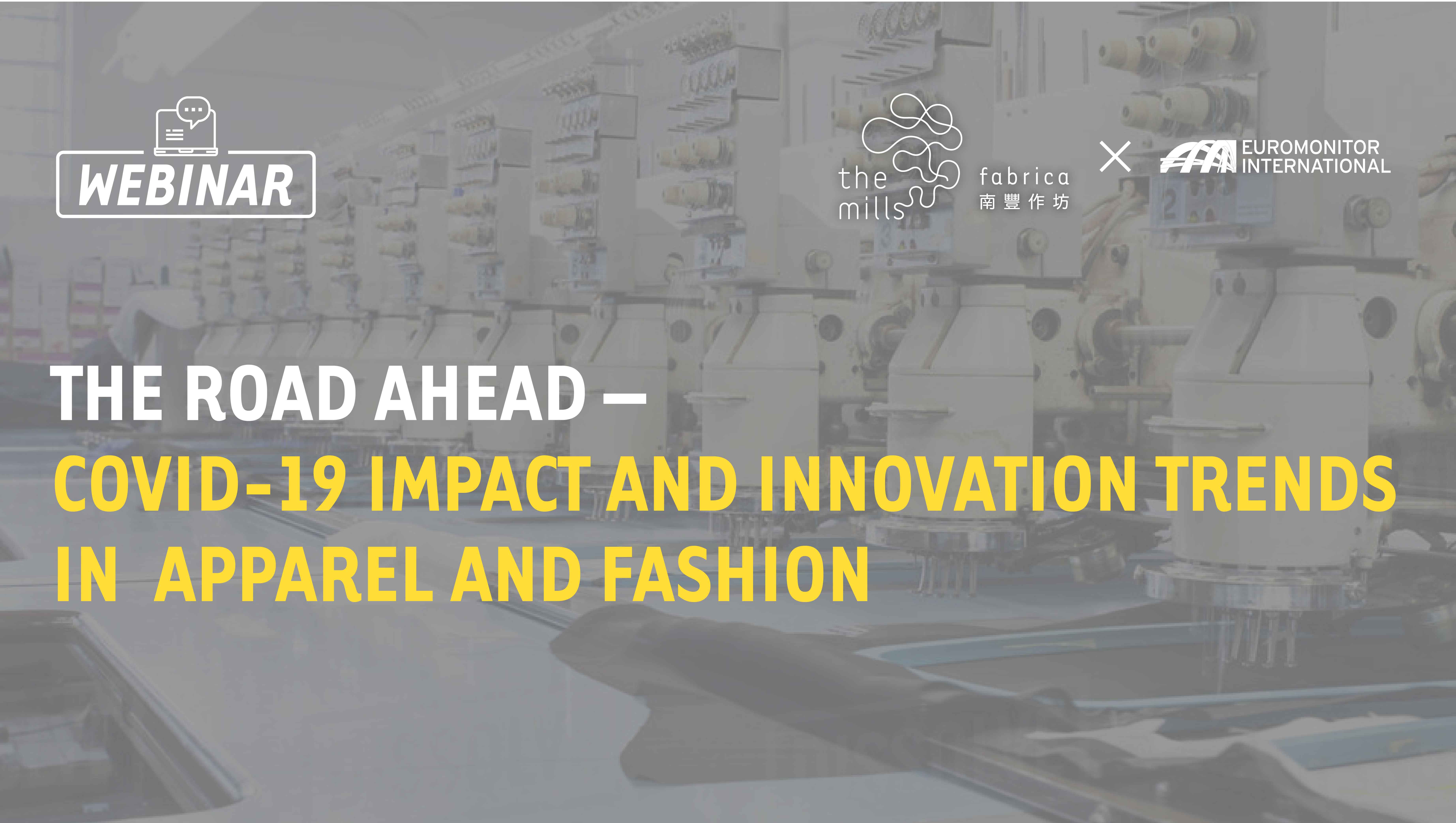 Apparel and Fashion sector has been severely hit by COVID-19
The COVID-19 pandemic has seriously affected both retail and supply chain of the apparel sector. According to figures from Euromonitor International, apparel and footwear is expected to have a revenue drop of over 15% to USD$1.5 trillion in 2020. At the same time, travel restrictions have impeded the apparel supply chain, with problems of cancelled and postponed orders and hefty discounts asked by downstream buyers.
Euromonitor International estimates that the global apparel and footwear sales are expected to rebound in 2021. However, the road to recovery is not easy and it is hard to resume to pre-pandemic levels. Consumer spending will remain cautious during this uncertain time.
Innovation opportunities exist for Supply Chain and Retail
Despite the serious impacts, the COVID-19 pandemic has accelerated some of the innovation trends. For supply chain, The Mills Fabrica has observed three important developments: localized materials, digitized production and localized production. These innovations focus on the capability to produce locally and digitization in order to bolster the overall resiliency of supply chain.
For retail, brands and retailers are using new ways to optimize inventory management. For example, using predictive analytics to grasp customer demand in advance, and relying on resale marketplaces to manage goods that have already been produced.
The Road Ahead – Sustainable Apparel and Fashion?
Crises in the past have spurred innovations and new business models. For example, the 2003 SARS pandemic has accelerated the development of e-commerce giant Alibaba, while a number of shared-economy companies emerged after the 2008 financial tsunami.
Can we expect a more sustainable apparel and fashion sector due to trends of digitization and localization? The answer remains unclear. There are both short-term adjustments and long-term structural changes at play. It also remains to be seen how strong consumer interests for sustainably sourced or locally sourced products would be post-COVID. What we have seen, however, is that more startups are offering their solutions such as recycling tech, virtual sampling and automation to help established brands navigate this COVID-induced turbulence.
At the end of the day, if past crises have created opportunities, our hope is that the current one can do so as well.
Recap video: 
https://www.youtube.com/watch?v=CtbST_GMx8Q&t=471s