Blog
Techstyle Futures: Innovating for Global Change

We all know that sustainability is of paramount importance, but just how exactly are different industry players and startups innovating for global change? In November 2018, WGSN and The Mills Fabrica proudly co-organized a 1-day symposium focused on innovations for global change in Techstyle. Titled "Techstyle Futures", this event featured sharing from 7 industry participants sharing about innovations across the value chain. In addition, we also had the pleasure to host >10 Global Change Award winning startups of the H&M Foundation, who were visiting Hong Kong for their annual GCA trip. The following captures some of the event highlights.
Weaving 2 threads for sustainability

Helen Sac, Consulting Director, APAC, WGSN (left); Edwin Keh, Chief Executive Officer, HKRITA (right)

Jeffrey F.Hsu, Manager, R&D Center – Innovations, Marketing & Partnerships Office at FENC (left); Hanna Hallin, Sustainability Manager, H&M Greater China (right)

Jinqing Cai, President, Kering Greater China (left); Janice Wang, CEO, Alvanon – MOTIF (right)
The first half of the day featured 7 industry participants sharing their views on sustainability. There 2 key threads specifically- one is the weaving of sustainability into the core business and the second is the weaving of stories for consumers. Weaving sustainability into business requires embedding sustainability as both a mindset and intrinsic target into business processes. FENC shared deeply about how sustainability is not an option but a way of life, including various new recycling technologies or new materials in their services or even activities like a company beach clean up in which materials are recycled. Likewise, Kering shared about the setting up of an Environmental Profit & Loss (EPL) statement to best assess their impact on sustainability while H&M shared about their goal to become 100% circular by 2030. All these point to a commitment in measuring and tracking impact in their value chain. The second thread is about weaving of stories to change consumer mindsets and behavior on sustainability. WGSN talked about the importance of engaging with activists consumers & tribes while HKRITA stressed about the importance of "science on display" specifically mentioning about the G2G recycling store that directly brings interesting technologies to consumers. Finally, MOTIF a new platform empowered by Alvanon seeks to launch a new skills and education movement to raise awareness of key challenges in the fashion industry. These innovators all know the importance of combining both innovations intrinsic to businesses with powerful storytelling for consumers.
GCA Story: Innovating for global change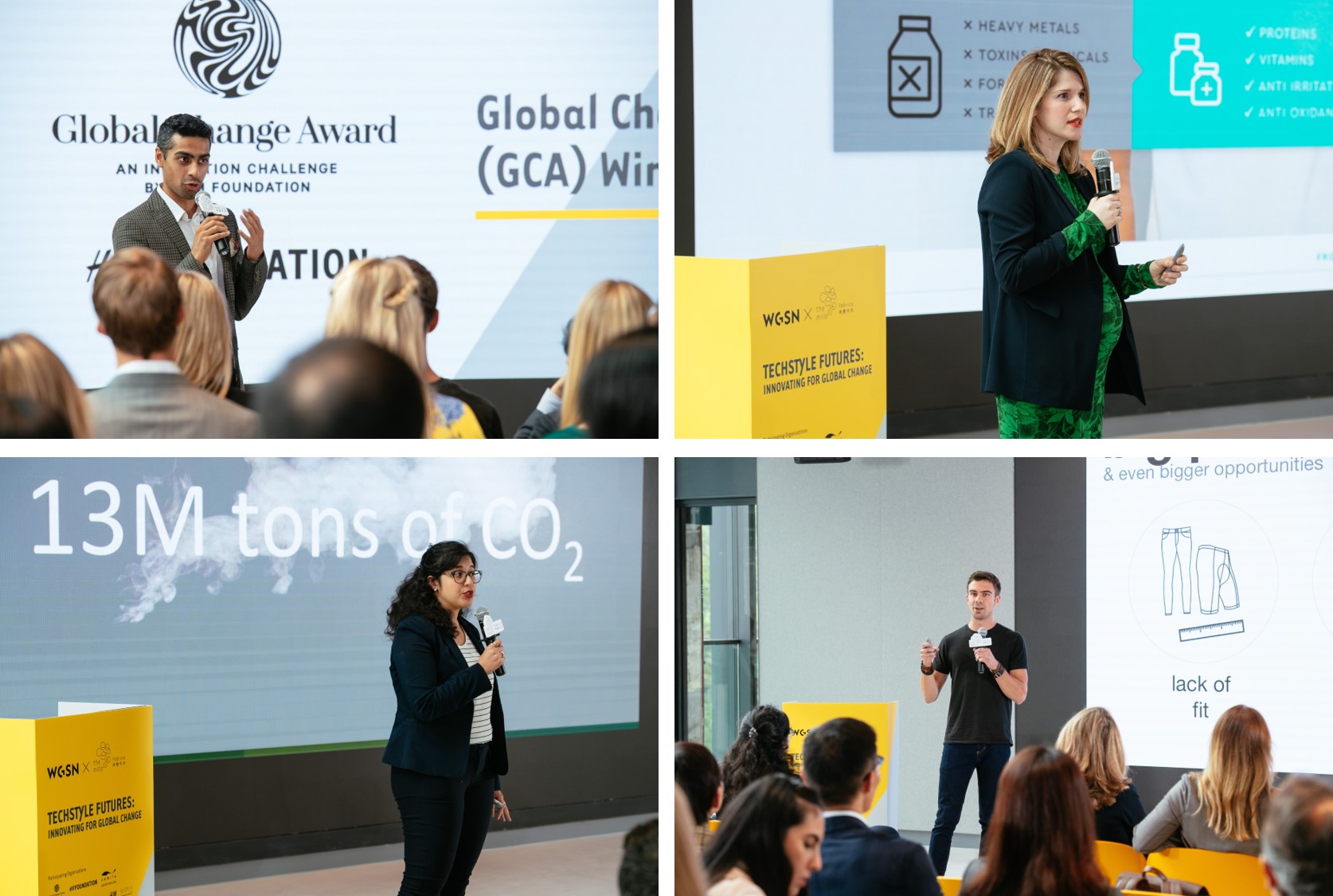 Global Change Award (GCA) winners including Ambercycle, Orange Fiber, Reverse Resources,
Unspun, Deakin University, Sunthetics, Agraloop, Algalife, Swerea, MycoTEX and Resortecs
3 years ago, a small team at the H&M Foundation had an idea. They wanted to start a competition to support and award global startups innovating for sustainability in fashion. In the first year, they were initially expecting just hundreds of applications but they ended up getting >1200 applications from >100 countries. Fast forward 3 years on, the GCA has since attracted >8000 applications from >150 countries with 18 winners to date. In November 2018, we were delighted to host the GCA winners at The Mills for their annual Asia visit, specifically also giving them a stage to share their ideas and innovations with the ecosystem in Hong Kong, including brands/ manufacturers as well as investors. Many of them are innovating at the heart of circularity, with innovations ranging from new recycling technologies to new materials as well as our very own incubatee Unspun Tech (a GCA winner in 2017), working on both customized fitting denim jeans and a 3D weaving machine. It was a pleasure to host these companies and we are excited to see what they are up to next.
Towards a Techstyle Future: thinking 3 steps ahead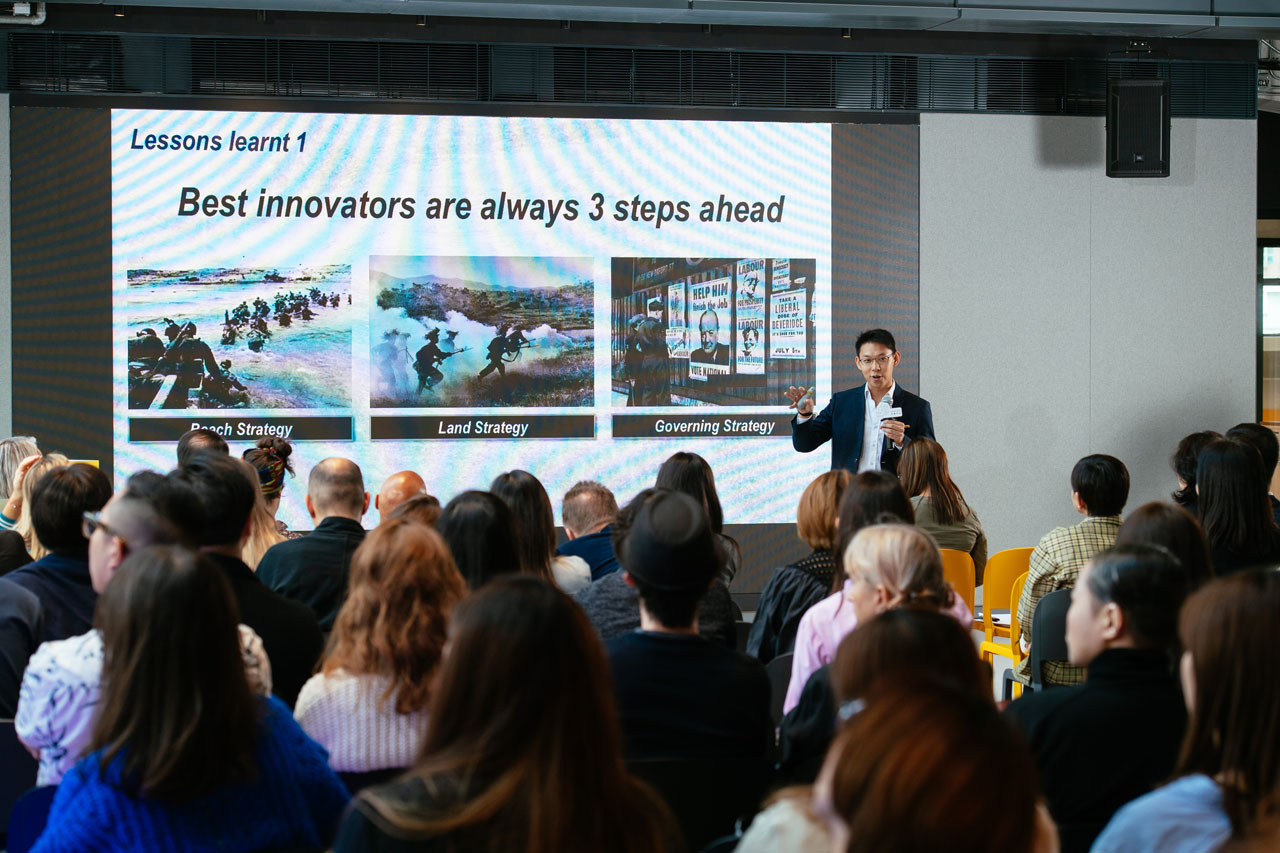 In our own sharing during the day, we shared about the importance for good innovators to think 3 steps ahead. An old military 101 for war invasion typically begins with a naval attack on the beach, before transiting to a land strategy of warfare and finally ending with a governing strategy to take over the land. While it's a wonder for military generals to have thought of even the first two steps (most just think of 1 phase at a time), the best military strategists typically thinks of the full game plan from day 1, with visibility of how to eventually govern. When you think of the startup landscape, the same military 101 mindset applies. Many startups would often only think 1 market or 1 phase at a time. Some might have an idea of what the next step is. But only a great few have thought about the end-game, what happens when they become a market leader, how would they govern the land. In our own portfolio, we are impressed by our innovators for having that military 101 mindset. From Goxip (building first an image-recognition app, then a social commerce platform and now an influencer management platform) to Unspun (B2C denim brand, B2B brand partnerships then 3D weaving technologies), we are proud of them for embracing that 3-steps ahead thinking. And the question for us is, in our own organizations are we 3 steps ahead as well?
Open platform for innovation
Finally, when it comes to innovating for global change, perhaps nothing is more powerful than bringing different players to jointly innovate together. And at The Mills Fabrica, our hope is to build an open platform for innovation, where partners can co-create a Techstyle future together. To that ends, we are delighted at the completion of the inaugural Techstyle Futures event and we look forward to seeing you at the next one.