Blog
Ecosystem Summit 2020 Panel Discussion 3: Hong Kong's Competitive Advantage As A Global Innovation Hub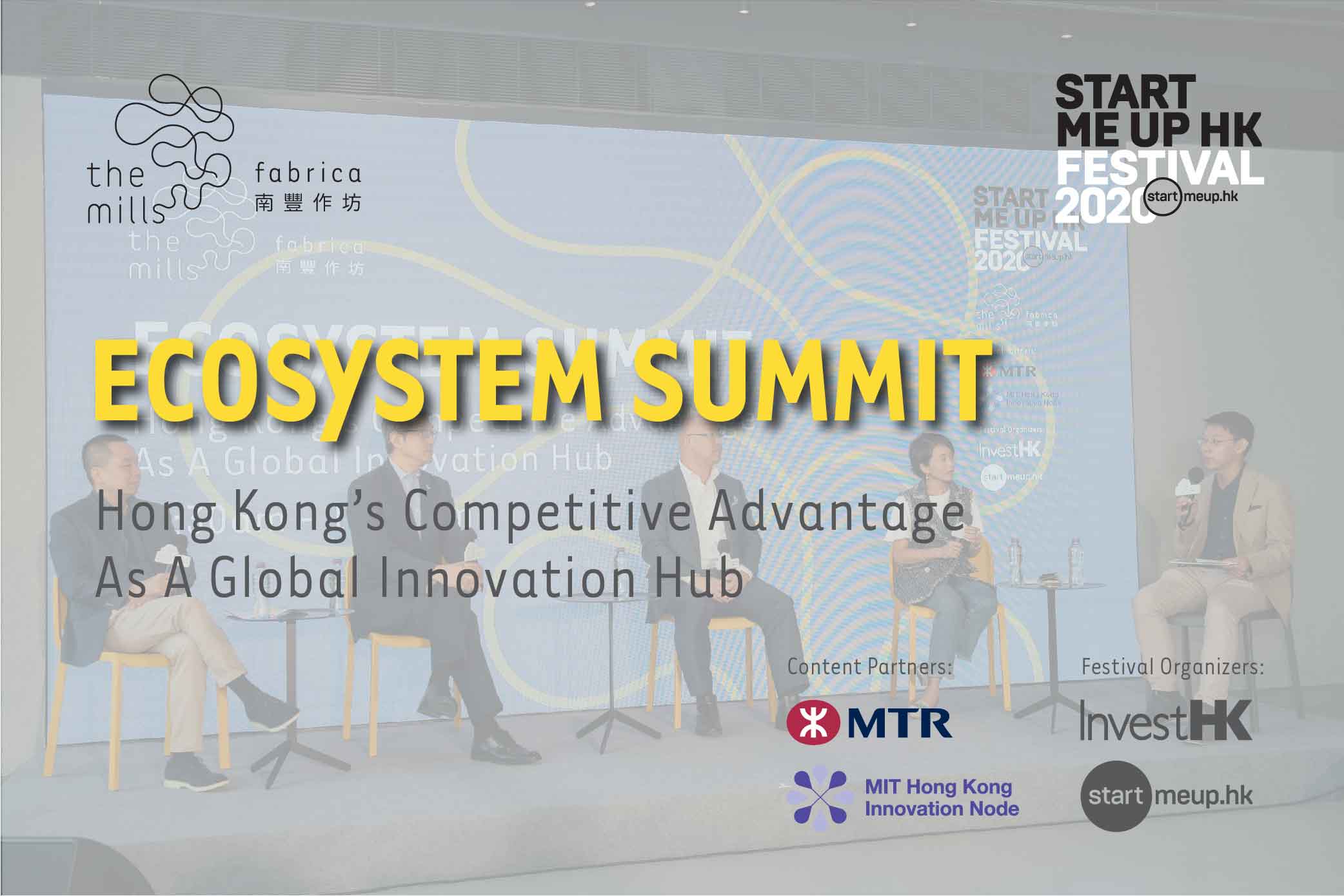 2020 has been a year full of uncertainty. Amidst the current pandemic and Sino-US tensions, startups in Hong Kong may face their biggest ever challenges locally and globally. But crises create opportunities; it gives startups a chance to reflect on themselves, build resilience and move forward.
To shed light on the current startup ecosystem in Hong Kong, together with MTR and MIT Hong Kong Innovation Node, we are proud to have hosted the Ecosystem Summit as part of the StartmeupHK Festival 2020. Through the panel and roundtable discussions, this half-day virtual summit successfully brought 15 startup ecosystem builders together who shared their insights on supporting and nurturing talents, and the importance of the startup-corporate collaboration within the city. While participants had the chance to engage in interactive discussions with the speakers on the online platform.
We are delighted to share our key takeaways:
Panel Discussion 3: Hong Kong's Competitive Advantage As A Global Innovation Hub
In the third panel discussion, our co-director, Alexander Chan, moderated the session with panelists including Charles Ng – InvestHK, Associate Director – General of Investment Promotion, Cindy Chow – Alibaba Hong Kong Entrepreneurs Fund, Executive Director, James Kwan – Jumpstart Media, Managing Director, and Peter Yan – Cyberport, CEO. They discussed how we can position Hong Kong as a global innovation hub. They gave insights on ecosystem builders to remain competitive and leverage global opportunities.
The discussion kicked off with Charles' keynote speech. He highlighted Hong Kong's advantage as an innovative technology hub. He believed that Hong Kong has all the ingredients to be one of the beacon lights for startups in the world. The government, startup communities as well as universities can work together to bring concepts to reality. The city is an ideal place for startups accessing capital in many ways, such as venture capital, private equity, and IPO. Connecting talents in Asia-Pacific, new market opportunities can be often found in Hong Kong. "From all places in Asia, Hong Kong is one of the best places to create innovations for businesses," Charles added.
5-year journey: From idea stage to growing momentum
When Alexander asked panelists to review the growth of the Hong Kong startup ecosystem over the past 5 years, Cindy shared how she helped set up the Alibaba Entrepreneurs Fund with the goal to provide investment capital and strategic guidance to young people and help them better achieve their goals. They observed many family offices, venture capitals, entrepreneurs to kickstart their journey along the way.
Peter attributed the success of the Hong Kong startup ecosystem to the government. "Since the establishment of the Innovation Technology Bureau, the whole scene has substantially changed." Over the past 3 years, the government has invested over HK$100 million in technology development, driving the momentum of the Hong Kong startup ecosystem.
Challenges of Startup Ecosystem under COVID-19
Like the previous panel discussion, speakers also talked about the challenges of the startup ecosystem under COVID-19. Peter echoed the previous panelists' thoughts about the community's quick adaptation to the changes. With the adoption of distant learning, home office and advanced medical services, people have become more receptive to digital products. "All this adoption of technologies like the Big Data has created a lot of opportunities," Peter added.
Charles also observed the fast-paced adoption of technology over these past 6 months. Traditional companies were more receptive to using machine learning, big data, etc. within their existing businesses. It fostered the collaboration of new technology and the traditional economy. "Crisis reinforces you to do something [new]," Charles commented.
James believed the maturity of the Hong Kong startup ecosystem would let startups stand out at a higher level. "COVID-19 is a blessing for some companies who can learn to gain revenue in pivoting new streams. But it is also a curse for some companies who are not mature enough."
To help startups combat COVID-19, Cindy mentioned that they provided some loans to startups to manage the tight cash flow while helping some to pivot their business models. They supported some startups like Pickupp and Gogovan to help the government deliver testing kits in times of COVID-19.
"The best is yet to come."
Moving forward, Charles believes that Hong Kong is ready for companies to test new ideas, access talents, and markets again. The crisis allows the startup ecosystem to relaunch themselves through digitization. With the opportunities from the Greater Bay Area, Asia, and the rest of the world, corporates and startups would hopefully have more opportunities in the future.
Peter suggested that Hong Kong has done a good job in managing the pandemic through deploying many technologies and innovative solutions to enhance the measures. It also encourages industry development as well as talent cultivation. The government is putting a lot of resources to create more jobs and retain talents. For instance, the FAST program administered by Cyberport provides financial assistance to local companies engaged in the FinTech sector to create 1,000+ new jobs. This is to ensure a continuous supply of talents.
Cindy has called for more public support for the startup ecosystem. "When we ask entrepreneurs how likely their family would support them [to pursue the path of starting up], only 30% of them said they have support from family." It is time to change our mindset to show more support for the startup community.
"You learn the most when you are the most uncomfortable." Under Hong Kong's challenges in the pandemic and Sino-US relationship, James believes that Hong Kong startups would step up from those challenges.
In the roundtable discussion, ecosystem builders including Eureka Nova and Explorium also shared their thoughts and agreed that Hong Kong has good foundation for startups to kickstart their journeys. Charles suggested the potential opportunities from the Greater Bay Area should not be neglected as well. "There is no greater place on earth where you have a global financial center like Hong Kong and global innovation center like Shenzhen," Charles commented.
Another community builder, TusPark raised the question on how the startup ecosystem in Hong Kong can attract talents from China and the rest of the world. James shared how Jumpstart launched programs with roadshows in the Greater Bay Area to call for collaboration and attract talents from all over the world. Panelists advised ecosystem builders to collaborate and reinvent themselves to attract talents. Also, they suggested the government to lower the cost of living for talents. With the foundation, opportunities, geographic advantages, the prospects for startup ecosystem builders to attract talents to Hong Kong are promising.
From the 3 panel discussions, we can see the community's confidence in innovation and building a stronger startup ecosystem. We are very thankful to all of the speakers and participants who shared their thoughts. As one of the ecosystem builders, The Mills Fabrica is proud to join forces with our peers to promote Hong Kong as an innovation hub. Once again, big thank you to our partners for this year's event as well as everyone who has continued to support us.