Blog
Ecosystem Summit 2020 Panel Discussion 2: Corporate Innovation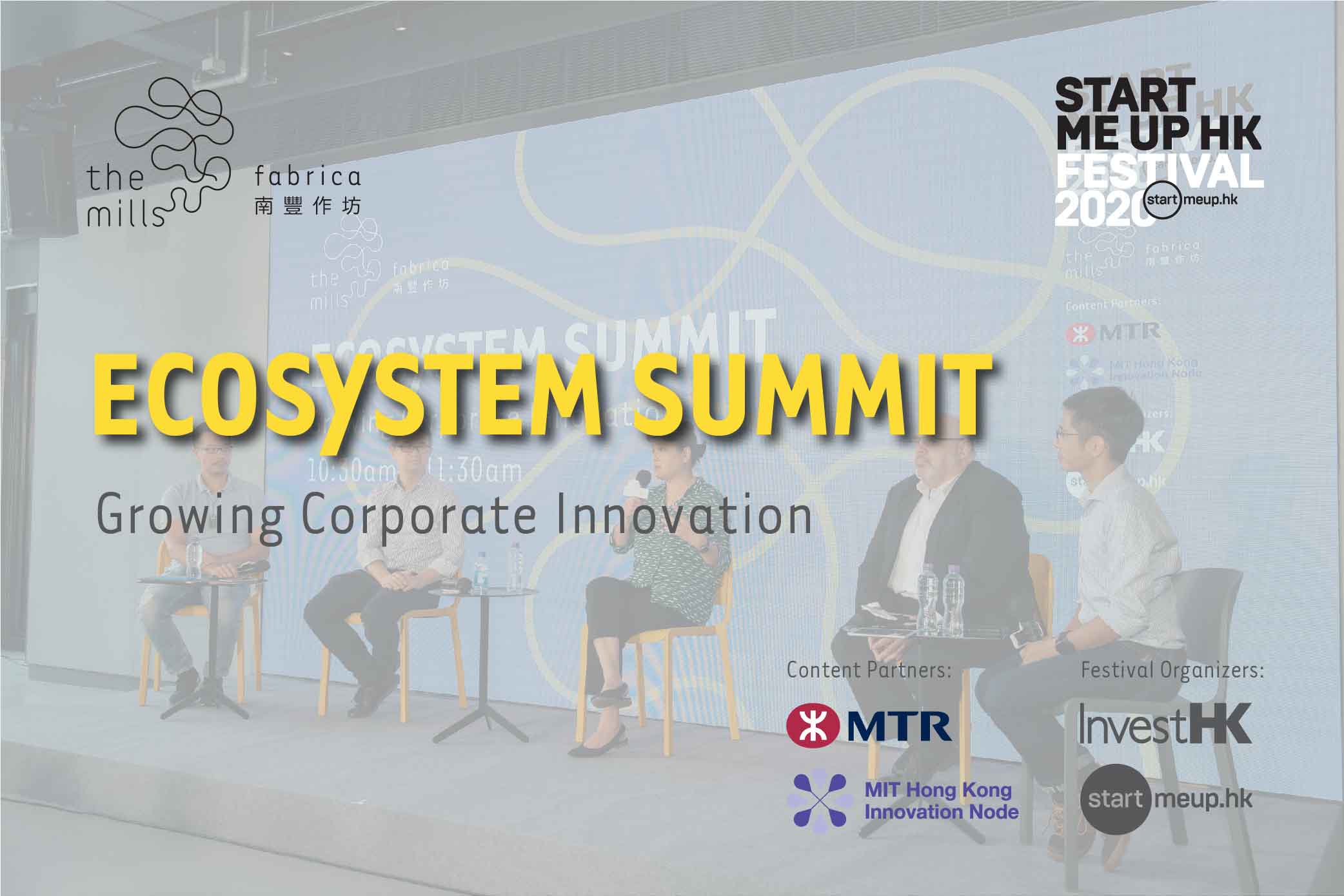 2020 has been a year full of uncertainty. Amidst the current pandemic and Sino-US tensions, startups in Hong Kong may face their biggest ever challenges locally and globally. But crises create opportunities; it gives startups a chance to reflect on themselves, build resilience and move forward.
To shed light on the current startup ecosystem in Hong Kong, together with MTR and MIT Hong Kong Innovation Node, we are proud to have hosted the Ecosystem Summit as part of the StartmeupHK Festival 2020. Through the panel and roundtable discussions, this half-day virtual summit successfully brought 15 startup ecosystem builders together who shared their insights on supporting and nurturing talents, and the importance of the startup-corporate collaboration within the city. While participants had the chance to engage in interactive discussions with the speakers on the online platform.
We are delighted to share our key takeaways:
Panel Discussion 2: Corporate Innovation
In the second panel discussion, the moderator Bosco Leung from MTR and panelists including Anson Bailey, from KPMG, Jayne Chan from InvestHK, Sam Lim from Prudential Hong Kong, and Teddy Liu from New World Group discussed mindset change and challenges that corporates face with innovation. They highlighted the importance and benefits of joining forces with startups to innovate.
Corporates reacting to COVID-19 challenges
The panel started with the discussion of how corporates dealt with the impacts of Covid-19. Teddy shared New World Development's experience of facing the pandemic by making changes. In such critical times, they need to find out their core values to serve customers while keeping their desire for business growth. "Either you grow, or you go," New World Development launched a project to produce and distribute masks in Hong Kong. Despite successfully having gained recognition from the community for their contribution, Teddy mentioned that "we are not doing that just for profit, we are doing that for creating shared value."
Sam also shared the success stories of how Prudential reacts to the pandemic. They launched Pulse, an AI-powered app that helps customers understand and respond to their health needs. Users can access health insights through the assistant on the app and understand their health symptoms through their AI. He believes that innovative solutions would benefit the society as a whole.
"Covid-19 is the worst of times, but it also brings out the best of the people." Anson Bailey from KPMG shared his thoughts over the potential opportunities arising from the pandemic. He believes that it would be good timing to bring people in the community together and work as an ecosystem, creating and developing great apps and solutions.
Echoing Anson's point, Jayne illustrated this year's StartmeupHK Festival as a vivid example of how to better adapt to the changes brought about by the pandemic. "By changing the modes of organization with the help of an online platform, we are glad that ecosystem builders can still be gathered to share information like last year's StartmeupHK Festival."
Corporates gaining an innovative mindset in partnership with startups
Anson also stated how corporates need creativity and flexibility. "Follow the customers' journey, don't get left behind." KPMG has AI solutions for tracking consumer behaviors. They have been working on many innovative solutions. In 2017, they acquired Matchi, a matchmaking platform that connects financial institutions and other large companies, with emerging technology solutions, as well as innovators worldwide. It helps KPMG link up with those innovators to reinvent themselves. "Now, we see ourselves as glue where we can play an important role in the ecosystem; where we can bring the corporates to smart innovators," Anson added.
The partnership between startups and corporates is crucial in generating innovative solutions. When asked by Bosco about challenges for corporates to communicate with startups, Sam added that internal talents are also one of the key components in the communities. "Innovation is the desire of making the world a better place," Desire for impact is one of the key factors incentivizing the startup ecosystem. Sam noted that the incentive of having innovation is about influencing the community.
One of the questions raised in the roundtable session was how to measure corporates' innovative solutions. "Go beyond KPIs" is Teddy's main belief on corporate innovation. Corporates should look into the impacts behind their innovative solutions, rather than a quantitative standard. Not just about KPIs, Teddy believes that having a significant impact would be more important during the process of corporate innovation.
"If you look at future innovation as a future success, you will do innovation all the time."
"Innovate or Die"
At the end of the discussion, speakers advised corporates not to get left behind. In the past 5 years, the number of accelerators in Hong Kong increased drastically, indicating the rapid pace of innovation. Corporates must grasp the opportunities from the fast-paced startup ecosystem to create more innovative solutions for customers. As Anson said, "innovate or die". If corporates are unable to follow the culture of innovation, there will be more difficulties in reaching success in the future.
From the 3 panel discussions, we can see the community's confidence in innovation and building a stronger startup ecosystem. We are very thankful to all of the speakers and participants who shared their thoughts. As one of the ecosystem builders, The Mills Fabrica is proud to join forces with our peers to promote Hong Kong as an innovation hub. Once again, big thank you to our partners for this year's event as well as everyone who has continued to support us.