Blog
Rewire: Sustainability 2021 Day 3 Recap

ReWire 2021: Day 3 Recap! Of managing uncertainty, incentives & data, risk absorbance, data-powered models
Digitization became a buzzword in 2020; with the impacts of COVID-19 accelerating the need to "go virtual" in all things from design to production to retail & consumption. Taking yet another trip down memory lane, one of the things we have heard most in the past few years is that "fashion is one of the last industries that has yet to be transformed by technology". And indeed part of the challenge is that unlike movies or music that can get Netflixed or Spotified, fashion involves actual physical products- any form of digitization has to integrate the virtual with physical. And to complicate things further, it is the very "physical nature" in form of products that create various sustainability challenges. And so as we enter Day 3 of ReWire, we want to look specifically at digitizing a pathway towards circularity.
Fashion Industry's most expensive mistake – failing to manage uncertainty

Ahmed Zaidi (Postdoctoral Researcher, Cambridge University) narrates the personal story his family went through; as a manufacturer affected by the financial crisis in 2008, where canceled orders led to saddling debt to a struggle for survival and eventual bankruptcy (similar to the impact of COVID-19). And through that experience, Ahmed thought that retailers must be the ones winning & making off with giant profits; little did he know that even big retailers struggle with single digit margins. The reason- we have no idea how to manage uncertainty. We do not know how much we will sell. We end up "buying cheap, ordering big", resulting in a continuous pressure for suppliers to compete on costs (incl. Country hopping for low cost manufacturing) and excess inventory mostly ending in landfills. And the stop-gap measure we take – discounts. Large mark-downs and discounts whose true costs are not just on profits but on worker lives and our planets. What then is the solution? Taking a page from Greek Philosopher Aenesidemus- "in the presence of uncertainty, delay judgment", specifically, for us to use AI/ demand forecasting for inventory management, to adopt on-demand production models and use technology to manage uncertainty. Ahmed ends by sharing a similar adage from his grandpa, "when you are unsure, start small, only if you need to, go bigger".
Future of supply chain transparency: get the incentives & data right!
Interesting dialogue between Vivek Ramachandran (CEO, Serai) and Lindsey Hermes (Head of Enterprise Solutions, Serai) touching on various threads relating to transparency. Vivek maintains that today transparency is no longer nice to have, but a must-have, a competitive advantage. Regulations, investors pressure along with COVID-19 have forced digital adoption onto industry yet digital quotient generally remains low and the challenges of transparency also creates little incentive for change. Getting to transparency requires an alignment of forces including product level traceability, incentives for data providers, easy access to insights and independent verification. As with William Gibson's famous quote- "the future is already here, it's just not very evenly distributed".
GENESIS Jeans project: innovations to absorb risks for industry

Inspired by a couple of beers & drinks in Stockholm between Resortecs & Unspun, the GENESIS jeans is a cross-innovator, cross-partner collaboration project complying with Ellen MacArthur Jeans Redesign program bringing across innovations from on-demand production/ fit, traceability, disassembly/ recycling together. Moderated by Erik Bang (Innovation Lead, Global Change Award), the panel features 3 winners who were behind the GENESIS Jeans. Walden Lam (Co-founder, Unspun) started by emphasizing the desire to focus not just on circularity but also on-demand, addressing the issue of waste more holistically. Natasha Franck (CEO, EON) also mentioned the importance of considering the whole life cycle of a product and how it fits into the broader system- to make something truly circular. This is a fascinating case study into how innovation goes hand-in-hand with collaboration and that the sum of the whole is greater than the sum of its parts. Walden also shared that this project was a culmination of previous pilots (like ReBirth Jeans between Unspun x Resortecs), indicating how innovation is built upon past learnings & iteration. More importantly, the fact that this initiative is driven by 3 startups again shows remarkable leadership and inspiration these change-makers can have. Cedric Vanhoeck (Founder, Resortecs) shared in particular about the courage and conviction to just get started, being comfortable with "affordable loss", for if you don't, nothing will ever get done. And as Erik puts it nicely at the start, we need innovations that can absorb risk for the whole of industry, and no better way than pilots empowered by collaboration.
Going circular: models, data, logistics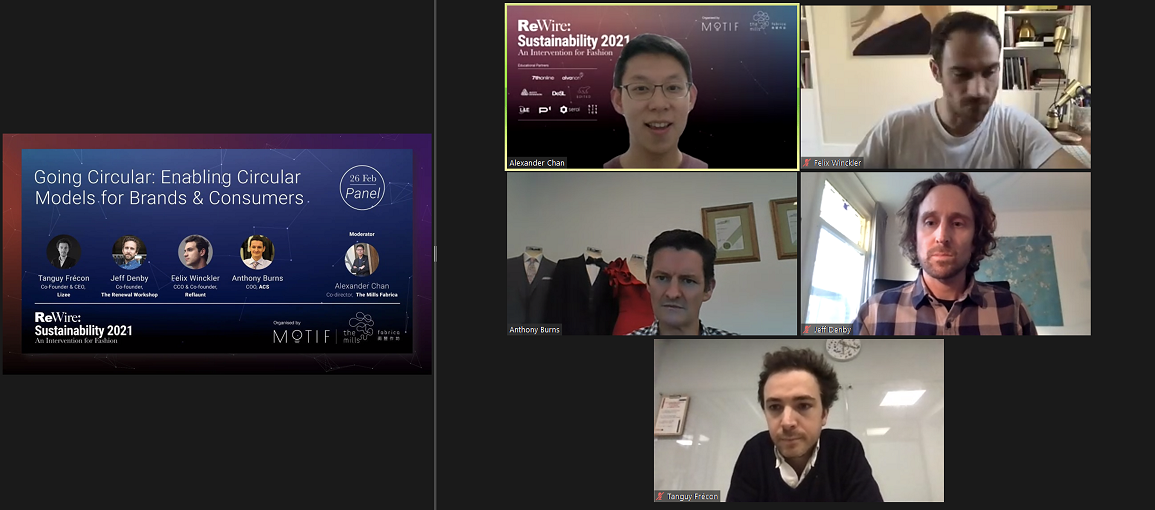 In a final panel that Fabrica is moderating this week, we dive into the world of circular models. Felix Winckler (Co-founder, Reflaunt) and Tanguy Frecon (CEO, Lizee) both shared about accelerated consumer shift to resale and rental (WFH leading to people clearing wardrobes, more conscious of consumption) leading to increase in brands considering pilots of these new models. For brands, Felix also shared about the opportunity to engage with consumers, to be a pioneer in innovation and also the business & business case given new market opportunities created. Indeed, Tanguy believed that considering circular models as a whole (first renting than resale) actually increases the lifetime value that brands can capture. Jeff Denby (Co-founder, Renewal Workshop) then shared on the importance of data in the whole process and the valuable feedback that it gives brands in iteration & designing more sustainable products. Finally, Anthony Burns (COO, ACS) reminds us all of the role of people & individuals in all these and the un-neglectable role of education & training that ACS does in its businesses & centers. In all, circular models are in, some logistical and cost challenges still to be addressed but overall exciting to see the urgency!
Interesting Insights from other sessions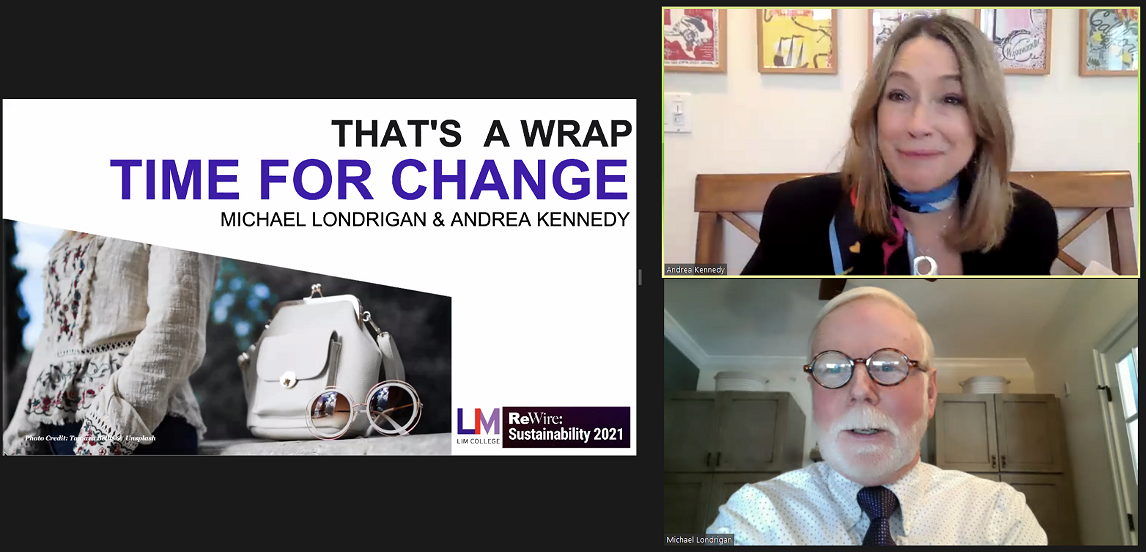 Quick Fire:

Supply chain goes hand-in-hand with demand chain
Focus on authentic solutions not tech distractions/ tech for tech sake
Better process, better partnerships, better products
Use AI to find "winning styles", use "re-order" to counter "over-ordering"
Ecommerce can drive circularity by showing customers how to style, addressing the challenge of "limited use"

"That's a wrap": time for change: Excellent session getting everyone to think more about our respective individual wardrobes (and our sustainability impact) – the question for us- can we make changes at a personal level and at an industry level?
Capsule: focus on the work, for there is so much to be done!
In the political world, campaigns & elections are often exciting affairs, a debate on visions & values, a unifying of shared ideals & hopes, culminating always in a triumphant moment where a candidate or party gets elected. Yet often, the real work of governing only begins after the election. In the same way, these 3 days have been superb in inspiring and educating, in raising questions and stimulating discussion. But as we go forth from here, the real work is only starting to begin. Each of us now has the responsibility to continue the work going forward, beginning with continuous learning and hopefully leading to practical actions. As one politician once commented:
"Now this is not the end. It is not even the beginning of the end. But it is, perhaps, the end of the beginning."

– Winston Churchill
To rewatch content from the even stay tuned to here; or read highlights from Day 1 or Day 2.