Blog
Rewire: Sustainability 2021 Day 2 Recap

ReWire 2021: Day 2 Recap! Of "200 year mindsets", "consortium as experiments", moral leadership, patience & optimism
When it comes to "fashion tech", most people's immediate responses would often be "wearable tech or e-commerce" right? Yet some of the most exciting innovations and technologies happening in apparel & textiles is not just on ecommerce, but across the supply chain, from production going all the way to materials. And low and behold, 2019 and 2020 saw a surge in interest in the space, with many brands making public declarations and commitments on sustainability goals, spiking a frantic search for solutions across the board. Yet despite the hype, many challenges remain and expectations do need alignment- day 2 looks precisely at this fine balance- where we explain the hype but also manage expectations.
Design Intent: The 200 Years Mindset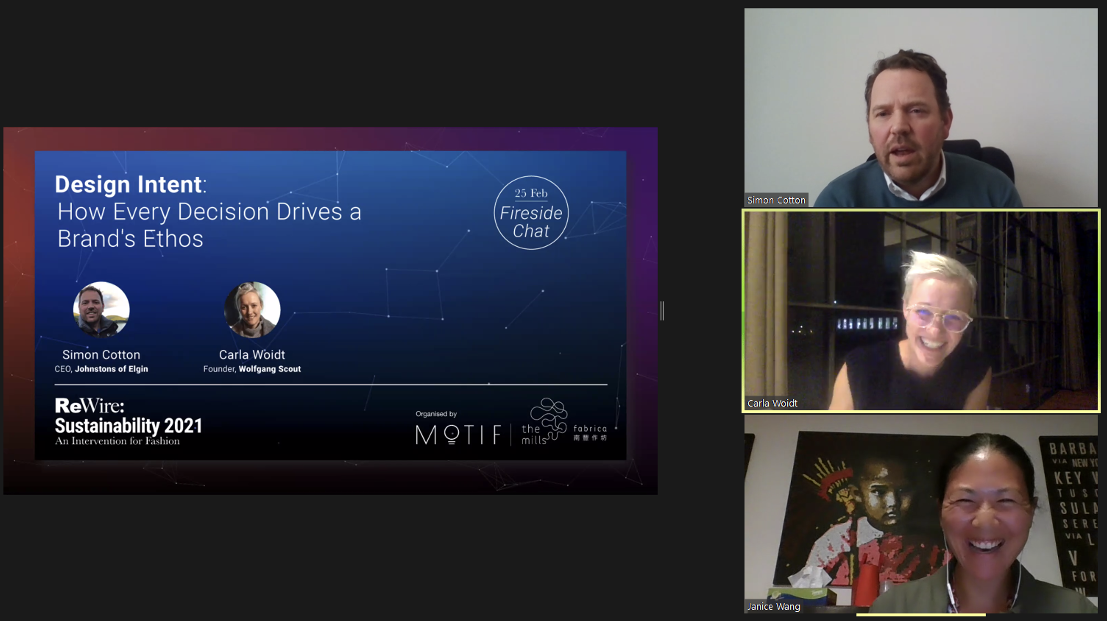 Simon Cotton (CEO, Johnstons of Elgin) started the panel by sharing that when he first joined Johnstons of Elgin, the owners ask him to take leadership and "make sth that lasts for 200 years". That mindset to think in terms of generations (and not quarters) in turn creates a whole new mindset to how they approach every part of the business where they take entire control over their value chain. This is a mindset that says that "everything matters", from ensuring that farmers are certified, how grasslands are maintained to how goats are looked after, there's almost an end-to-end care unlike any other. Carla Woidt (Founder, Wolfgang Scout) supplemented that once there's that alignment of mindset, it then helps to educate and engage the different supply chain components to get alignment. In a day and age where many designers might not even have visited mills or spinners, both of them call for the industry to embrace problem-solving and iterate & educate oneself to get to what's required. Indeed, this is care and love at it's best, like what Carla says, it's building a business just as you would be raising a family.
Consortiums as experiments — to reimagine, iterate and scale

Moderated by Katrin Ley (MD, Fashion for Good), the panel focused on the role of innovation and multi-stakeholders using viscose as a case study. Christine Goulay (Head of Sustainable Innovation, Kering) started by sharing that consortiums allow the industry to use design thinking for sustainability, by enabling a re-imagination of what the future of the supply chain can hold and then to conduct pilots as a way to iterate and scale for a bigger impact. Indeed "transparency in full circle" is vital, Mukul Agrawal (Chief Sustainability Officer, Birla) gave sustainable forestry as an example, looking at areas like sustainable forest practices, forest conservation (Birla plants 3 trees 3X of what they harvest), next-gen solutions (like recycling, upcycled materials from food waste). Carmen Chan (Senior Sustainability & Fabric Manager, Tesco) also shared about how Tesco as a retailer building different infrastructure upstream (like a collection of both pre/ post-consumer waste and feeding it back) as well as stakeholders to both partners with and learn from. Indeed the more that different brands and suppliers are transparent, the more others can learn from both best practices and failures- creating a circular learning & iteration model.
Packaging: Start with the "why" and "what to do/ not to do"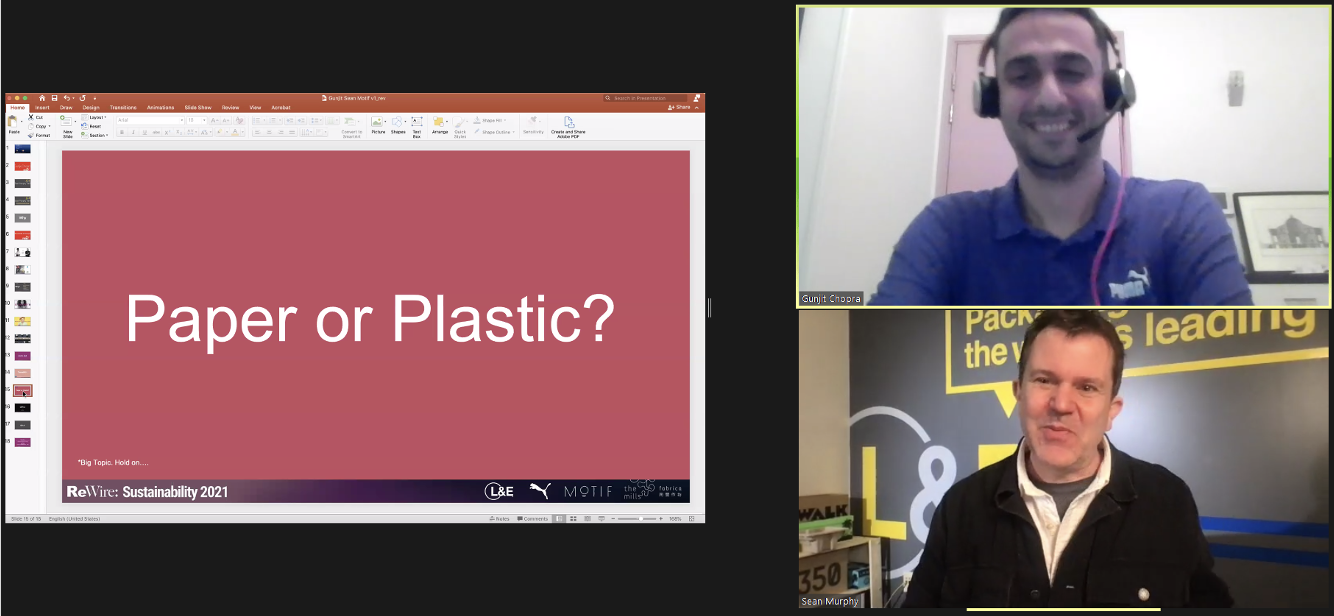 We often don't think of packaging as front and center compared to products for sustainability. Sean Murphy (Chief Marketing Officer, L&E) and Gunjit Chopra (Senior Head of Central Operations, Puma) engage in a fascinating chat, from focusing on the why before the what and how, to look towards other industries as inspiration (e.g. tech has longer product development cycles, higher value & product lifetime than fashion) and asking "what should we do" (focus on why!) vs "what should we not do" (rush or greenwash).
Plastics Problem: tough problems require moral leadership from all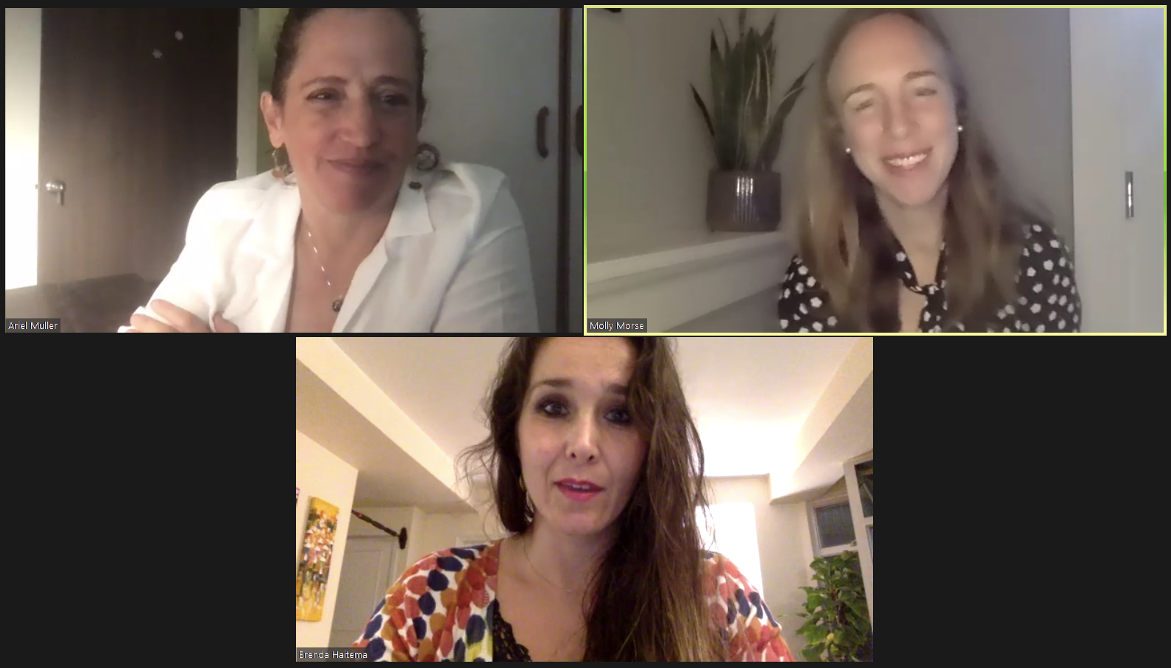 How many of us are truly plastic-free? Pause on that for a bit and you will realize from clothes we wear to food that we eat, plastics are everywhere. Ariel Muller (MD APAC, Forum for Future) starts off this session asking Brenda Haitema (Director of Materials, Boardriders) and Molly Morse (CEO, Mango Materials) whether plastics would still be in circulation for 15 years from today. The re-sounding conclusion- the path to 0 plastics is tough but if anything we would have a much more educated consumer base and nothing can transform industry faster than an active consumer demanding for change. Ariel also contends that we would need to rethink assumptions to which Brenda mentions about the importance for brands to design "longer lasting" products (that consumers can repair) and also more personalized products (that consumers would want to keep). Ariel also asked about challenges in being a new company to which Molly mentioned on the importance of access to infrastructure (such as for feedstock) as well as the ability to navigate existing power structures (hopefully partner rather than compete). No mean feat to be a first mover and again fond reminders of the resilience and leadership that change makers can have on our industry. There's much to be done, the focus is important and whether you are a first-mover, large incumbent, or consumer, we all have a role to play.
Scaling biomaterials: patience & be willing to learn/ invest!

The Mills Fabrica had the pleasure to moderate a closing panel on "scaling of biomaterials". Suzanne Lee (CEO, Biofabricate) gave a great "101" into biomaterials (for more info read FFG/ BioFabricate's report) while Elaine Siu (Director of Innovation, Material Innovation Initiative) shared about interesting parallels of a shift in the ag/ food space driven by sustainability but serving mainstream consumers (with no compromise on taste/ quality). That said, while there's definitely a lot of potentials, scaling these technologies takes time. Suzanne made a call for brands to be patient and offer startups with supply chain support & other resources. Indeed, Dan Widmaier (Co-founder, Bolt Threads) shared that unlike software (0 marginal costs), scaling biotech always take longer than expected and their successful launch of Mylo Consortium last year was a culmination of 10 years of work and having the support of amazing partners aligned with their mission. Elaine also echoed at the huge impact that right brand collaborations have made in growing technologies in the food space such as scaling to commercial scale and helping with consumer engagement. (e.g. case in point- IMPOSSIBLE in alt. protein). In short, the opportunities are present, but patience & willingness to invest is required, and more importantly, why not start by first understanding more deeply about biotech & materials. (such as BioFabricate's resources, MII resources, Info on Bolt Threads, Bolt Threads & Fabrica's synbio report). Dan also mentioned about learning from leaders who have emerged in other industries and indeed just looking at what has happened with EVs and plant-based foods gives a lot of optimism of what can come in fashion.
Interesting insights from other panels
Positive water footprint: water's footprint spread across the value chain (from irrigation to dyes to wastewater treatment) and breadth of solutions are required (from better farming & irrigation techniques to better machinery & water recycling)
Every drop matters: Echoing the challenges from the previous water panel, tough challenges requires not "one size fits all" but a variety of solutions from more efficient farming systems (Materra), better equipment to power sustainable production (Jeanologia), eliminating chemical usage through bio-based dyes (Huue) and using biology to create a palette of colours reducing water for fixation (Colorifix); most importantly, don't think of innovation in isolation! Love what Michelle Zhu (CEO, Huue) said — to think about where your innovation fits in — both now and in future
Reclaiming textile waste: Fascinating case study into Shahi Group's Good Business Lab's experiments with a deep-dive on their project with HKRITA- producing Super Absorbent Polymers from textiles waste to help improve cotton irrigation. The big message: intentionally design experiments for data-driven decisions!
Lastly to close off, a survey on what participants thought on the 10Gt Goal posted by Edwin Keh (CEO, HKRITA) yesterday revealed resilient optimism from the crowd that this is possible with >90% desiring for change. The question of course becomes- how then can we proceed? Hoping the event can continue not just to spark conversations but also to offer you with the inspiration and practical tips to continue the search for solutions.