Blog
Rewire: Sustainability 2021 Day 1 Recap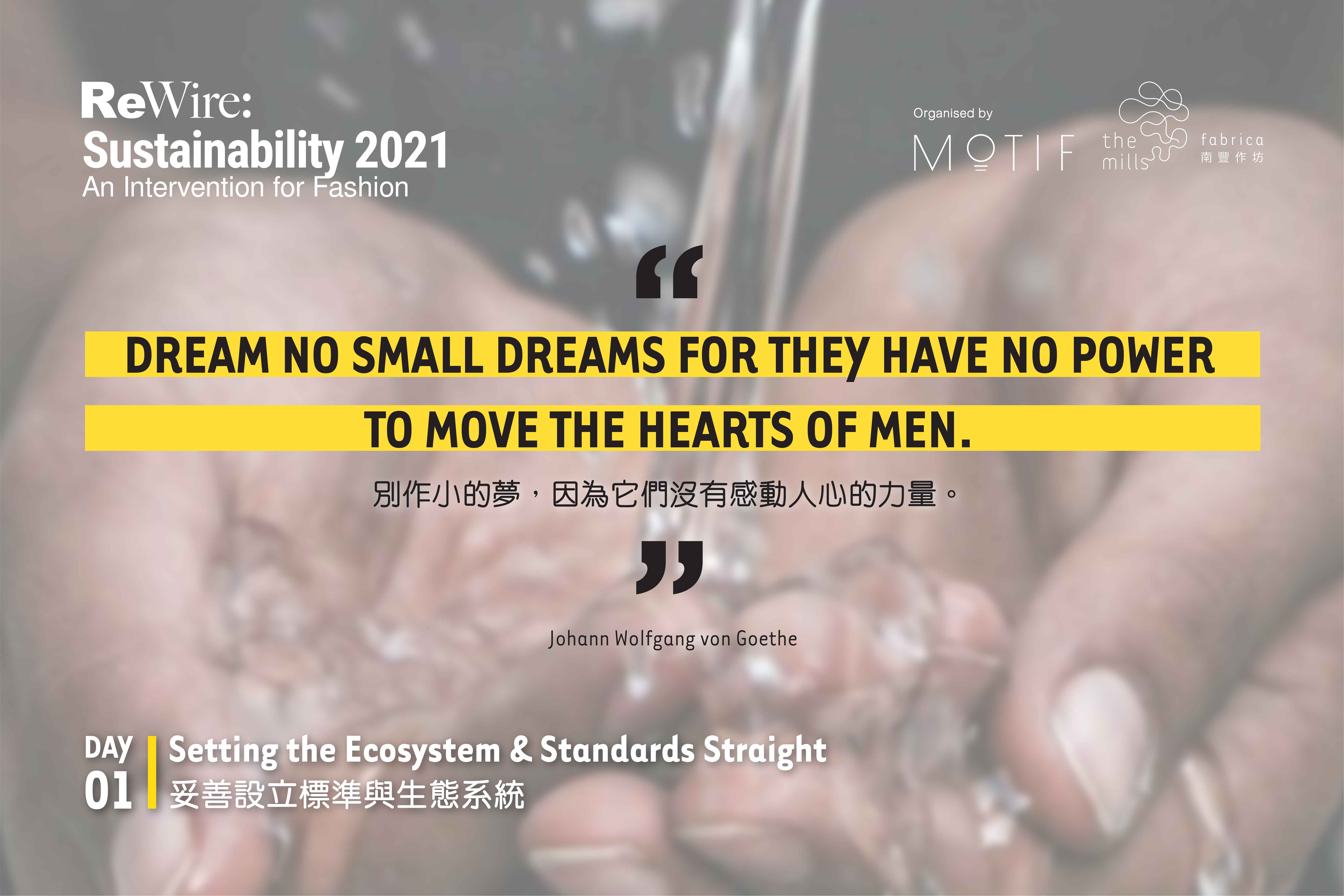 ReWire Sustainability 2021: Day 1 Recap! Of Gigaton goals, infrastructure tripods, net-zero movement, capital for good
At every fashion conference or event, one of the top quoted "facts" is that fashion as an industry is the 2nd most polluting industry on the planet. Guess what? We are wrong- that statement is perhaps the most "misquoted" fact in the industry big time. And with that firm debunking by Janice Wang (Chairwoman, MOTIF Board), ReWire 2021 was on it's way.
Fashion's BHAG: The 10 Gigaton Challenge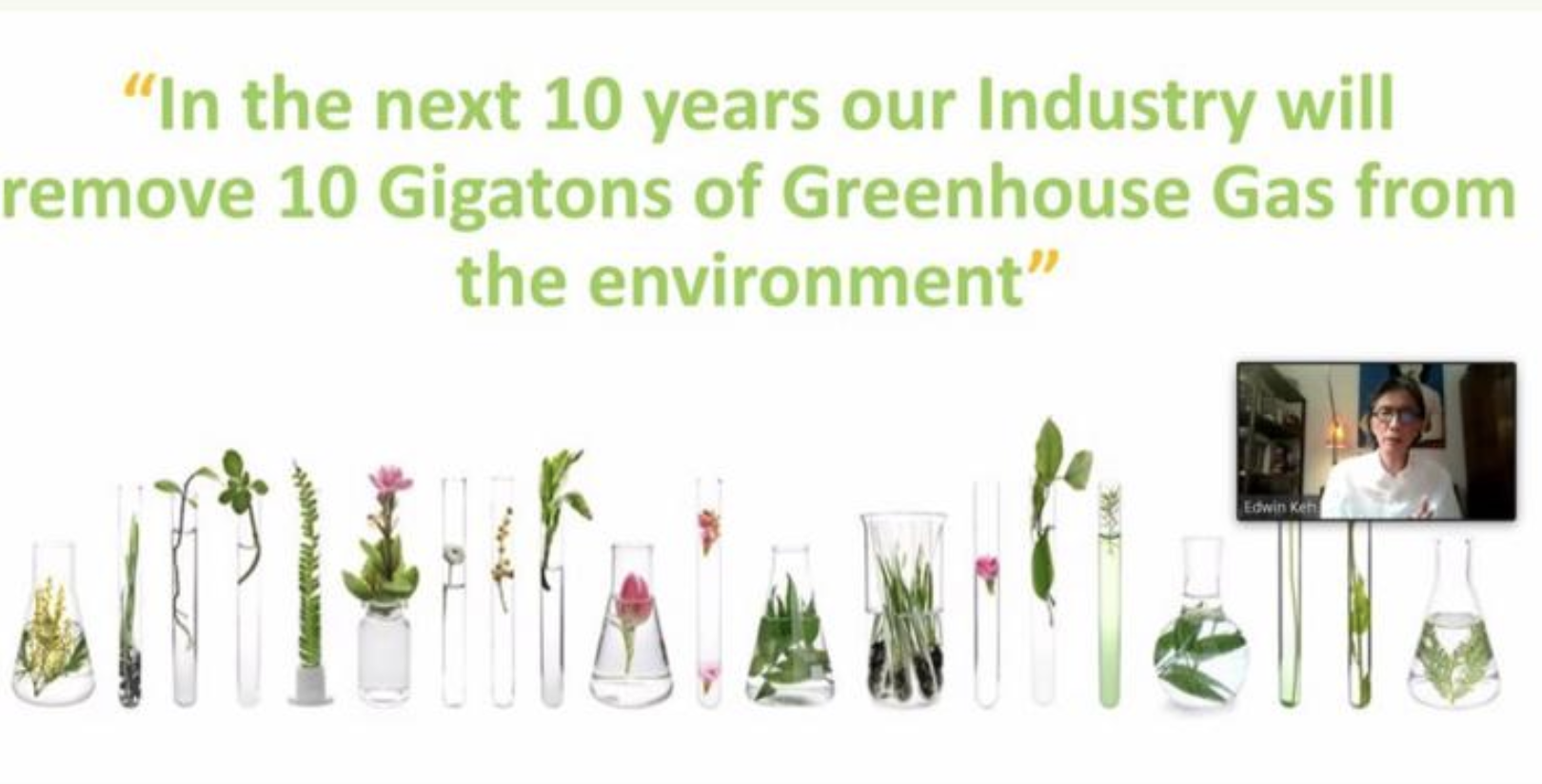 Edwin Keh (CEO, HKRITA) kicked off the day asking what should be the Big Hairy Audacious Goal of the fashion industry. For an industry whose annual emissions is predicted to go up from 1.75 Gt in 2015 to ~5 Gt in 2030; Edwin proposes a simple BHAG – "for fashion to remove 10Gt in next 10 years"; signifying the aspiration to not just to be carbon neutral but also carbon negative. Daunting as that might be, many of the technologies are regenerative agriculture, sequestering or storage innovations already exist and we are already seeing inspiring parties taking the lead from countries like Bhutan and Denmark having neutrality policies to companies like Allbirds & Microsoft setting bold commitments & initiatives. The call for us- to be fearless even if we might fail and just as Roger Bannister did, to do something that outlives our lifetime. Otherwise, if we don't set the agenda, the agenda will be set for us.
Infrastructure – the tripod of systems, stakeholders, capital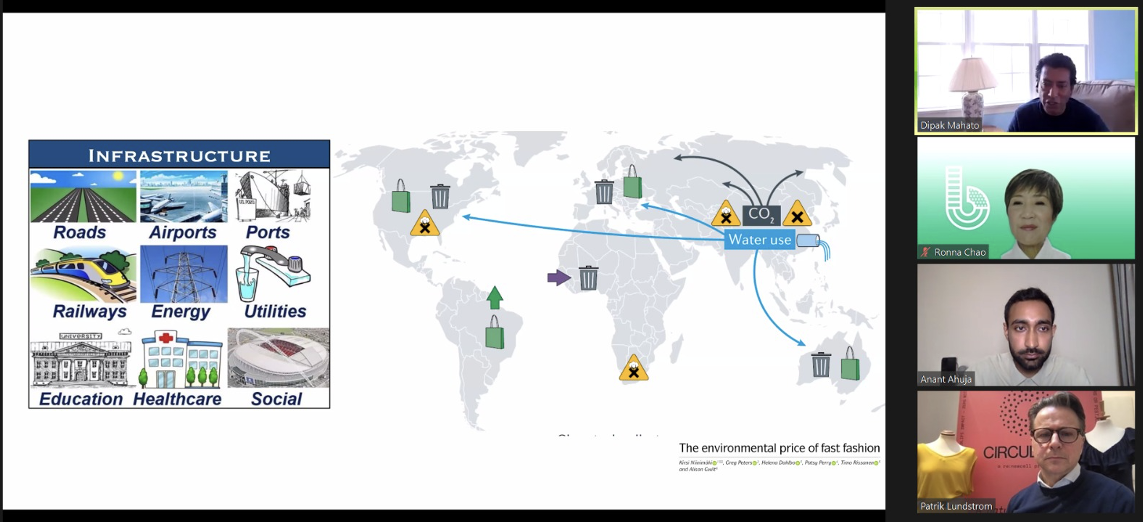 Moderated by Dipak Mahato (CEO, Seachange), the panel addressed the big challenge of infrastructure. Lots of ground covered but 3 key pillars stand out- systems, stakeholders, capital. Infrastructure has to start with creating the right systems, Ronna Chao (Chairwoman, Novotex) mentioned about leveraging the existing logistics network of a retail partner for collaboration while Anant Ahuja (Head Organization Development, Shahi) has also developed a fascinating clean energy manufacturing system. Second, a holistic consideration of stakeholders is essential.
Anant talked about Shahi's energy initiatives, working with stakeholders including brands and government to generate 100% renewable electricity in their factories. Patrik Lundstrom (CEO, Renewcell) emphasized the need to identify the "channel leaders" such as brands as well as customers that generate demand for sustainable solutions. Ronna also mentioned engaging parallel industries like hospitality (linens in hotels) that have scale. Finally, Patrik also mentioned the increasing interest by investors providing the 3rd part of the tripod- capital that will help further proliferate these technologies.
Can China & Asia move to net-zero?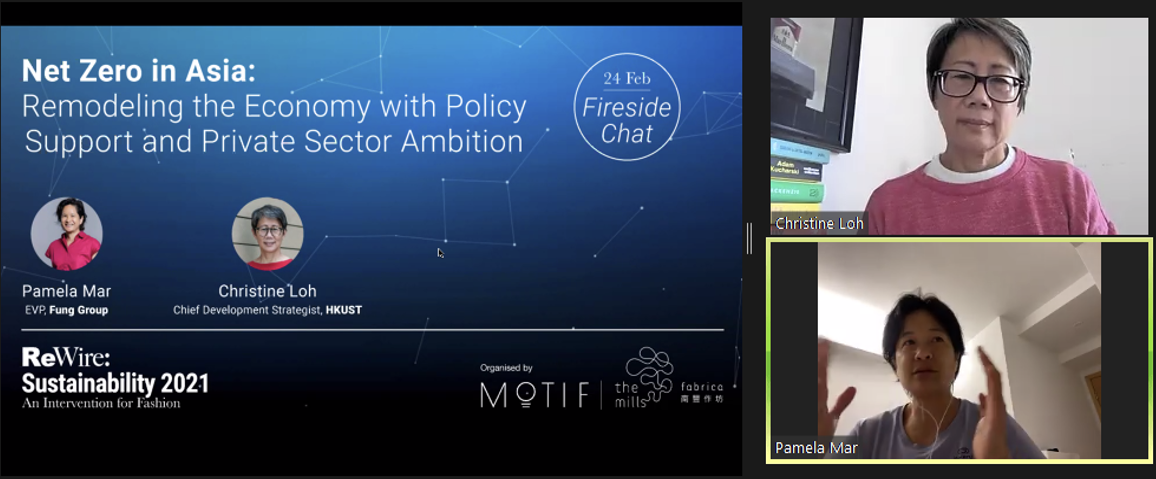 Pamela Mar (EVP, Fung Group) moderated an interesting Fireside Chat with Christine Loh (Chief Development Strategist, HKUST). Beginning with the question of China's ambition of net-zero, Christine gave an interesting take of how carbon neutrality goes hand-in-hand with dual circulation, where the drive towards net zero will be complemented or further accelerated by the future of Chinese economic development. Supply chain shifts in Europe towards the desire for more regulations and reporting creates opportunities for China, as a large exporter to EU to change. Indeed, China's opportunity and the challenge are in transition- be it moving from a coal economy to a green economy, or considering the social implications of green policies (e.g. majority of the workforce in coal industries). Would we see the old saying that "everything in China's 5 Year Plan gets done" come true? And relatedly, will this inspire other Asian countries to do the same (like we have seen with Japan, South Korea making pledges after China did). Much to be optimistic about and much to be observed in the coming period.
Sustainability as an asset class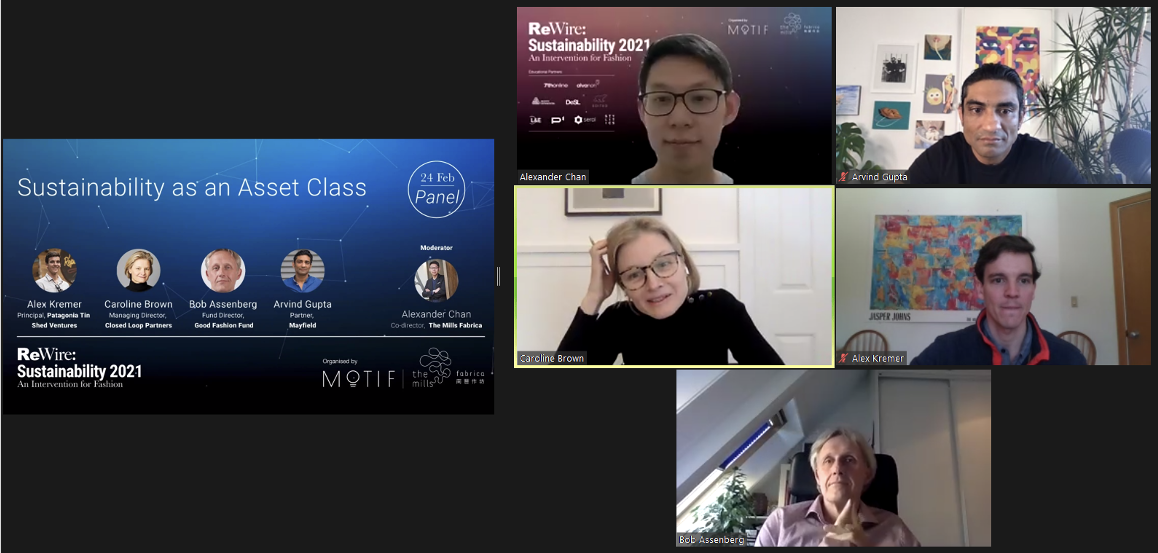 Had great fun moderating a passionate panel about how "capital can be a force for good for fashion". In particular, costs and scalability are always key concerns for some of these sustainability techs. Referencing learnings from the investment boom & bust in Clean Tech 1.0, Arvind Gupta (Partner, Mayfield) stressed the importance for new technologies to go beyond being a commodity but instead engage with consumers early creating deep value addressing market needs. Alex Kremer (Principal, Tin Shed Ventures) also mentioned about being holistic in seeing the value chain (looking beyond fashion to regenerative agriculture) and helping to be a startups' storytelling partner. Caroline Brown (MD, Closed Loop Partners) also brought home the point on the importance of picking the right brand partners and scaling at the right pace with pilots or commercial runs otherwise companies run risks of crumbling under the scale. Lastly, as investors or industry, we often might be so caught up in thinking about the technologies or businesses, but we forget that all these are started and driven by remarkable founders & entrepreneurs. Alex mentions about the admiration for entrepreneurs who see someone else trash as their treasure to remake the world for the better and Bob Assenberg (Fund Director, Good Fashion Fund) also talked about the dedication of people working day-in-day-out in supply chains. Innovations are enabled by these heroes and they are a constant source of inspiration for us as investors.
Interesting insights from other panels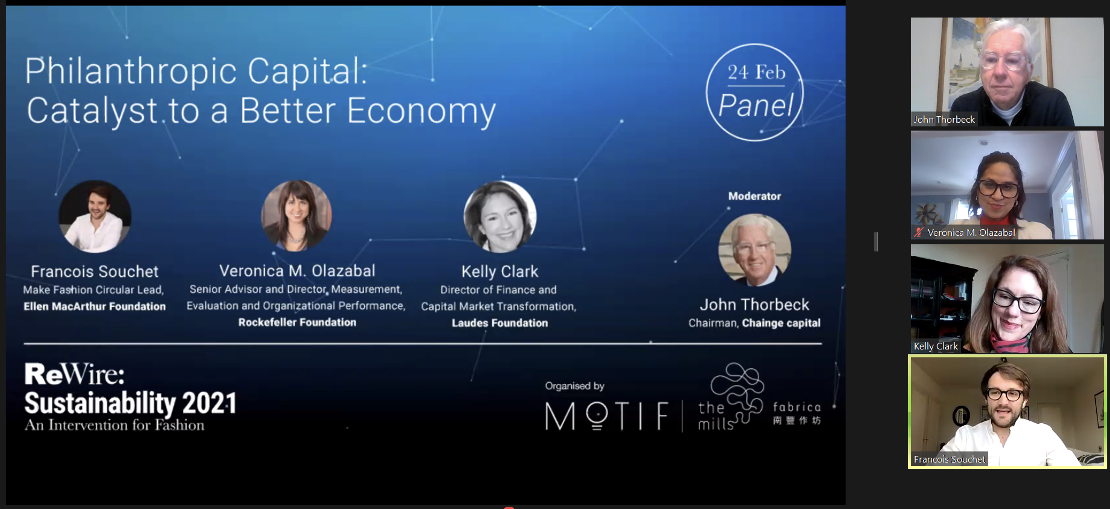 "ESG and Impact on Public Companies": ESG is no longer just compliance/ tick boxes; real money & interest is coming in; data & measurement would be an important piece in the future development
"Sustainability standards: multi-stakeholders collab": Consumers are new gatekeepers; the key is having comparable, credible, and variety of data & standards for them
"Philanthropic Capital: catalysts to better economy": individual actions are tightly coupled to environment/ economy; important to convene and seek alignment on sustainability; understand what is our aligned vision of "good"
"Apparel industry sustainable strategies framework": Using case studies to reflect & assess ROI and drawing lessons for future pilots
Finally ending off with a quote from Edwin at the start:
"Dream no small dreams, for they have no power to move the hearts of men."

– Johann Wolfgang von Goethe
More to come in the next 2 days!
Excited about what you read? Don't miss out on Day 2 & 3