Blog
Recap of Simple Pieces & Unspun New Incubatees Event @ The Woolmark Company
At Fabrica, a core part of what we do is to help create techstyle startup success stories- to which our 12-months incubation programme is designed specifically to provided dedicated customized support for Hong Kong-based startups. Unlike other incubators or accelerator programmes, the key differentiation for us is providing tailor-made support based on the needs of each incubatee (be it relating to exposure of their startup/ brand, connections to key industry partners or general advisory relating to financial, business strategy or legal and other matters) and incubatees work closely with us during the 12 months to help get them to the next stage of growth. Most incubatees come in with a minimum viable product or service and we accept applications or referrals throughout the year.
Recently, we officially announced the intake of 2 new incubatees (Simple Pieces and Unspun) during StartmeupHK Festival in February and this week, we hosted a celebration event for these 2 new incubatees to officially welcome them into the wider Fabrica community of other startups and partners. The event was held at the Wool Resources Centre, thanks to our partner The Woolmark Company who has been a kind and generous partner and supporter of The Mills' work. During the event, each of the 2 incubatees took turn to share about their businesses and the event ended with a presentation by The Woolmark Company on some of their own innovations as well. Highlights are as follows.
Simple Pieces: To be the brand for every ladies' work-drobe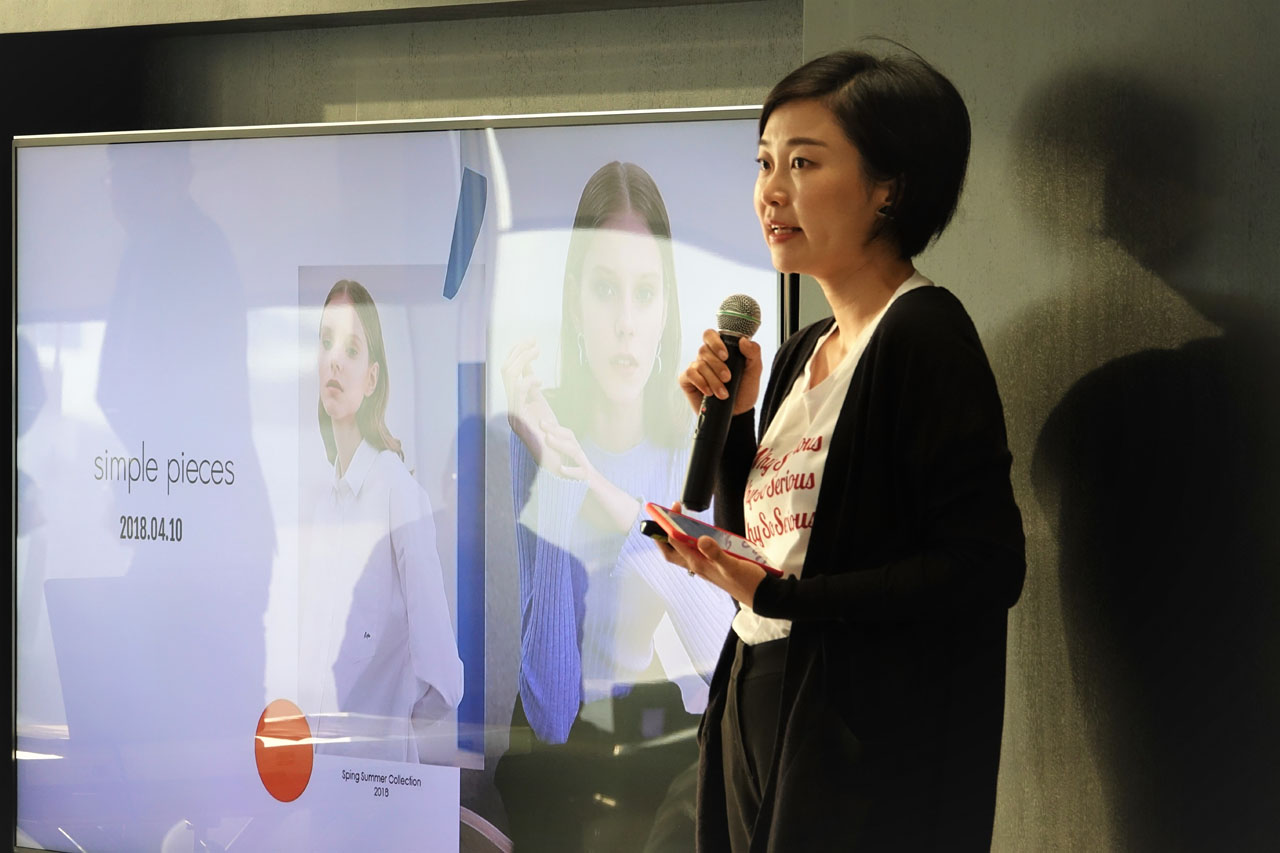 (Elaine Lou – Founder, Simple Pieces)
Started by one of XiaoHongShu (小红书)'s founding team member Elaine Lou, Simple Pieces is the latest brand in town that aspires to be the simple accessible choice for every ladies' work-drobe. Elaine believes deeply that there is a clear white spot in the apparel market today (and this white spot is precisely why it's so challenging for ladies to find good smart casual and work clothes to wear- not to worry since Simple Pieces is now here). Elaine also shared her insights about 3 key questions that all new brands must answer- (1) how to earn customers' trust– by being authentic in brand messaging and also collaborating with established KOLs/ fashion bloggers; (2) how to draw attention– by developing viral products that express an attitude in niche categories priced to target high conversion (<200RMB/ piece) and (3) how to reduce inventory risk while scaling quickly– by focusing on core hero products that lasts >3 seasons while having a small segment of seasonal apparel.
Since their official launch in Oct 2017, Simple Pieces has shown strong growth in their brand awareness and customers; with popular products like their celebrity beanie selling >1000 pieces in the month of January 2018 alone. The company has a revenue target of ~$20M RMB for 2018 and will soon start fund raising to support their further growth of their brand in Mainland China and Hong Kong. Simple Pieces' previous seed round is backed by one of the most reputable venture capital firms in China – Zhen Fund.
Unspun: To create the production of the future beginning with the customer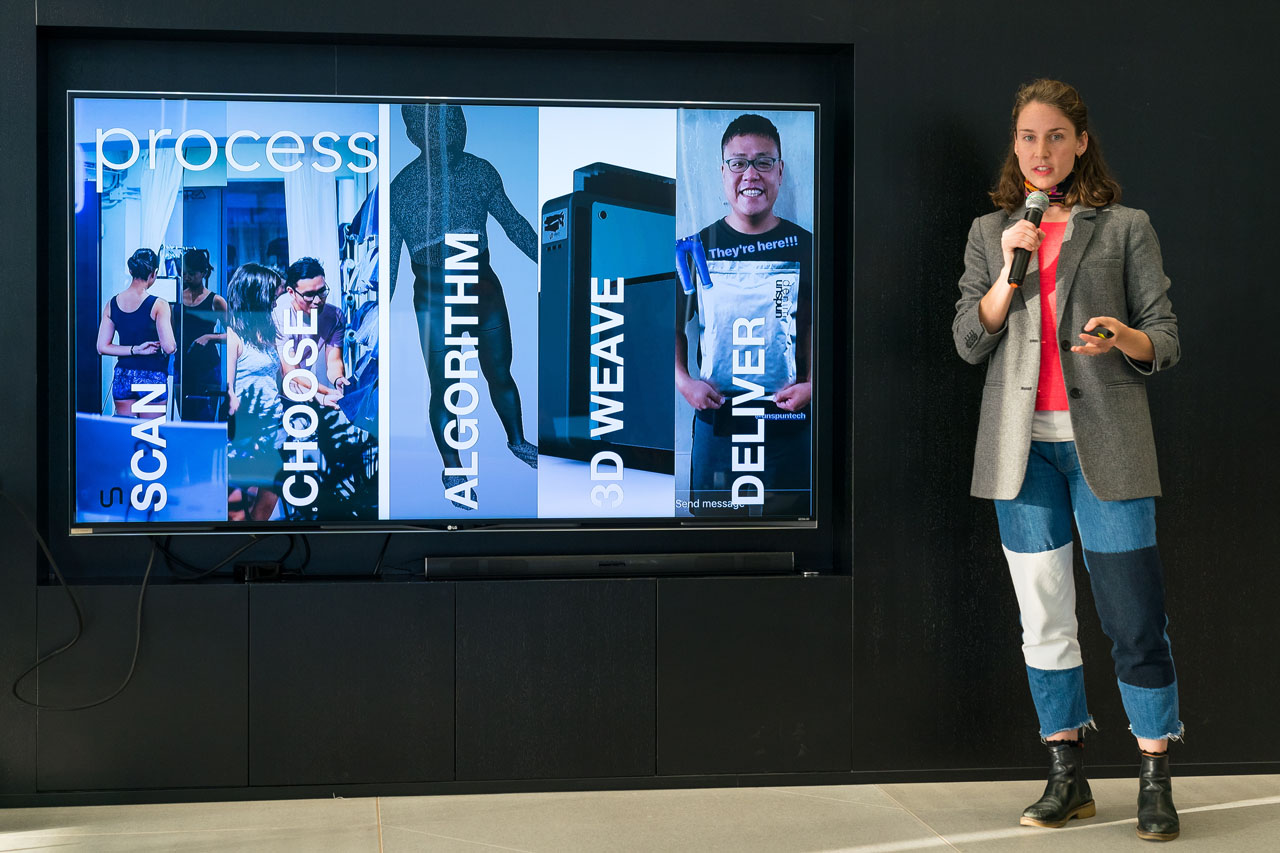 (Elizabeth Esponnette – Co-founder and Chief Visionary, Unspun)
Started by former Stanford students with a passion for apparel and design, Unspun's vision is to create a new production model for the future by starting with the end customer in mind. Unspun co-founder Elizabeth Esponnette shared about Unspun's core innovation in producing customized jeans (based on their proprietary fit-algorithm) as well as their 3D-weaving production machine. As a team, they genuinely believe that fashion industry can benefit from reducing wastage and inefficiencies by adopting production-on-demand and the development of their 3D-weaving machine will greatly help brands both in sustainable production and also catering to personalization for customers. Overall, the team has a 1% goal- that is to reduce human global carbon footprint in fashion industry by 1% (as calculated by their focus on apparel products related to Unspun's businesses).
Unspun is a grant recipient from the National Science Foundation and is currently also a fellow incubatee of HAX in San Francisco. The team was also a winner at Global Change Award 2017 and is currently in the process of completing their seed fund raising round.
The Woolmark Company: Presenting the Wool Lab Denim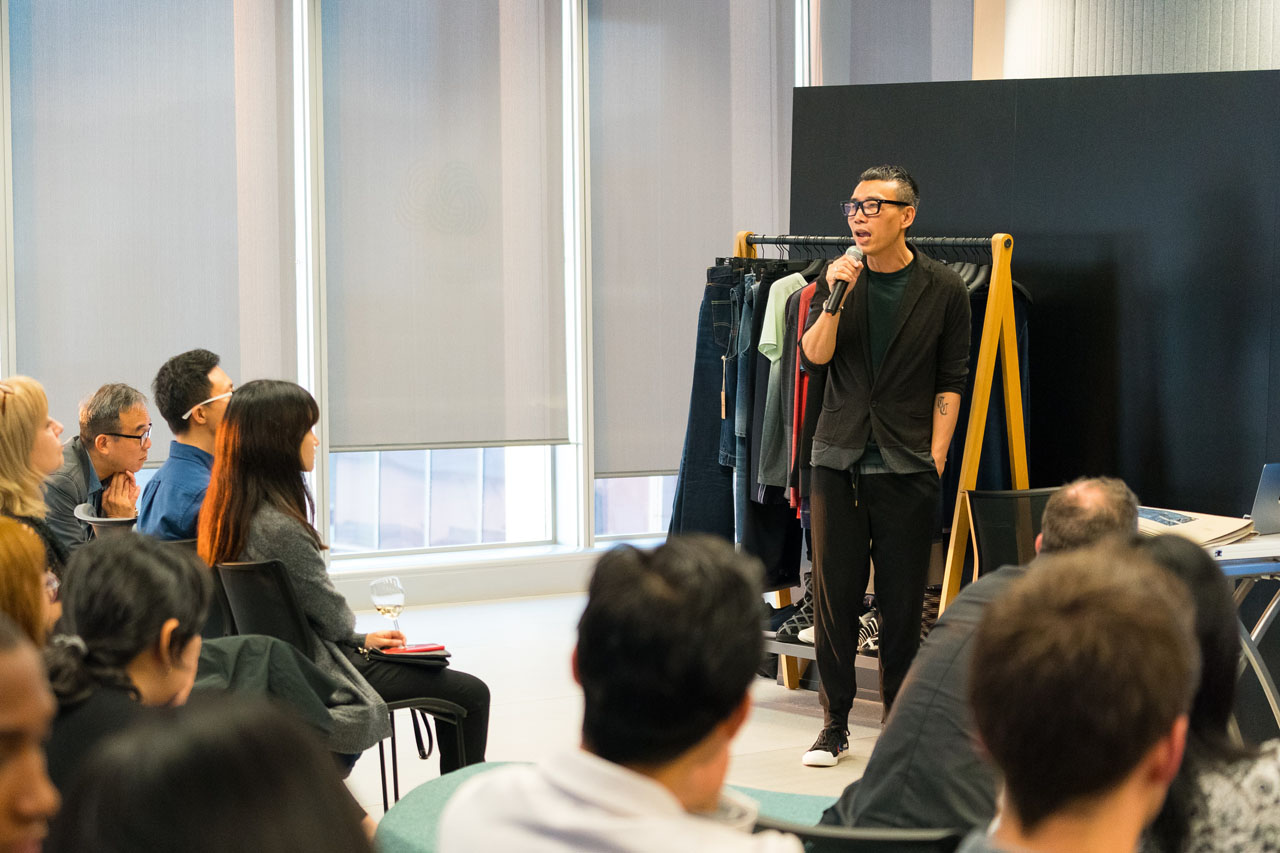 (Brian Tam – Project Manager of Fashion & Marketing HK, The Woolmark Company)
The Woolmark Company logo/brand is one that is recognised and respected worldwide. The global authority on wool; a quality certification that has been applied to over 5 billion wool products. Like our incubatees, they too are paving the way for a techstyle future, showcasing the versatility and innate luxury of wool. Their textile innovations within the Merino wool industry help all those involved in the production process.
Guests had the chance to hear from The Woolmark Company's Fashion & Marketing Project Manager Brian Tam and also interact with The Woolmark Company's latest textile innovation: Wool Lab Denim. It is a collection among the most beautiful wool and wool blend denim fabrics, collected from across the world. Wool Denim fabrics represent a new approach to improving the aesthetics of traditional denim and this trend is becoming very popular from casualwear to luxury wear. New technologies allow fabric to be naturally dyed indigo. Garments in 100% Merino wool, or wool blended with cotton, acquire a modern look keeping all the natural qualities of this fibre. The creation of the Wool Lab will greatly help to create a depository for designers to reference and will go a long way towards helping The Woolmark Company to build a community of designers and partners to innovate with wool in their products.
Creating startup success stories through building the wider community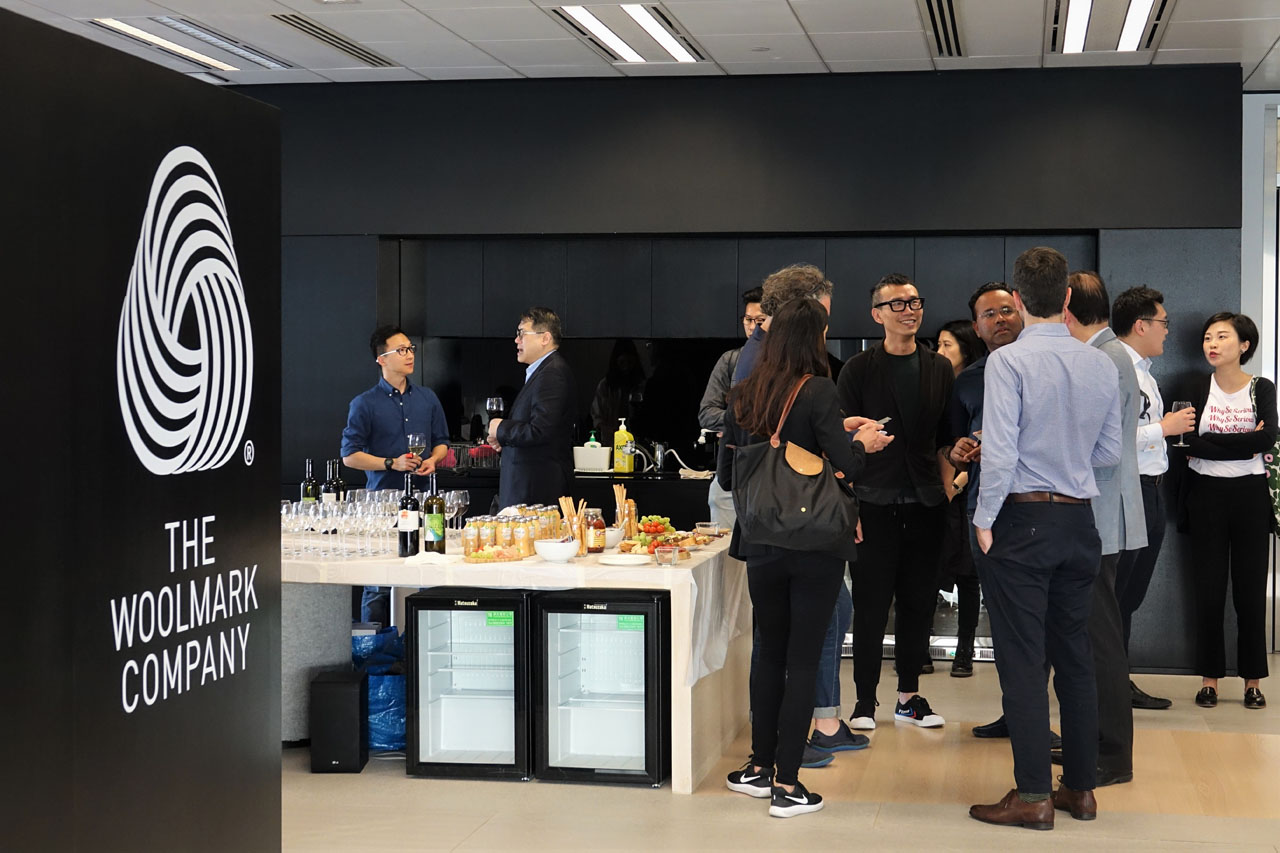 There's an African proverb that goes "if you want to go fast, go alone. If you want to go far, go together". Very similarly, at The Mills Fabrica, we genuinely believe that no startup journey is one to be taken alone and that creating startup success stories would eventually go back towards having the wider community of partners and supporters.
To that ends, we are extremely thankful to all our partners and community who have supported all of our incubatees and startups in the past 1-2 years and we definitely look forward to continue working with you all to help nurture and create the next generation of leading techstyle startups.