Blog
Material Meetup (HK) 2021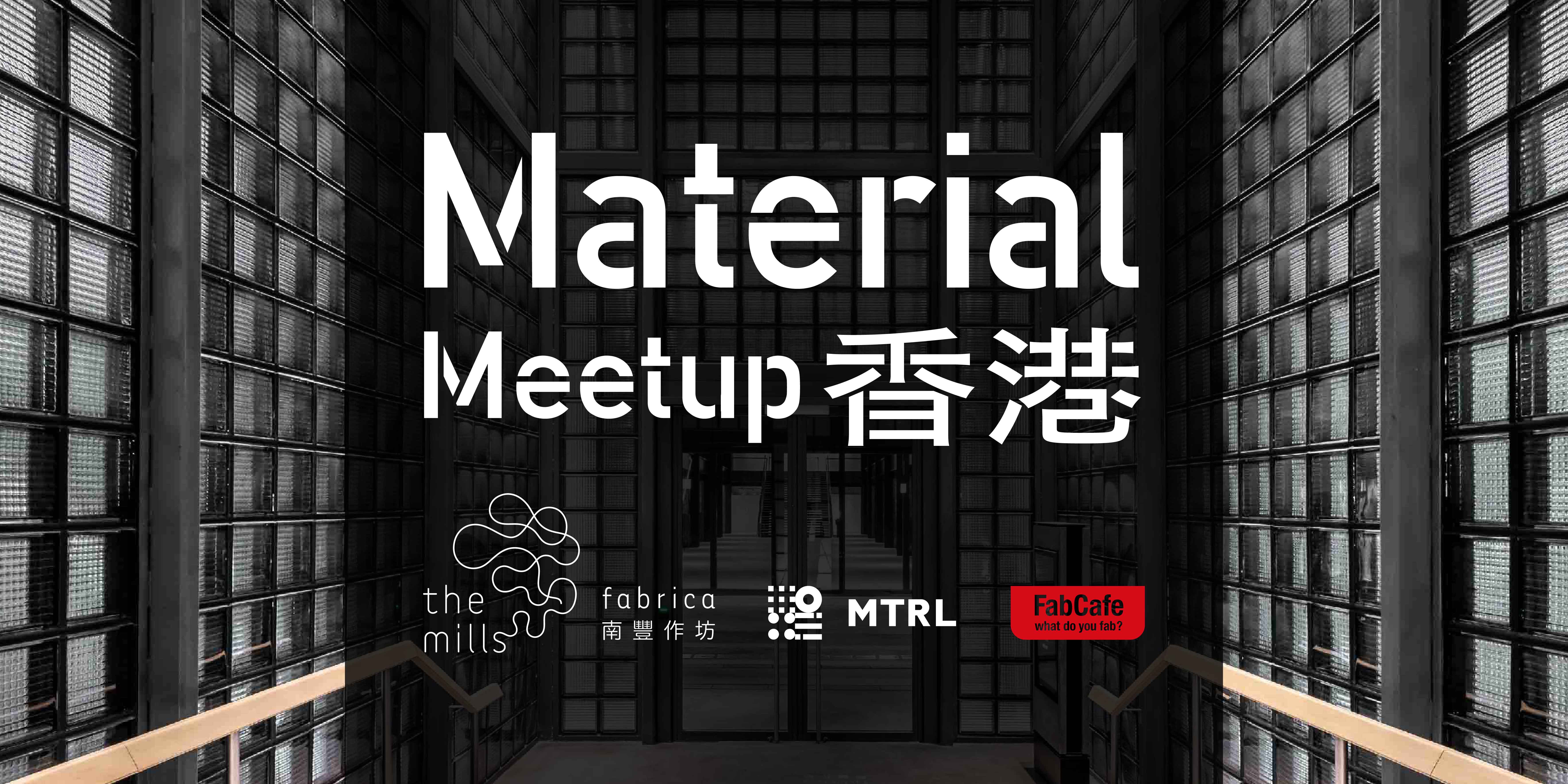 COVID-19, climate change and our fast-changing world are urging us to rethink our relationship with products and technology. One of the innovations driving that conversation is wearable technology, an expanding field of application which supports human activities in everything from exercise to consumption.
As part of this edition of Material Meetup Hong Kong, Loftwork and FabCafe Global teamed up with The Mills Fabrica in Hong Kong to bring together wearable technology trailblazers from Japan, Singapore and Hong Kong. Under the constraints of COVID-19, this unique hybrid event made it possible for these innovators to gather and exchange ideas, as well as share their experiences at the intersection of fashion and technology. 
Find out how wearable devices and apparel are reshaping our bodies – and the world – through innovation.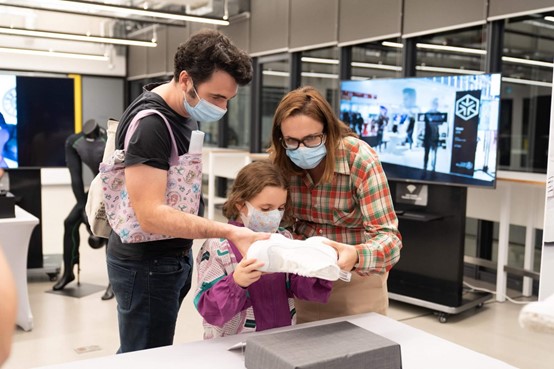 Event attendees got a closer look at the 3D-printed shoes by Magarimono at the product showcase part of Material Meetup HK.
This was the first Material Meetup edition to take place in Hong Kong. The event, simultaneously streamed, was held physically at The Mills Fabrica in Hong Kong on October 7, 2021, with a physical product showcase at the venue. The Mills Fabrica fosters local 'techstyle' (technology and lifestyle) and agrifood tech innovation, focusing on sustainable supply chain and production, ingredients/materials and products innovations, as well as sustainable platforms and circular models. Fabrica is the incubation and innovation arm of The Mills, a revitalization project established in 2018 by the Nan Fung Group. Learn more about The Mills Fabrica here. 
Subscribe to our newsletter here for monthly stories about technology and innovations!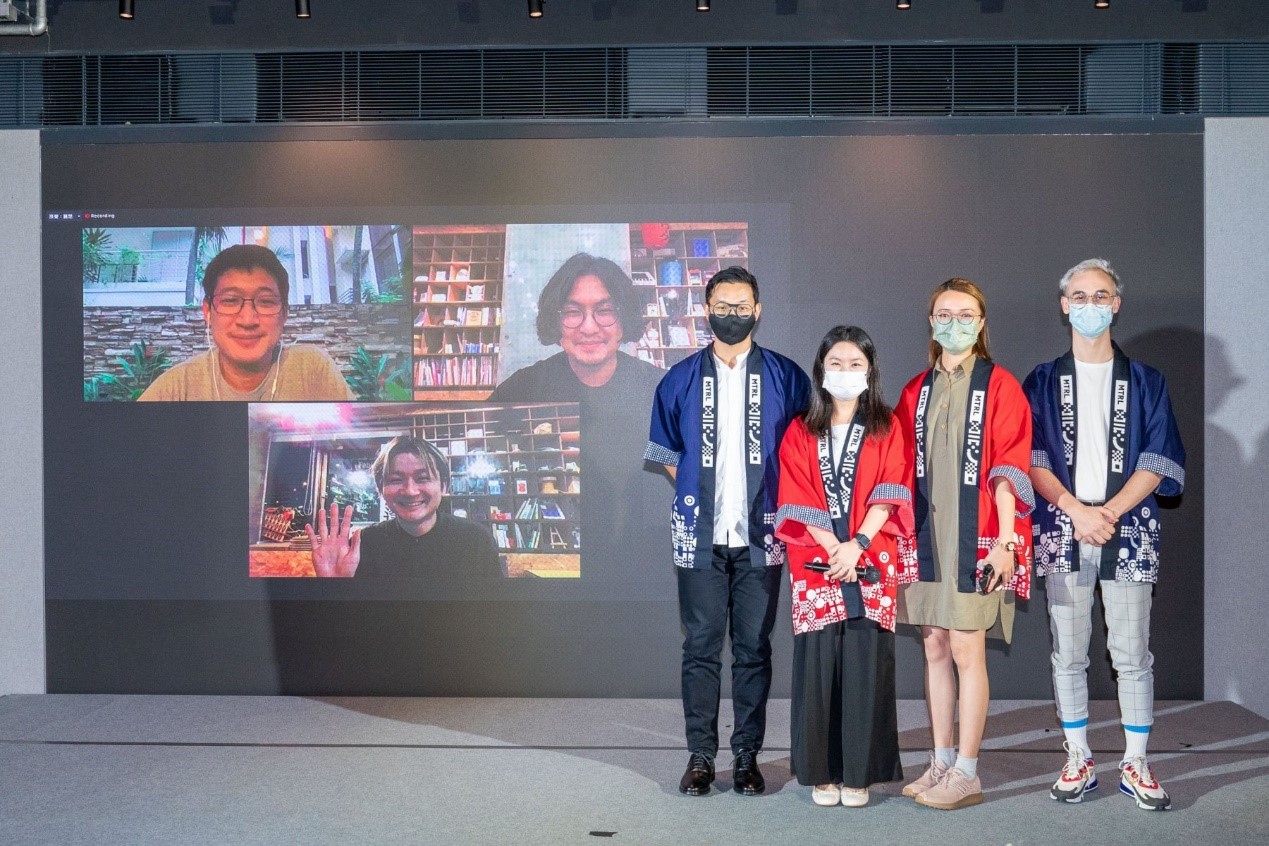 Event speakers and facilitators at the hybrid Material Meetup HK event at The Mills Fabrica.
A Sense of Touch in a Post-COVID World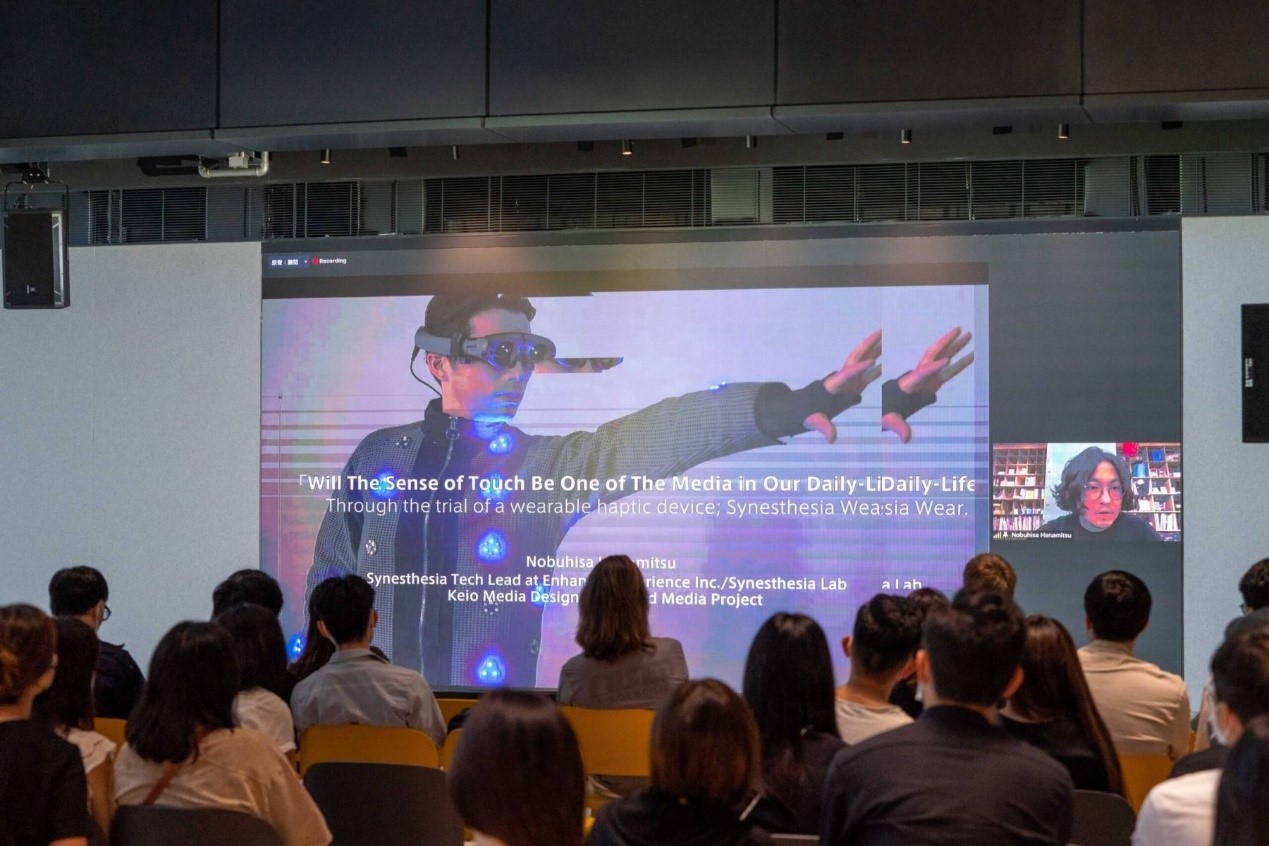 Synesthesia Wear, a full-body, customizable haptic interface developed by Nobu Hanamitsu and Embodied Media Project, Keio University Graduate School of Media Design.
Nobu Hanamitsu (haptic scientist and tech lead at Enhance Experience Inc./Synesthesia Lab, doctoral student at the Keio University Graduate School of Media Design) kicked off the talk with ideas about the extent to which haptic technology may permeate our society in the future. 
Haptic technologies refer to what we experience through our sense of touch. Beyond just physical stimulation, haptic design is also about the emotions generated through touch. Hanamitsu noted that although we are already seeing applications of haptic technology everywhere, particularly in the vibration of devices like phones, the sense of touch is generally not as well understood  as sight or sound in our education.  
Hanamitsu took part in developing the Synesthesia Wear, a wearable device that has a vibrator attached to the entire garment, allowing the user to experience the sensation of touching an object in virtual space with their hands, and to send and receive two-dimensional communication by sensing the body's movements. 
Under COVID-19, Hanamitsu suggested that our sense of touch is becoming more important than ever before. Social distancing and lockdowns have resulted in phenomena like 'skin hunger', which has only reaffirmed the importance of body-to-body contact. 
Eliminating Waste in Fashion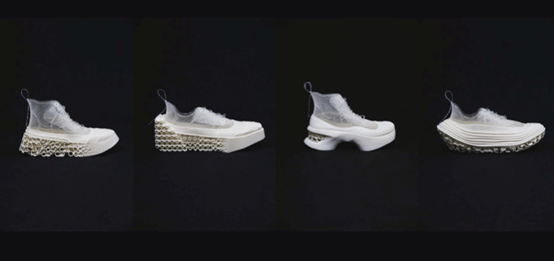 Magarimono shoes
With an estimated 92 million tonnes of textiles waste created each year, fashion is increasingly becoming recognized as one of the greatest threats to the environment. Techstyle innovators like the teams behind footwear brand Magarimono and denim company Unspun are leading the way in sustainable practices with the latest technologies. 
Magarimono, a footwear brand hailing from Japan, combines traditional handmade techniques with technology – specifically 3D printing.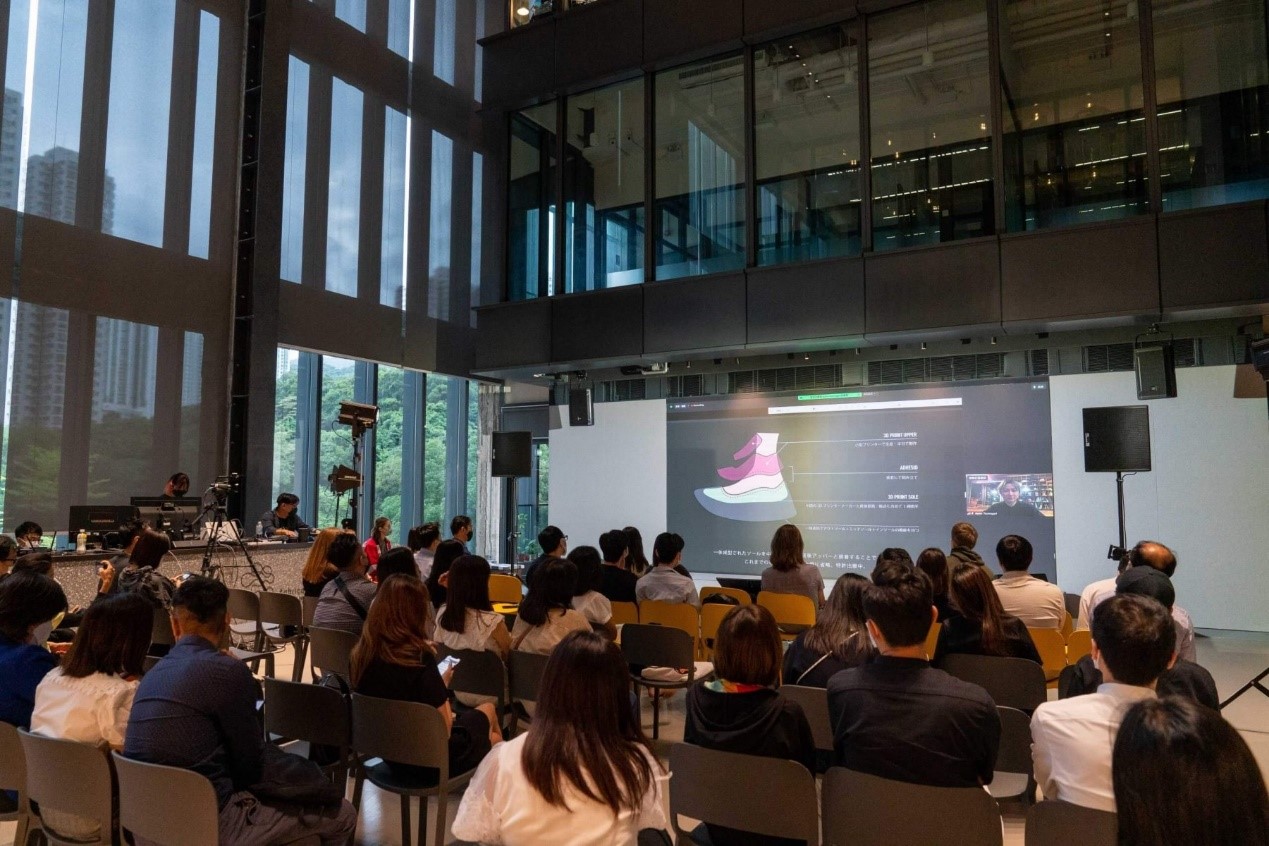 Magarimono founder and CEO Ayato Tsumagari showcased Magarimono shoes, which only consist of three parts.
Ayato Tsumagari, CEO and founder, explained that a big part of the company's mission is to minimize waste in the creation process. Normal sneakers require many components to put together, all of which inevitably generate waste. In contrast, Magarimono has effectively minimized their sneakers into only three parts through the use of a 3D printer. 
In creating sneakers of the future, Tsumagari also explained that Magarimo has opted out of standard mass-production channels, favoring in-house production instead. By only accepting made-to-orders, they can have little to no inventory – which is both sustainable and carries less risk. 
Tsumagari said he believes the same model can be applied to not just footwear, but also different fashion products, too: "What we are trying to achieve here, we can make the future of what products can look like or can be."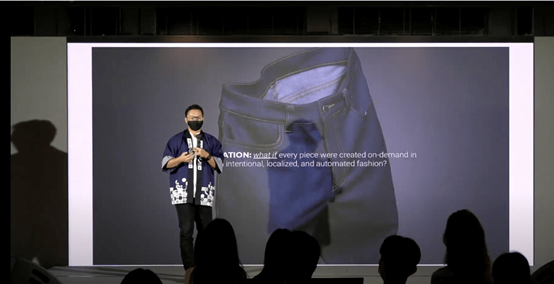 Unspun CEO, Walden Lam talked about fashion sustainability at The Mills Fabrica.
Like Magarimono, denim apparel brand Unspun is also seeking to break both the norm and the toxic cycle of the fashion supply chain.
"Apparel has a lot of problems," said Walden Lam, co-founder and CEO of Unspun, adding that climate change is one of the major challenges we will have to live through.
He pointed to the excess products the industry pumps out, and cited that of every 100 garments produced, 15-20 end up in the landfill.
"Our provocation to the world is: 'What if every single piece was produced on demand?'" Lam said, explaining that Unspun, like Magarimono, operates on a 'zero inventory' model.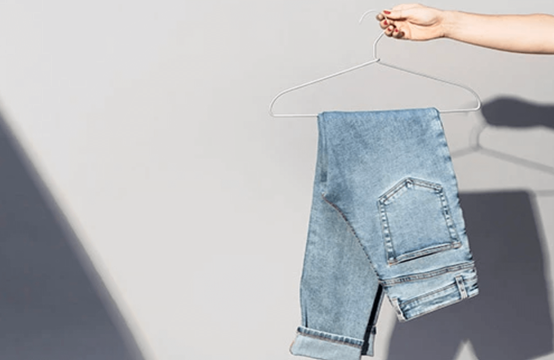 As the fashion industry comes undone, the new denim apparel brand Unspun is coming up with new solutions.
Unspun jeans are fully customized, measuring with 3D body scanner, digitally designing and tailoring jeans specific to each consumer. According to Lam, Unspun also incorporates 3D weaving into the production process, which, when combined with 3D scanning, can allow for more inspiring results, such as different weave structures.
Adapting to Future Trends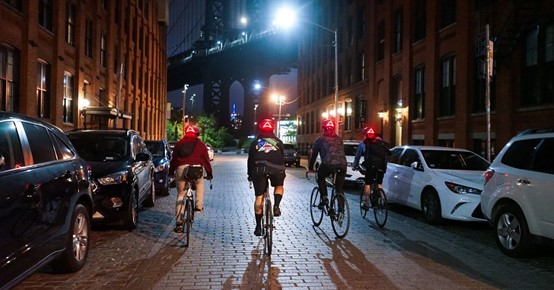 Lumos helmets keep cyclists safe on the road with built-in lights.
If climate change is transforming the way we produce and consume, COVID-19, too, has radically changed our habits.
According to Eu-wen Ding, co-founder and CEO of Lumos Helmet, there was not that much interest in biking when he started his company. COVID-19, however, has led to a "huge bike boom" in many parts of the world, with Ding citing double to triple the numbers of what they see normally.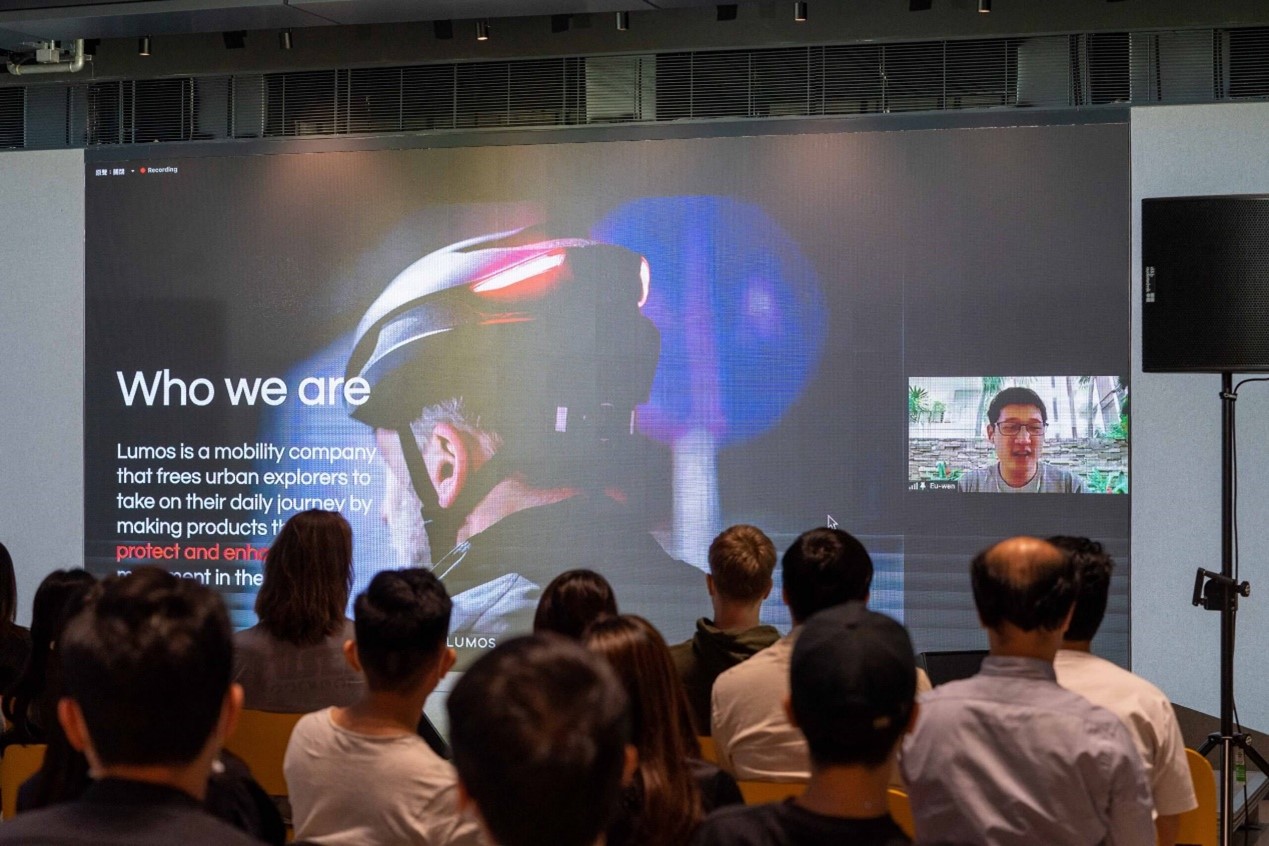 Lumos Helmets founder Eu-wen Ding gave insight into the shifting gears of the mobility space.
Lumos Helmet makes bike helmets with built-in lights, keeping cyclists illuminated on the road. Hailed by Slate as "the helmet everyone bike commuter needs", Lumos helmets are designed with integrated turn signals and brake lights, as well as a companion app. 
According to Ding, mobility has undergone vast changes since Lumos Helmet began as an idea on paper six years ago.
Updates in technology and new products like e-bikes have paved the way for safer conditions on the road; as a result, more and more people are aware of commuting via bike.These changing trends reflect how quickly tides turn, and the significance of innovation in adapting to new needs. When asked by an audience member about the end of the product life cycle for Lumos helmets, Ding noted that EOL products are a challenging area of concern for many companies now, especially one like Lumos, given that biodegradability and the durability of helmets seem to be in direct conflict with each other.
"One thing we have started doing is introducing completely biodegradable packaging," he said. "A number of companies are making green helmets, and we hope to be participating in that."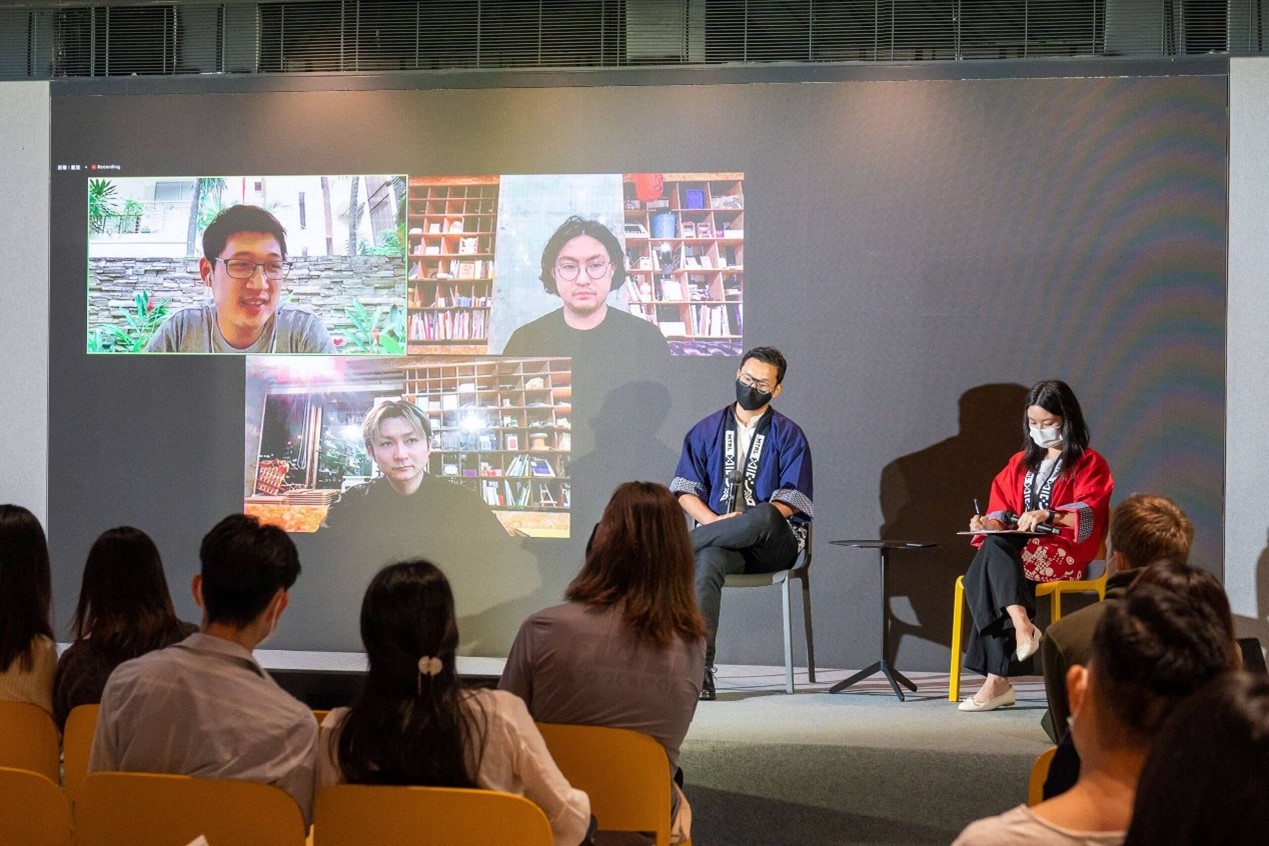 Speakers shared their takes on some of the industry's biggest challenges in the Q&A/discussion part of the event.
The other creators also chimed in to share what their companies and projects were actively doing in regards to the longevity and end-of-life of products – which have become serious concerns for makers across the board. 
Creating sustainable and impactful products was certainly the hot topic of the night, as audience members quizzed creators during the Q&A/discussion part of the night, facilitated by Maggie Luk, Incubation Lead at The Mills Fabrica. 
Walden Lam admitted that there was an "inherent tension" between sustainability and consumption, given that the most sustainable thing is to not consume. However, the creators agreed that, ultimately, innovative products can help to draw consumers into practices that engender good impact.  
"That's where companies like The Mills Fabrica come in," said Eu-wen Ding, stressing that the support of investors, backers or networks who believe in the product can also be vital to a company's success.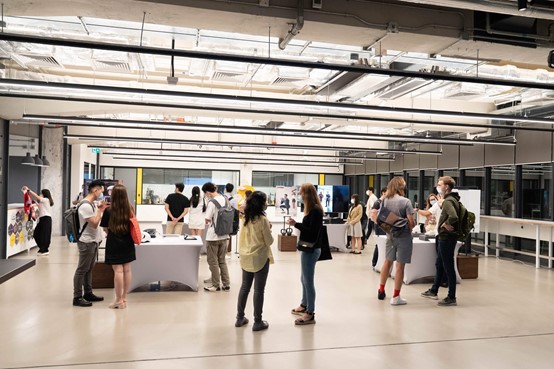 Networking session at the product showcase area at The Mills Fabrica.
About FabCafe Global
Inspired by the 'Fab' revolution as prescribed by MIT maverick Neil Gershenfeld, FabCafe is a series of 'Fab' innovation labs that specialize in creating products, services and experiences of the future. Here, maker enthusiasts, businesses and everyday people can access digital fabrication tools and experiences for fields ranging from fashion to bio. Founded in Tokyo in 2012, FabCafe's global network now serves and fosters creative communities in 11 locations around the world, including Bangkok, Barcelona, Hong Kong, and many more. Subscribe to FabCafe Global newsletter here.
About The Mills Fabrica
The Mills Fabrica is a go-to solutions platform accelerating techstyle and agritech innovations for sustainability. The Mills Fabrica focuses on incubating & investing in sustainable innovators, industry & community building initiatives on innovation & sustainability and physical spaces (co-working/ events/ labs/ store), driving positive change for future generations with like-minded entrepreneurs and strategic partners within the ecosystem.
Recap Video: https://www.youtube.com/watch?v=FHZkLPRJQ8s