Blog
Fabrica in Shanghai: Decoding interesting consumer trends in China
Over the last week of March 2018, The Mills Fabrica was invited to Bailian Fashion Center's official opening ceremony that was planned as part of Shanghai Fashion Week. Overall it was amazing to witness the historical opening of one of our partner's new center that shares a similar ethos with The Mills. During the week, The Mills Fabrica also took the chance to visit other leading partners, startups and retail malls in China. The beauty of China has always been in it's electric speed of change spurred on by underlying driving forces tied to the changing Chinese consumer and evolution of marketplace business models. Some of the interesting thoughts from the week are as follows.
Shanghai fashion week- increasing need to put innovation into design for sustainability and Millennial customers
As part of Bailian Fashion Center's opening, Business France hosted a "Fashion & business conference" during the day featuring talks and panels on various themes including on latest innovations in fashion/ textiles as well as on industry trends in sustainability. Within which, the resounding theme that came out was the importance of bringing more technology/ innovation into the design of fashion and the wider industry.
A key driver for greater technology stems from increasing needs for sustainability. On the panel on "New Approaches to Sustainability", one of the speakers Susan Jenkyn Jones mentioned that designers typically stop thinking about the clothes they design with the retail shops as end-point, very rarely do they think about what happens to the clothes in their "afterlife" once consumers buy them. There's a thinking that their responsibility stops once their clothes leave the studio or factory when in fact they should actively think more about the afterlife of the clothes (including the # of washes, what happens when they are thrown away). And the best way to do this is to best increase visibility and traceability in the supply chain as well as to actively seek out new technologies and innovations that can help with better and more sustainable design (our incubatee Unspun would be a case in point).
Relatedly, there was also a detailed discussion during a panel on "Fashion 2.0 innovation & investment" about the rise of C2M (consumer to manufacturer) models where increasing demands on personalization/ customization by customers means new production tends to be demand-driven ("demand-chain") very much like what we have written previously about "our thinking on sustainability". The key point of contention here is that whether things like C2M (or on-demand production) would just be a marketing gimmick or if it is actually addressing real pain points. To which, this would depend very much on the strength of the innovation such as the actual capacity, costs to implement and also the ability to scale the model to the wider industry. And this has to start with a deeper education and awareness raising of latest technologies in the industry especially to young designers and industry suppliers/ manufacturers.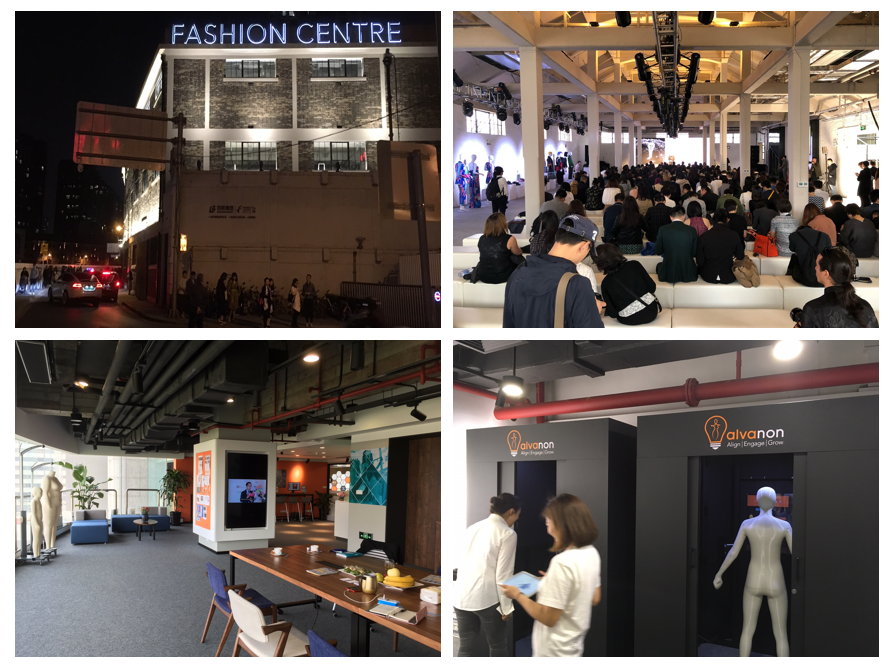 (Top: Bailian Fashion Center; Bottom: Shanghai Apparel Experience Center)
To that ends, the launch of Bailian's new Fashion Center is meant to precisely tackle that with a huge focus dedicated towards education and also both incubation and investments into a new generation of designers. In addition, we also visited one of our partners Shanghai Apparel Experience Center- a newly launched technology and education center that aims to introduce latest technologies like 3D and fit to community. These new innovations and education needs are heavily driven by need to cater to new consumers (the Millennials generation) especially in retail trends- which brings us to the next point.
China's new retail is about creating new experiences and capturing customers' preferences for personalization
Ever since Jack Ma coined the term, "New Retail" has become the new buzzword (or Fengkou 风口) of 2018. In our view, there are 2 aspects when it comes to new retail trends in China.
The first is a transformation of traditional retail into experiential retail, where offline locations like shopping malls has become a place for friends and family to gather and do activities together (rather than just for commerce- which has mostly gone online). Notable case examples include malls like Joy City and Reel Mall, which have floors dedicated towards experiential stores (be it for cooking/ baking, pottery, handicrafts and even dancing/ gaming). Such stores help to lengthen the duration that customers stay in malls, increasing traffic to other retail and creating new experiences for customers to enjoy together.
The second focuses more on leveraging technologies to facilitate online-to-offline integration and to create more seamless transaction experiences. Examples include enabling rapid order and delivery through new supermarkets like Hema (合马鲜生) or retail automation through AI stores (like BingoBox). A close VC friend of ours believe that to the brands/ retailers, "new retail" is really about capturing user data (for greater personalization/ demand forecasting) and expanding payments reach (having transactions captured on their platform essentially make them into a new modern bank).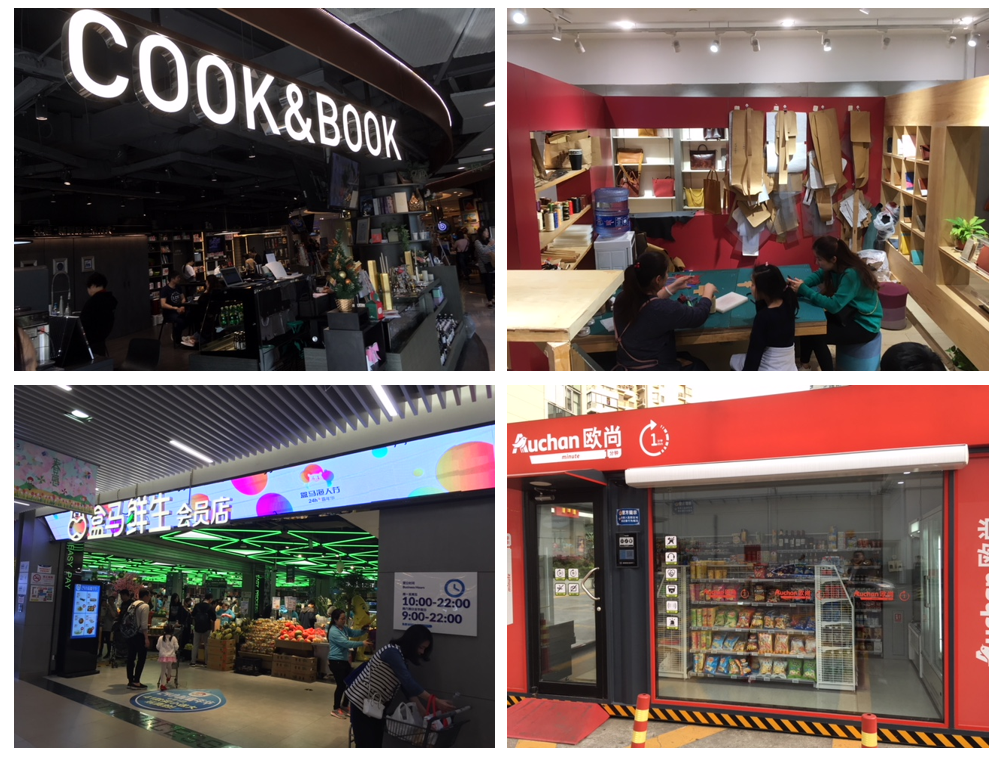 (Top: Experiential Retail malls; Bottom: AI supermarkets and convenience stores)
These trends suggest the changing role of offline presence, be it for extended brand presence or having an additional channel for data capture. More importantly, offline has become an experiment ground for retailers to test out concepts (such as through pop-ups). One of our partners Fung Group is the best case in point when they launched Explorium Center in 2015, starting with a site to conduct retail experiments weekly before evolving into building a wider tech ecosystem/ incubator last year with the goal to test and pilot new startups across their value chain. Going one-step further, such experiments are really to understand the underlying drivers behind consumers and the market.
What's next- better addressing the needs of next-generation of customers
When you think about it, the most fundamental driver is the underlying change in Chinese consumers, with the rise of the Millennial generation as a core target group with demands for personalization and ethical consumption. The corresponding increase in affluence have also driven further demands for lifestyle and wellness (very much like what Chinese video site Yitiao claims as the pursuit of the "good life" (美好生活)).
This is also in parallel to other changes in industry (given demands in greater transparency and sustainability) as well as opportunities to capture similar underlying consumer changes in other emerging markets like South-east Asia (creating economic corridors for Chinese startups to go overseas). We believe its these 3 trends- consumption upgrade of Millennials, demands for sustainability and opportunities of economic corridors that has the greatest potential for techstyle in China.
To which, we look forward to continue building our partnership base in Mainland China and to further support other startups interested in the wider China and Asia market. Next up, also in Asia, The Mills would be showcasing in Taiwan's Creative Expo later this month- so stay tuned and we will keep you updated.