Blog
Ecosystem Summit 2020 Panel Discussion 1: Developing Entrepreneurship talents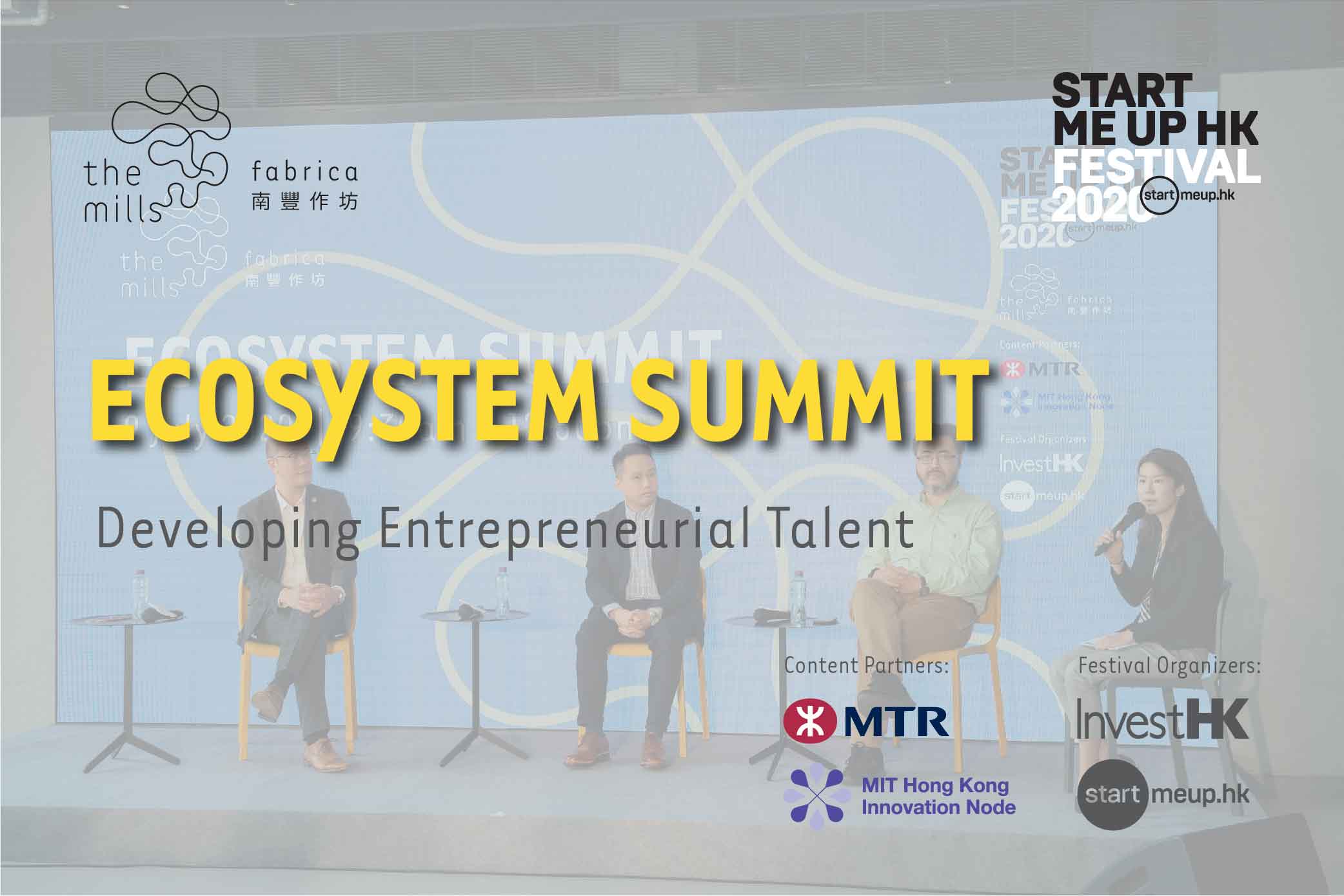 2020 has been a year full of uncertainty. Amidst the current pandemic and Sino-US tensions, startups in Hong Kong may face their biggest ever challenges locally and globally. But crises create opportunities; it gives startups a chance to reflect on themselves, build resilience and move forward.
To shed light on the current startup ecosystem in Hong Kong, together with MTR and MIT Hong Kong Innovation Node, we are proud to have hosted the Ecosystem Summit as part of the StartmeupHK Festival 2020. Through the panel and roundtable discussions, this half-day virtual summit successfully brought 15 startup ecosystem builders together who shared their insights on supporting and nurturing talents, and the importance of the startup-corporate collaboration within the city. While participants had the chance to engage in interactive discussions with the speakers on the online platform.
We are delighted to share our key takeaways.
Developing Entrepreneurship talents
Talent for entrepreneurship is a key gap in Hong Kong, how can ecosystem builders help to nurture more talent and support on entrepreneurship education and incubation? What are the initiatives or programs to attract and retain talents?
The discussion led by moderator Marina Chan, director of Education MIT Hong Kong Innovation Node, shared about how to create innovative minds within corporate organizations with other panelists, including Rachel Chan, Co-Founder of Esperanza, Kosby Fu, Vice President for Innovation & Ecosystems at DBS Bank, Raymond Chu, Assistant Director at the Institute for Entrepreneurship, The Hong Kong Polytechnic University and Anvil Ng, Head of LEAP Acceleration at Hong Kong Science & Technology Parks Corporation (HKSTP).
Right education system, diversity and international talents
The panel discussion opened with Rachel. She highlighted three elements to ignite the entrepreneurial mindset in Hong Kong: the right education system, diversity, and collaboration between local and international talent. In terms of education, Rachel mentioned that current systems need to nurture entrepreneurial talent. "We should not be afraid of taking risks and collaborating for innovative solutions." However, she admitted changing the education system is a long process. She encouraged companies to drive collaboration between local and international talent.
Corporate-startup collaboration
As corporates encourage employees to develop an entrepreneurial mindset, there is increasing collaboration with startups. Kosby shared his experience in working with startups through different programmes within his organization. He noted that the two key programmes – the DBS Accelerator program and the DBS Startup Xchange – are designed to invite entrepreneurs to work with the bank to solve real-world problems. At the same time, their staff can learn how entrepreneurs work. With DBS providing funding to their staff to conduct proof-of-concept ("POC"), he commented that the key is to "encourage them to learn from failures." 
Learning from the real world
Echoing Rachel's earlier observation, Raymond believed that placing employees or students within multicultural settings can help to drive entrepreneurship and creativity. He explained that PolyU creates a Startup Immersion and Internship Program, to provide students an opportunity to go through a 7-week program under a multi-cultural environment with other universities, including Shenzhen University. This also provides a team-based environment for students to collaborate with each other in the Greater Bay Area. "What they learned in university is very important, but they need to apply their skills and knowledge. We want to put them in the real world," said Raymond.
Entrepreneurship is a journey
Anvil noted that becoming entrepreneurial is a long journey, which is not only about getting funding. Instead of just providing capital, HKSTP has mapped an entire journey for a startup from ideation and incubation to collaboration with the business community and working with venture capitalists. Ng shared the experience of HKSTP's program of building their VC pool and setting up their investment vehicle.
Entrepreneurship's challenges under COVID-19: We need to step out of our comfort zones
Under times of digitization, it would provide more opportunities for businesses to utilize online tools and platforms. Speakers agree that such changes have urged traditional corporates, education sectors, as well as the public to step out of their comfort zones.
To reboot the startup ecosystem under COVID-19, Rachel mentioned that stakeholders especially educators, government, and businesses should join forces to explore new projects that can help people to live sustainably. Anvil believes that this pandemic will allow corporates to "rethink how to link up start-ups with great potential."
For corporates, Kosby thinks that the impact of the pandemic would allow them to provide more space to reflect from their failures. It may be a good time for corporates to provide a safe space to create an innovative mindset. "We need to give more exposure to our employees and more tolerance for them to experiment more. As a corporate, we can run more programs."
Raymond added a point that the pandemic may create a paradigm shift in the tertiary level to adopt more online training strategies. It creates more barriers for schools to train entrepreneurs face-to-face. But at the same time, it would create more opportunities for students to connect with international incubators through the online platform. 
"We need more tolerance for ambiguity and experimentation and a lot more patience for trying new things."
In the roundtable session, a question was raised on what is missing in HK's current startup innovation ecosystem to be a truly leading hub. Rachel suggested that Hong Kong needs a cultural shift to encourage more innovative startups, instead of pursuing efficiency.
Another question is about how the government can be more proactive in driving innovation. Rachel pointed to the government procurement system as an example where there have been calls for better support for local innovation. Now, there is a chance for the government to take the lead to be "more receptive and to encourage innovative suggestions," said Rachel.
From the 3 panel discussions, we can see the community's confidence in innovation and building a stronger startup ecosystem. We are very thankful to all of the speakers and participants who shared their thoughts. As one of the ecosystem builders, The Mills Fabrica is proud to join forces with our peers to promote Hong Kong as an innovation hub. Once again, big thank you to our partners for this year's event as well as everyone who has continued to support us.