Blog
Combating COVID-19 Series: Leading and Learning Through Uncertainty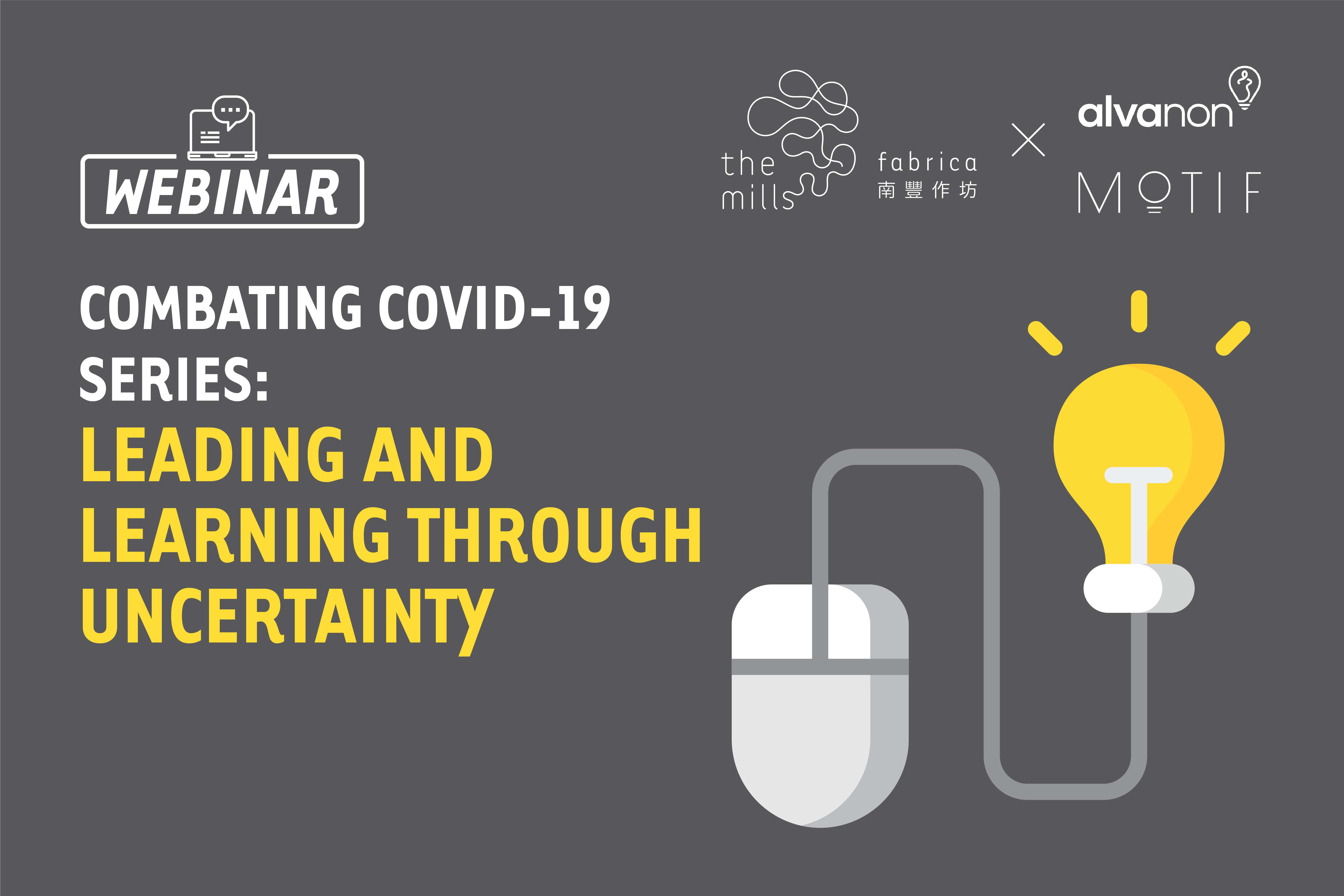 A conversation with Janice Wang, CEO of Alvanon and Catherine Cole, CEO of MOTIF
During the COVID-19 pandemic, remote working arrangements have emerged at scale given the various measures deployed to limit virus transmission through close contacts. This poses a significant challenge for leaders to manage communication effectively. While embracing the shift in business communication using digital tools, companies are rethinking ways to transform their business models to strive for survival and adapt to new demands. In this process, it is important to equip an organisation's human capital, the employees, with the right tools and knowledge to build capabilities for the future.
In the "Leading and Learning Through Uncertainty" webinar on April 16, 2020, Janice (CEO of Alvanon) and Catherine (CEO of MOTIF) shared the importance of preserving and enhancing workforce capabilities to pull through tumultuous times while continuing to innovate.
1. Review existing business structure
Disruption in business operations provides an opportunity for business to review their own internal weaknesses. Survival is about long-term planning with existing resources. For the whole company to proceed together, it is essential for management to retain human capital and establish a mindset of protecting the workforce by providing them with the best set of skills and opportunities to move forward. Janice advises that in the current situation, management should think about going digital to minimize redundant processes and review the available technical skills to execute the changes.
2. Engage employees in the process of change
Identifying inefficiencies in the company workflow is the top priority in survival strategy planning. Using a bottom up approach, leaders and managers can find out the needs at a localized level, especially as employees on the job are the ones who are most familiar with the day-to-day difficulties.
Since its establishment in 2001, Alvanon has evolved through creating a collaborative culture where senior management discusses openly with employees about the company's vulnerabilities and their vision for the future. Alvanon's management embraces employee empowerment and encourages them to share about their skill sets and how to use these skills to transform processes throughout the value chain. It is important to listen to employees' ideas and needs and for managers to offer guidance, supplementing the change instead of directly instructing the team what to do.
3. Assist employees with online learning tools
As leaders and managers, it is important to build the future by leveraging employees' skillsets while equipping them with new skills to adapt to the digital world. Providing access to online learning tools is one of the most effective ways to achieve this.
Janice highlights how Alvanon helps their employees to transfer their skill set from 2D manual work to making 3D programming tools – online training courses on 3D transformation and how to run a Fit Session virtually are becoming increasingly relevant for the fashion industry. This is an example of how Alvanon invests in their people for a longer-term practice in sustaining the business.
Note: In her latest blog post, MOTIF's CEO, Catherine Cole examines how empowering teams with online training can help maintain productivity, enhance processes and boost morale in tumultuous times. You may refer to the blog post for further insights.
Disclaimer
This webinar conducted in zoom and the information, statements, analysis, views, opinions and conclusions contained in this Webinar PowerPoint deck and any related materials have been prepared, compiled or provided by "The Mills Fabrica" (which expression covers those corporate entities include The Mills Limited, Fabrica Incubator Limited, The Mills (BVI) Limited and their subsidiaries, affiliates or partners) as a service to its members/site visitors/readers. They are not intended to constitute advice of any kind or the rendering of legal, consulting or other professional services.
All content found on this Webinar PowerPoint deck and related materials including figures, tables, charts, texts, images, audio, recording or other formats were created for information purposes only. They are meant to provide insights, and are general in nature, and the opinions or recommendations expressed in the Webinar PowerPoint deck are those of the authors only and may not necessarily represent the views of The Mills Fabrica.
All rights reserved. No part of any statement made in the course of this Webinar presentation PowerPoint deck may be used, reproduced, distributed or transmitted in any form or by any means, including photocopying, recording or other electronic or mechanical methods without the prior written consent of The Mills Fabrica.
Although The Mills Fabrica believes that all these information, both written and oral, given in the course of or in connections with the Webinar presentation PopwerPoint deck are correct and up to date, no warranty or representation or accuracy or suitability or reliability as to such presentation is given and no responsibility or liability is accepted by The Mills Fabrica or by any of its agents, directors, employees or by any person giving presentations or providing materials in respect of any loss, claims, costs or expenses, including indirect or consequential damages or lost profit, arising in any way from or in connection with errors or omissions in any information provided. The Mills Fabrica reserves the right to amend the information and the presentation at any time without notice.
The Webinar PowerPoint deck may include links to other resources and websites. These links are provided for convenience only and The Mills Fabrica does not endorse, approve or make any representation or claim regarding their accuracy, copyright, compliance or legality. Nor does it warrant the performance, effectiveness or applicability of any listed sites or links in the Webinar PowerPoint deck.
By acceding to this service or accessing this zoom webinar, you acknowledge and agree that The Mills Fabrica disclaims any and all liability to you or any person for any direct, indirect, implied, punitive, special, incidental or other consequential damages arising directly or indirectly from any access to or participation in or use of the information contained in the Webinar PowerPoint deck.
Registration for a Webinar only constitutes an agreement to attend or participate, but not a contract for consultancy or advice. Registration does not establish any contractual relationship with The Mills Fabrica.