Blog
Driving for Circularity: Collaborating for Industry Impact Report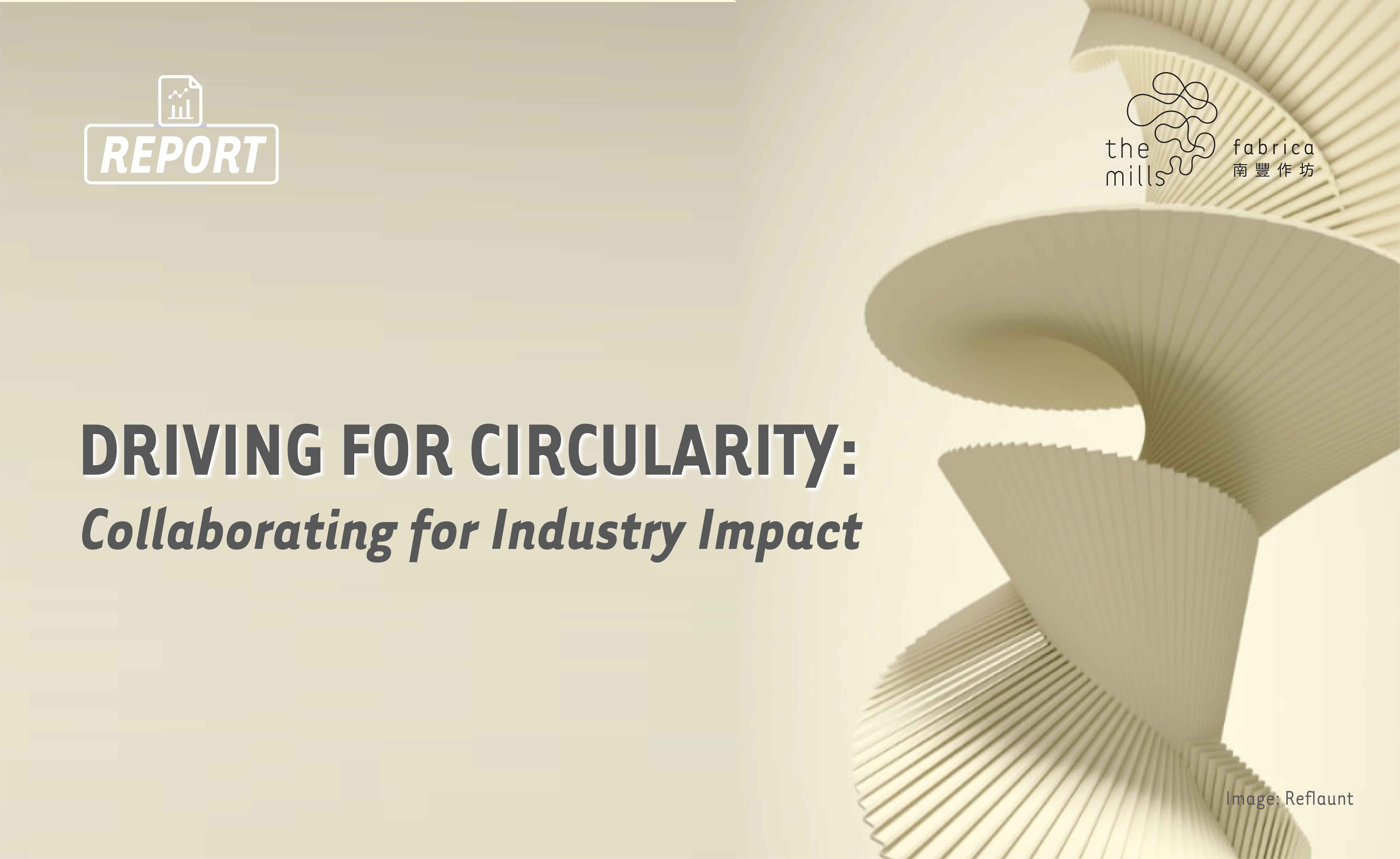 Circularity has emerged as the theme of our times. The COVID-19 pandemic has bolstered the awareness of resilience and sustainability. Companies are exploring alternative materials and circular models as they prepare for the future – the momentum is rising and it is important to drive for wider impacts through industry collaborations.
In this report, The Mills Fabrica looks at circular economy in the context of the apparel industry. We identify the drivers and barriers behind the phenomenon, supported with case studies from brands and innovators around the world. As we delve into the details, we recognise that it takes concerted efforts from the community to transition to a circular economy from the take-make-dispose model.  
Circular fashion gains traction
More apparel brands and retailers are adopting circular practices to alleviate the impacts of the fashion industry on the environment. These include re-commerce models of rental and resale, recycling, alternatives to fossil fuel-based materials and regenerative agriculture. Existing innovations therefore cover the whole value chain, from the cultivation of raw materials to the post-consumer stage.
As the European Union adopted the Circular Economy Action Plan last year that aims to make sustainable products mainstream, more initiatives are expected to come from companies large and small to make fashion circular.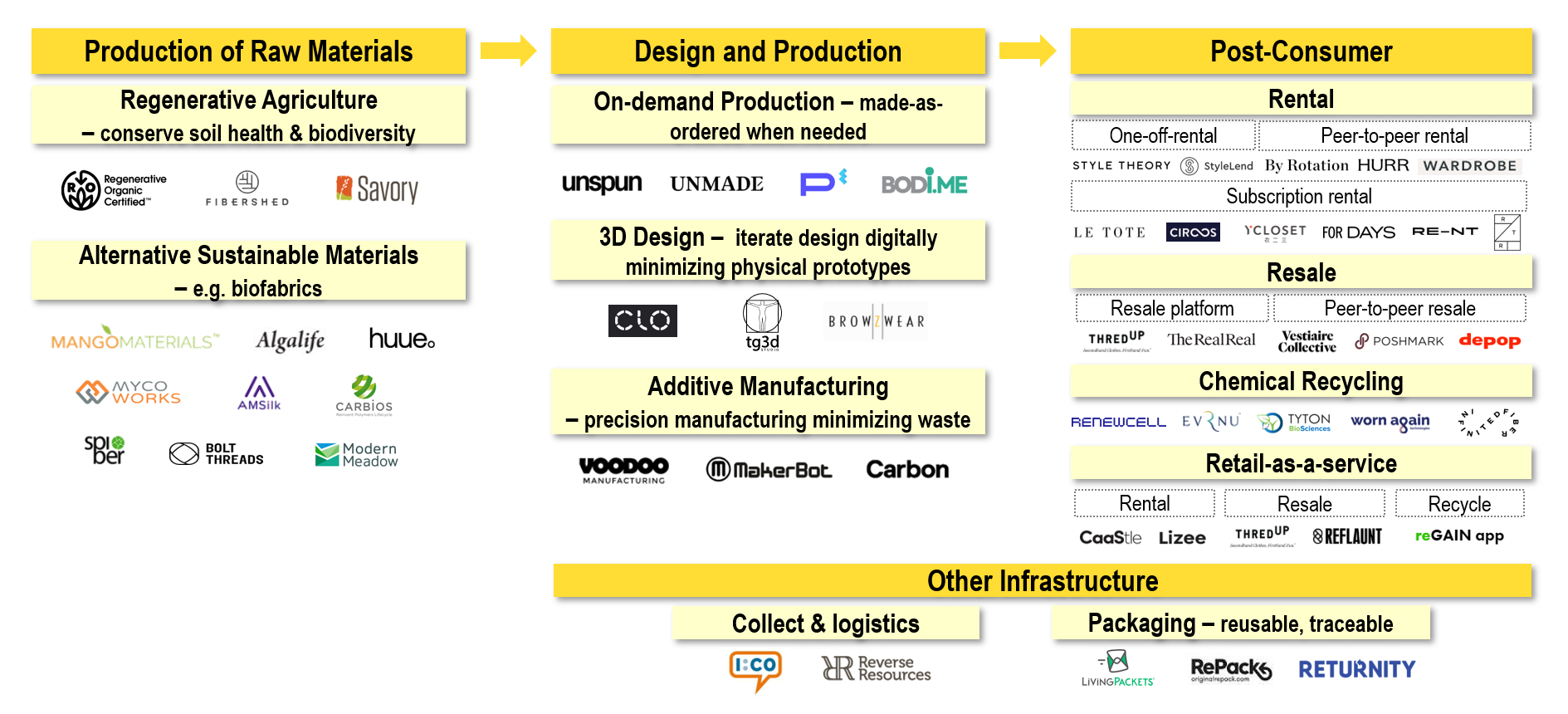 Figure 1. Innovations making fashion circular
Financial, infrastructure and socio-cultural barriers still exist
Despite the traction, barriers still exist that are hindering the transition to a circular economy. The alternative materials and circular business models must make economic sense; it also requires financial support to start and scale up new innovations. In terms of infrastructure, manufacturing design, collection, sorting and recycling facilities need to be coordinated to facilitate a closed-loop production. And it falls on the government and our community to create incentives and raise awareness that lead to behavioural changes.

Figure 2. Barriers hindering the transition to a circular economy
More private-public partnerships are being formed to overcome the barriers. For example, the European Union-funded New Cotton Project brings together innovators, manufacturers and brands to trial a circular model for textile waste over a three-year period since last year. These initiatives help trial new innovations fast and bring about economies of scale from increasing industry participation.
Collaborating for wider impacts
We need more pilots and collaborations to drive circularity forward. Pilot opportunities help to validate and test new disruptive technologies with the industry and consumers. Well-known industry examples include Renewcell, a Swedish textile recycling company and Impossible Foods, a US plant-based meat company, who both grew from successful pilots to fostering partnerships that scaled up their operations. Beyond pilots, wider collaboration initiatives are helpful in addressing collective industry challenges. There are three common types of collaborations worldwide: working groups, innovation sourcing and pilots with innovators – uniting important stakeholders to resolve common industry challenges.

Figure 3. Three types of collaborations driving circularity
Looking ahead
The report has highlighted three projects that show traction of circularity in Hong Kong: the G2G Recycle System, the Novetex Upcycling Factory and the New Life Plastics JV. Although the industry has come a long way, more can be done to drive circularity in Asia and our home city of Hong Kong by learning from experience and taking note of global examples. The shift to a more circular economy requires the combined efforts of different stakeholders to identify key challenges and launch industry pilots. Our hope is that this report will serve as an inspirational guide and action-driven playbook for the industry.
To learn more, please download the full report of Driving for Circularity: Collaborating for Industry Impact.
Disclaimer
This information, statements, analysis, views, opinions and conclusions contained in this PowerPoint deck and any related materials have been prepared, compiled or provided by "The Mills Fabrica" (which expression covers those corporate entities include The Mills Limited, Fabrica Incubator Limited, The Mills (BVI) Limited and their subsidiaries, affiliates or partners) as a service to its members/site visitors/readers. They are not intended to constitute advice of any kind or the rendering of legal, consulting or other professional services.
All content found on this PowerPoint deck and related materials including figures, tables, charts, texts, images, audio, recording or other formats were created for information purposes only. They are meant to provide insights, and are general in nature, and the opinions or recommendations expressed in the Webinar PowerPoint deck are those of the authors only and may not necessarily represent the views of The Mills Fabrica.
All rights reserved. No part of any statement made in the course of this presentation PowerPoint deck may be used, reproduced, distributed or transmitted in any form or by any means, including photocopying, recording or other electronic or mechanical methods without the prior written consent of The Mills Fabrica.
Although The Mills Fabrica believes that all these information, both written and oral, given in the course of or in connections with the PowerPoint deck are correct and up to date, no warranty or representation or accuracy or suitability or reliability as to such presentation is given and no responsibility or liability is accepted by The Mills Fabrica or by any of its agents, directors, employees or by any person giving presentations or providing materials in respect of any loss, claims, costs or expenses, including indirect or consequential damages or lost profit, arising in any way from or in connection with errors or omissions in any information provided. The Mills Fabrica reserves the right to amend the information and the presentation at any time without notice.
The PowerPoint deck may include links to other resources and websites. These links are provided for convenience only and The Mills Fabrica does not endorse, approve or make any representation or claim regarding their accuracy, copyright, compliance or legality. Nor does it warrant the performance, effectiveness or applicability of any listed sites or links in the PowerPoint deck.
By accessing this PowerPoint deck, you acknowledge and agree that The Mills Fabrica disclaims any and all liability to you or any person for any direct, indirect, implied, punitive, special, incidental or other consequential damages arising directly or indirectly from any access to or participation in or use of the information contained herein.