Events
Combating COVID-19 Series: Managing Supply Chain in Challenging Times
Join us at the webinar for a fireside chat with Edwin Keh, CEO of the Hong Kong Research Institute of Textiles and Apparel (HKRITA).
The COVID-19 outbreak has put pressure on supply chains globally, exposing the vulnerabilities of the current model, from supply to production, distribution and retail. How can businesses react to minimize disruptions to business operations and capture new opportunities?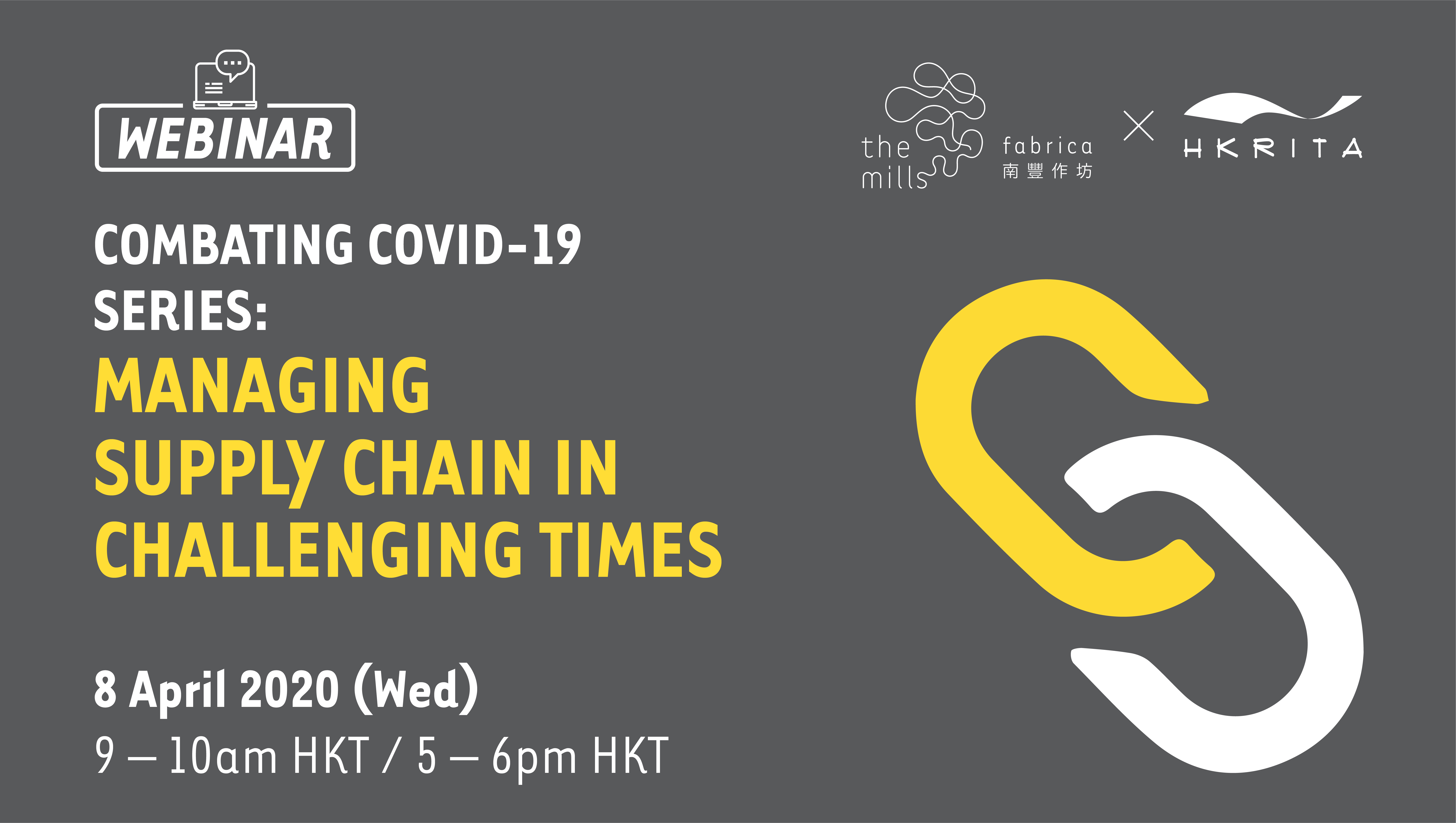 Details:
Date: 8 April, Wednesday
Session A: 9-10am HKT (April 7, Tuesday, 6-7pm PDT);
OR
Session B: 5-6pm HKT (10-11am GMT)
Ticket: Free of Charge
* Webinar will be conducted in English with Q&A section
– – – – – – –
In this webinar, you will learn about:
The current challenges for global supply chains brought about by the COVID-19 pandemic
The impact of the imbalance in market supply and demand
How businesses along the supply chain can work together to capture new opportunities
What the industry can learn from the current pandemic situation
– – – – – – –
What you will need to do:
Register now to get the zoom link!
Get your zoom app installed and laptop ready as we will share our presentation slides over the webinar
How to ask questions during the webinar: type it on Zoom chat or send an email to maggie.luk@themills.com.hk
– – – – – – –
Speaker:
Edwin is the CEO of the Hong Kong Research Institute of Textile and Apparel (HKRITA). He is also on Faculty at the Wharton School, University of Pennsylvania and at the Hong Kong University of Science & Technology. He teaches supply chain operations.
Until April 2010 Edwin was the SVP COO of Walmart Global Procurement. Prior to Walmart Edwin managed a consulting group that worked on supply chain, manufacturing, and product design for NGOs, charities, as well as commercial clients.
Edwin managed sourcing at Payless Shoes, Donna Karan International, Country Road Australia, Abercrombie & Fitch and Structure stores. Prior to graduate school he worked for the United Nations High Commission for Refugees.
Edwin serves on the Board of Whittier College, CA, and is on the advisory board of multiple social enterprises, and NGOs.
Edwin holds multiple IPs for inventions at HKRITA. His projects have won several Global Invention Awards.
2019 Edwin was the "Innovative Retailer of the Year" Inside Asia.
2018 & 2019 Edwin was on the Expert Panel of H&M Foundation's Global Change Award.
Edwin is in Debrett's "100 Most Influential People in Hong Kong".
Edwin was the 2011 recipient of the Production and Operations Management Society's Excellence in Production and Operations Management Practice Award.
Recap video: https://youtu.be/_Rw8RGW4pv8