Events
Combating COVID-19 Series: Retail Tech To Manage Inventory In Uncertain Times
COVID-19 quarantines have shuttered and delayed supplies all over the world, disrupting the supply chain and business operations. With the uncertain epidemic development, better inventory control and strategy is critical for businesses to be more resilient.
Jointly organized by The Mills Fabrica, Chain of Demand and Reflaunt, this webinar will focus on retail tech to combat COVID-19 in terms of inventory management by minimizing supply chain disruptions through data forecasting and managing unsold inventory through post-consumer tech.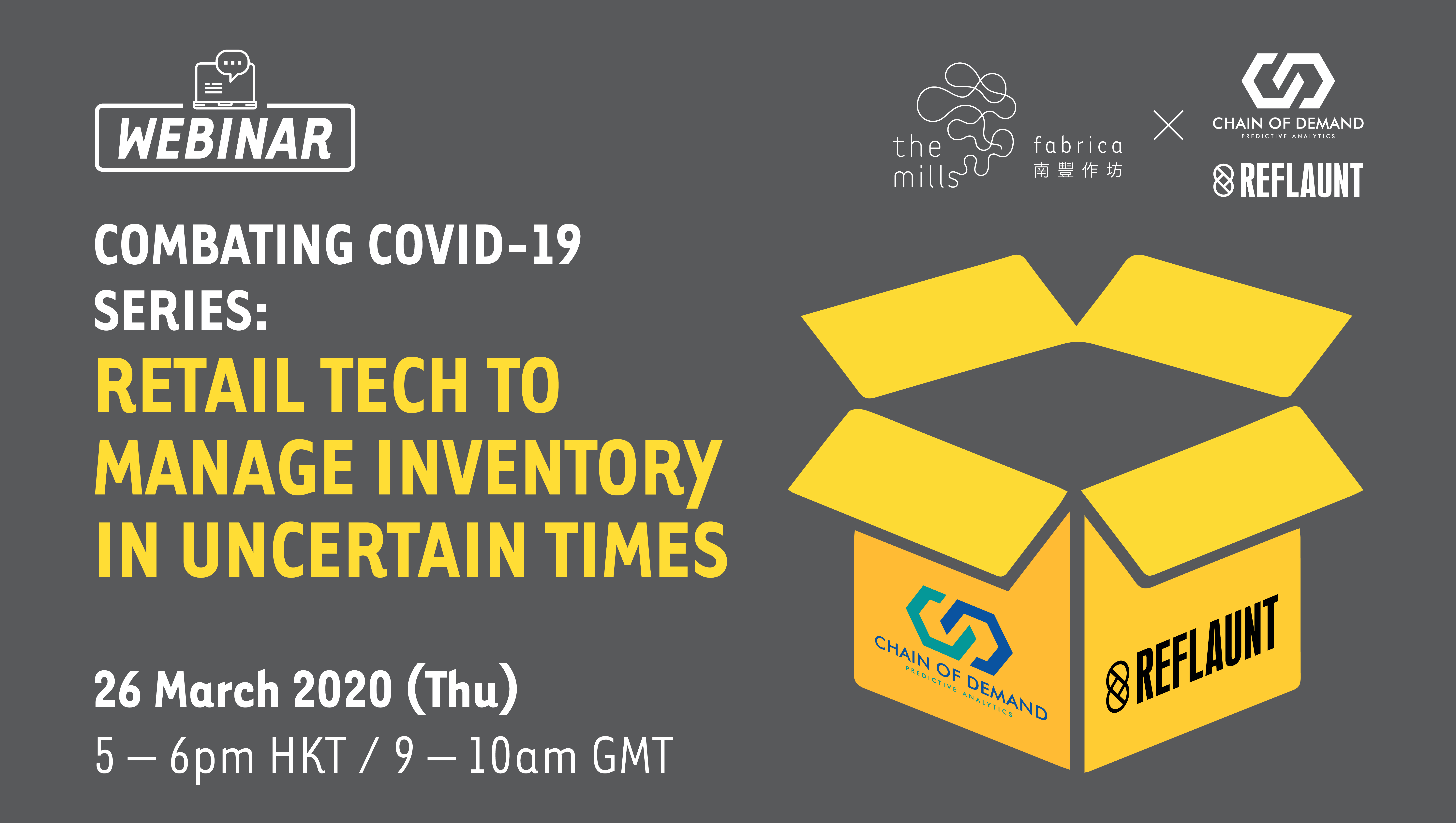 Details:
Date: 26th March 2020 (Thursday)
Time: 5pm – 6pm HKT / 9-10am GMT
Ticket: Free of Charge
* Webinar will be conducted in English with Q&A session
– – – – – – –
In this webinar, you will be hearing from:
Chain of Demand which offers SAAS platform to analyze and predict market demand for the fashion industry, allowing brands and retailers to minimize inventory risk and maximize margins.
Reflaunt which creates a technology platform to bring "reselling as a service" for brands and help their users se products on multiple marketplaces without ever leaving the brand's website and repurchase with digital shopping credits.
– – – – – – –
What you will need to do:
Register now to get the zoom link!
Get your zoom app installed and laptop ready as we will share our presentation slides over the webinar
How to ask questions during the webinar: type it on Zoom chat or send me an email at maggie.luk@themills.com.hk
Recap video: https://youtu.be/_DJykolNq1s