Media Centre
Nan Fung & The Mills Announce the Winners of the 5 Focus Area Awards at HKUST-Sino $1M Dollar Entrepreneurship Competition 2018
Nan Fung and The Mills are excited to announce the 5 Focus Area Award winners at the finals and prize-giving dinner of the HKUST-Sino $1M Dollar Entrepreneurship Competition 2018.
The awards follows a partnership of Nan Fung/ The Mills with HKUST for a sponsorship of $300K HKD for HKUST's annual entrepreneurship competition where $200K HKD is dedicated towards supporting 5 Focus Area Awards. The prize winners of the 5 Focus Area awards are as follows:
Nan Fung Life Sciences/ Health-tech prize ($50K HKD): Mamosound
Nan Fung Smart City prize ($50K HKD): Miscato Limited (Aromeo Diffuser)
The Mills Fabrica Techstyle & Design prize ($50K HKD): WOLO Health Detection System
Nan Fung Social Innovation prize ($25K HKD): Mamahelpers
The Mills Sustainability prize ($25K HKD): Sinocore Biotechnology Limited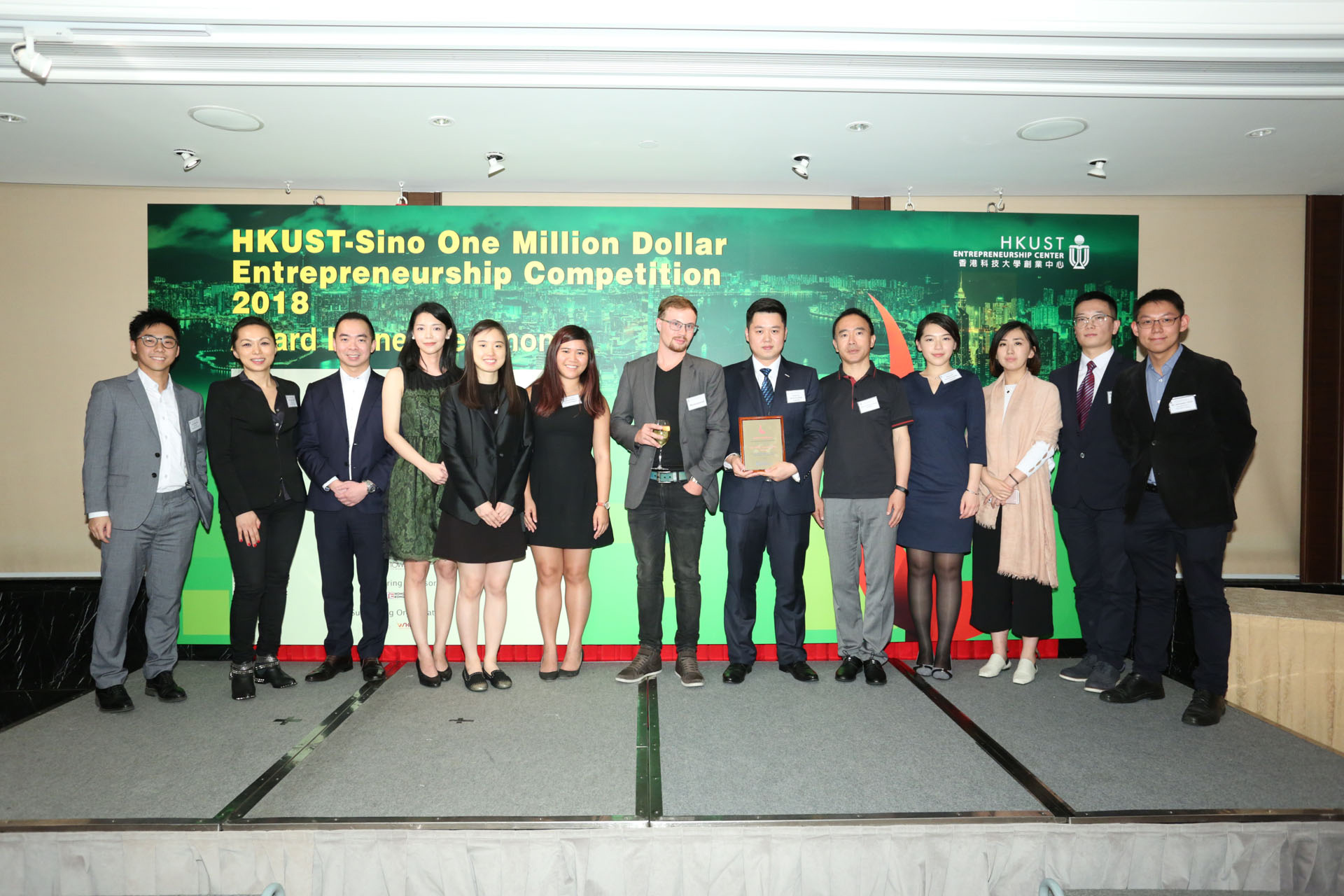 (From left to right) Billy Hui, director of group CEO's office of Nan Fung Group; Carine Pin, co-director of The Mills Fabrica; 5 Focus Area Awards winners: Miscato, WOLO Health Detection, MamaHelpers, Mamosound, Sinocore Biotechnology; Alexander Chan, co-director of The Mills Fabrica
Nan Fung Life Sciences/ Health-tech prize: Mamosound is a portable breast cancer detection device enabling healthcare service to be offered to grassroots women at a lower cost. The team were also winners of the Hong Kong Techathon 2018 as well as the Good Seed Social Innovation Challenge and HKUST YWY Entrepreneurship Center Award and has already launched their beta prototype in 5 clinics throughout Hong Kong.
Nan Fung Smart City prize: Miscato has designed an IoT aromatherapy solution for in-room hospitality guests through their product Aromeo Diffuser that allows for customization, automation and value-added aroma delivery of scents based on one's mood, from matching one's feeling with the aroma, to scheduling the scent diffusion. The project has been piloted with New World Group and Sino and is also backed by Hong Kong-X Tech platform.
The Mills Fabrica Techstyle & Design prize: WOLO Health Detection is a child health detection system for parents that enables parents to monitor their children's health status remotely. The product consists of temperature rings, a wearable health monitoring device and an app and they were also the National winner of The James Dyson Award 2017 (international design award for design engineering).
Nan Fung Social Innovation prize: MamaHelpers is the largest and fastest-growing domestic helper network in the world that connects domestic helpers, employers and agencies together, helping out the large community group in Hong Kong that often goes unnoticed. To date, the platform has 150K+ registered foreign domestic helpers and connects with more than 50 agencies and training schools worldwide, boosting an average of more than 3,000 daily active users. The project is also funded by the Cyberport Creative Micro Fund.
The Mills Sustainability prize: Sinocore Biotechnology aims to promote sewage sludge treatment worldwide, a market which is estimated to be worth 190bn RMB by 2020, by converting sewage treatment into high-grade fertilizers. The project uses technology based on more than 15 years of R&D.
Overall, Nan Fung and The Mills are impressed with the passion and achievements of the HKUST teams and look forward to continue working with them, offering opportunities such as showcasing at our future events. More importantly, we sincerely hope that the Focus Area Awards can encourage greater diversification in innovation especially in those key areas that we are supporting. Once again, huge congratulations to all the teams and we hope that the students can continue to take the spirit of innovation forward in their future endeavours.