Blog
Techstyle Impact Playbook – Strategies & Measurement Tools For Fashion and Food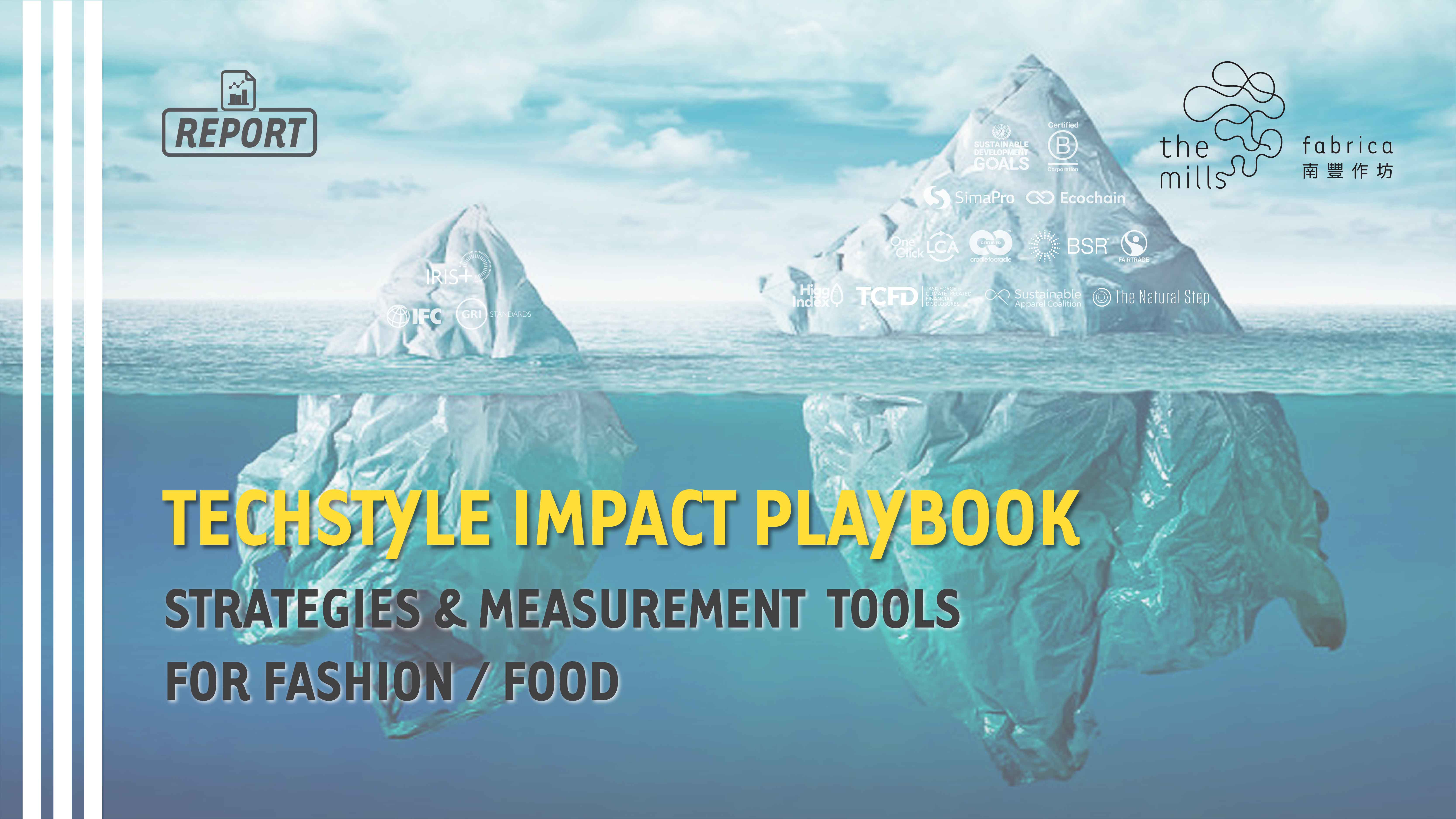 Environmental, Social and Governance (ESG) standards have grown in popularity with increasing consumer consciousness and regulations. COVID-19 has also played a huge role in accelerating the integration of ESG initiatives into business strategies.
We are excited to launch the "Techstyle Impact Playbook – Strategies & Measurement Tools" focusing on the fashion and food industries. This playbook acts as a starting guide for startups and corporates to create ESG goals, define their strategy and measure their impact, while offering advice for investors to effectively evaluate and communicate their portfolio's impact. We also identify the key assessment tools, resources, and impact investors to help kickstart your impact measurement journey.
Full Report and access a list of key impact investors

3 steps to impact measurement and communication
The report shares about 3 key steps in thinking about impact strategy, measurement and communication.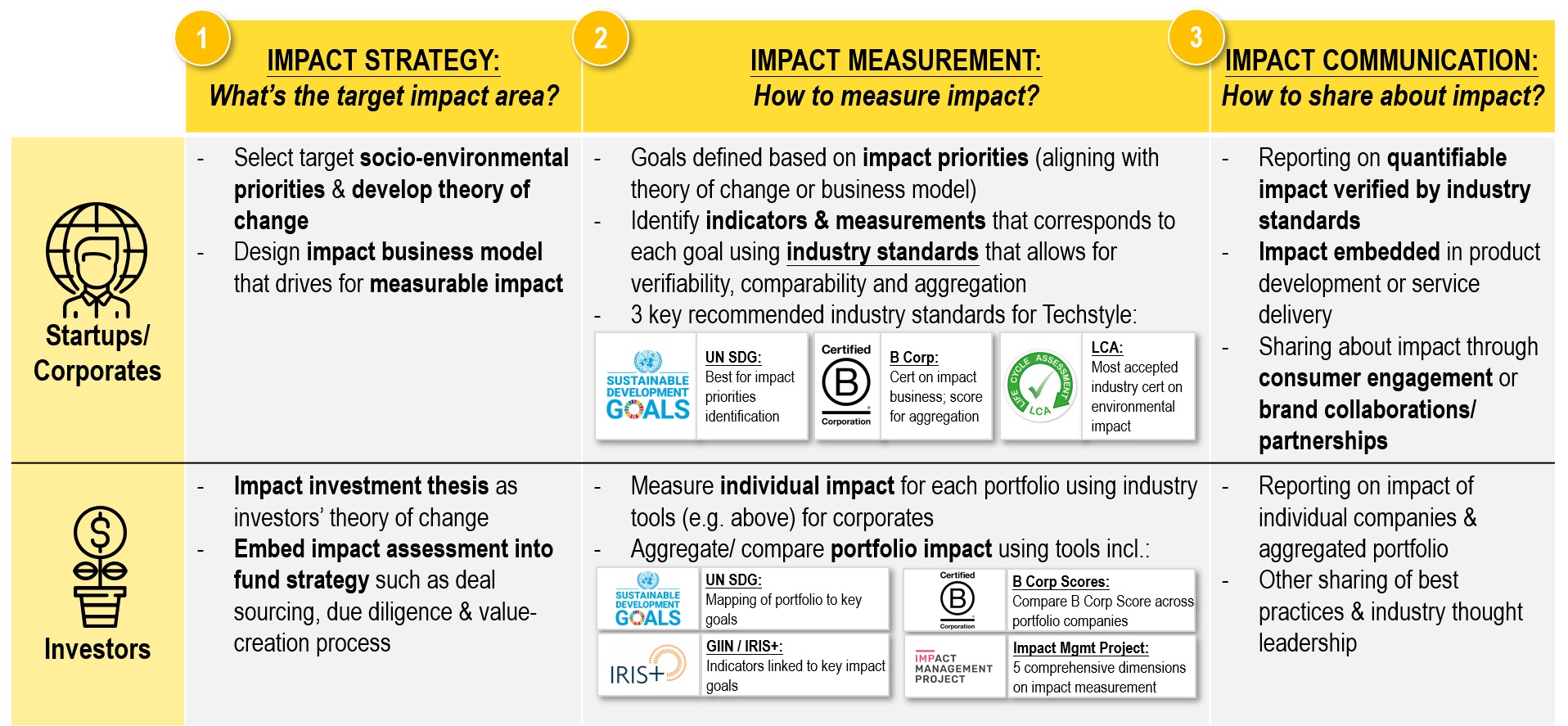 Figure 1. Three important steps for impact measurement and communication
1. Defining Impact Strategy: What's the target impact area?
Identifying the target impact area helps companies navigate their purpose to develop a theory of change process, embed impact into the businesses model, collect data to measure impact and improve services.
For investors, ESG impact evaluation starts from a well-defined sustainability focused investment thesis, followed by due diligence. It is also important for investors to consider how they can support and help companies drive for impact by using data collected in decision making, risk mitigation and impact maximization.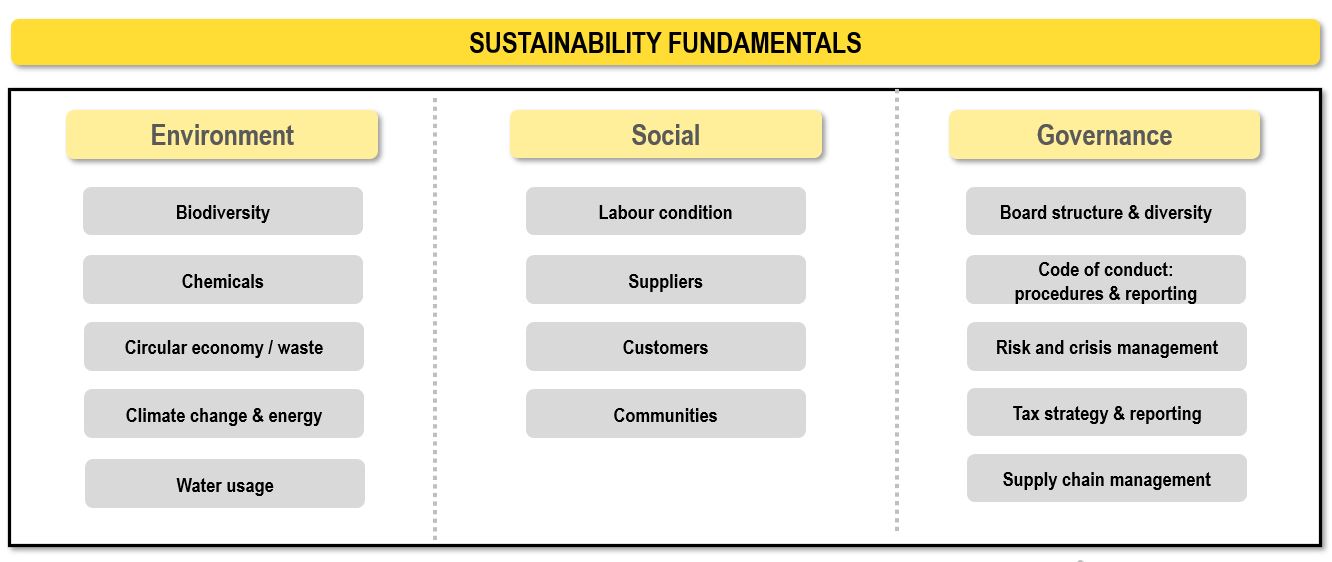 Figure 2. Range of sustainability impact areas across ESG that companies can focus on
(Source: CFDA Guide to Sustainable Strategies, MSCI, SPG Global)

2. Impact Measurement: How to measure the impact?
Understanding why we measure ESG and who to share ESG reporting with is always the starting point of business impact measurement. It helps businesses to further analyze stakeholders' demands, identify appropriate metrics and monitor ESG outcomes throughout the impact measurement process.
It is important to understand what you want to measure for your business, as there are many measurement tools existing in the landscape. Companies should choose the tool that best fits their business models and objectives.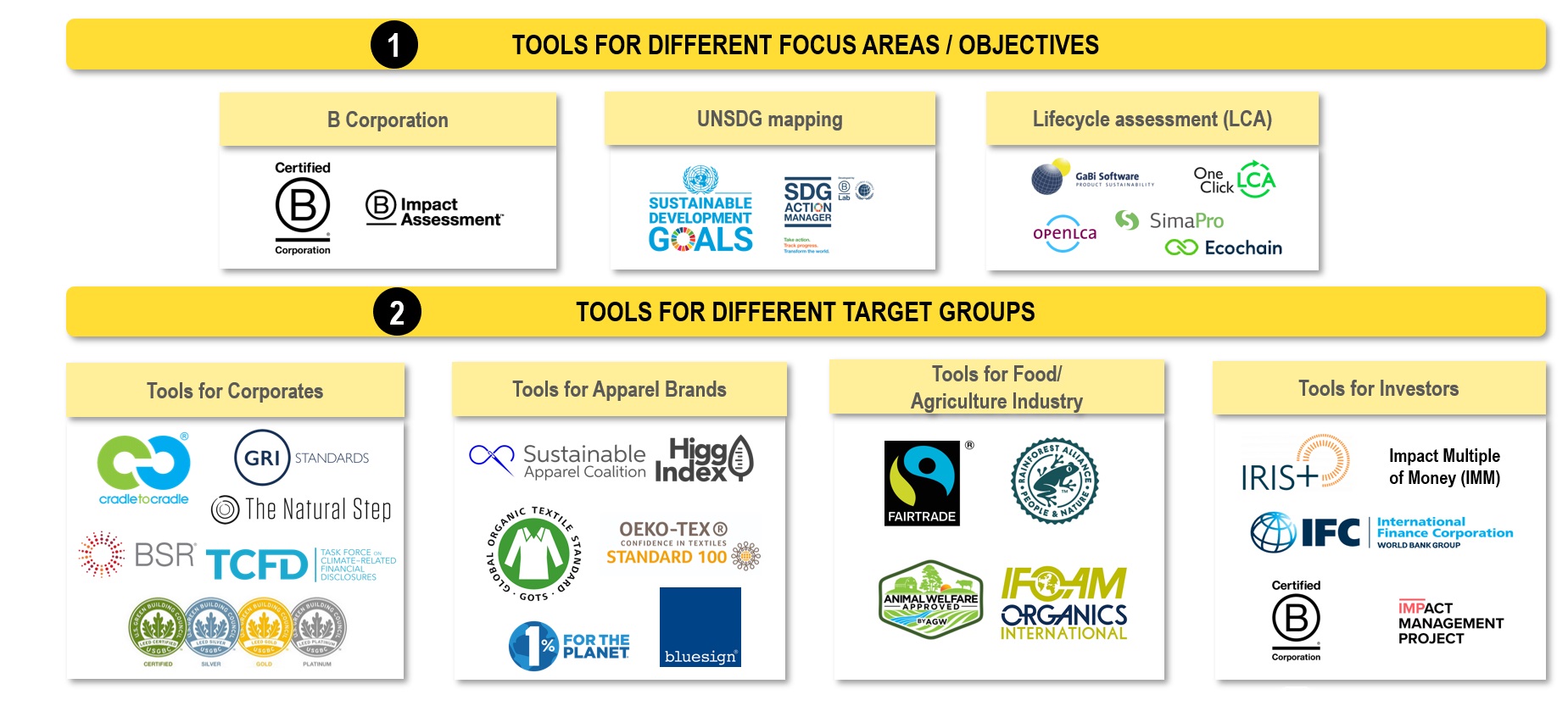 Figure 3. Measurement tools in the landscape
Amongst various standards, 3 key tools stand out for techstyle startups and corporates to get started on impact strategy & measurement: 1) B Corporation, 2) United Nations Sustainable Development Goals ("UNSDG") Mapping, and 3) Lifecycle Assessments. In this report, you can see the comparison between these three impact measurement tools in terms of key impacts, application processes and case studies.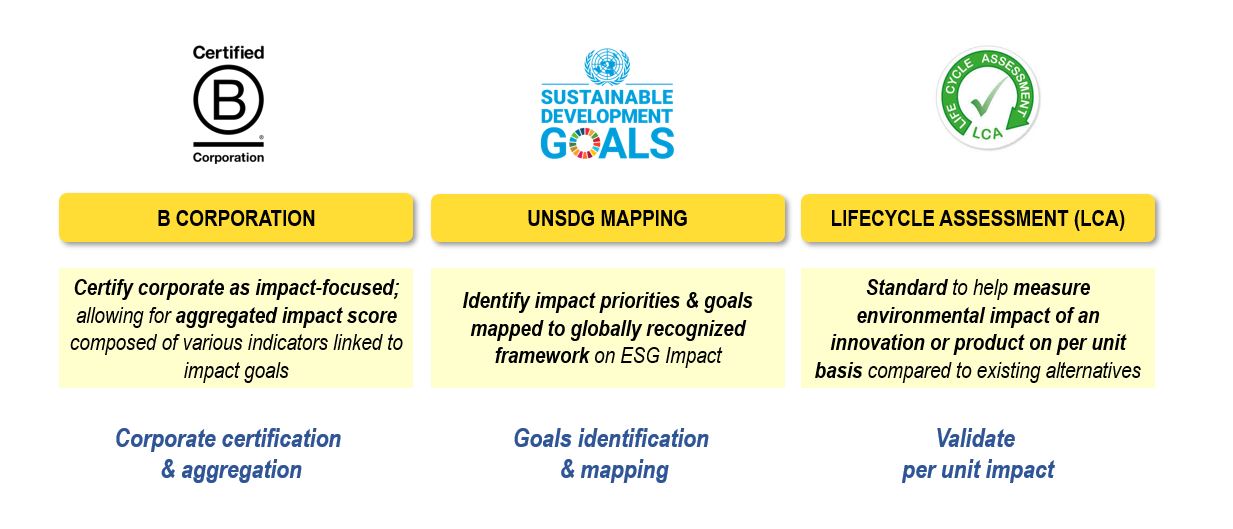 3. Impact communication: How to share about impact?
Increasing customers' consciousness on sustainability accelerates the need for brands to communicate their impact strategy & initiatives. Large brands, especially the publicly listed ones, usually work on ESG initiatives for public reporting to respond to investors and customers' greater scrutiny. While for SMEs, their impact is typically more financially driven in order to attract funding from impact investors or pilot opportunities with brands.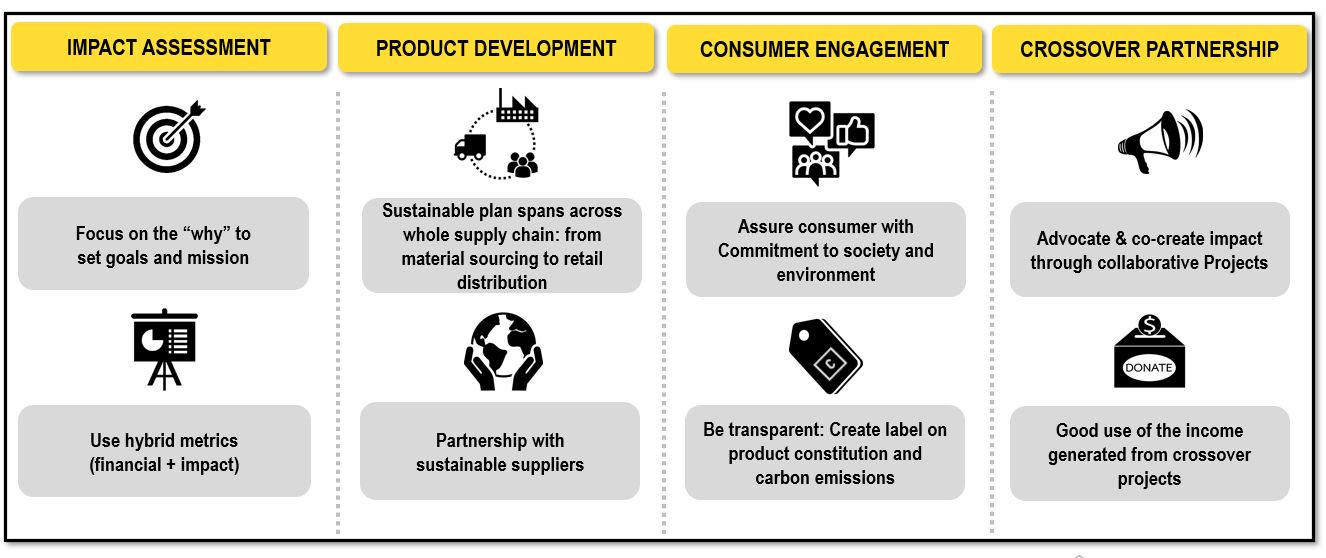 Figure 4. Key areas to communicate sustainability to the world
(Source: Fabrica analysis)
Companies can communicate their impact with consumers or partners in 4 main methods: impact measurement, product development, consumer engagement, and crossover partnership. In this report, we have illustrated the concept with case studies of several sustainability focused brands: Allbirds, Ben & Jerry's, Patagonia, PepsiCo and Bain Capital Double Impact.
In the appendix, we also list out the different impact assessment tools, resources and impact investors.
If you are interested to find out more, please download the full report of the Techstyle Impact Playbook.
Disclaimer
This information, statements, analysis, views, opinions and conclusions contained in this PowerPoint deck and any related materials have been prepared, compiled or provided by "The Mills Fabrica" (which expression covers those corporate entities include The Mills Limited, Fabrica Incubator Limited, The Mills (BVI) Limited and their subsidiaries, affiliates or partners) as a service to its members/site visitors/readers. They are not intended to constitute advice of any kind or the rendering of legal, consulting or other professional services.
All content found on this PowerPoint deck and related materials including figures, tables, charts, texts, images, audio, recording or other formats were created for information purposes only. They are meant to provide insights, and are general in nature, and the opinions or recommendations expressed in the Webinar PowerPoint deck are those of the authors only and may not necessarily represent the views of The Mills Fabrica.
All rights reserved. No part of any statement made in the course of this presentation PowerPoint deck may be used, reproduced, distributed or transmitted in any form or by any means, including photocopying, recording or other electronic or mechanical methods without the prior written consent of The Mills Fabrica.
Although The Mills Fabrica believes that all these information, both written and oral, given in the course of or in connections with the PowerPoint deck are correct and up to date, no warranty or representation or accuracy or suitability or reliability as to such presentation is given and no responsibility or liability is accepted by The Mills Fabrica or by any of its agents, directors, employees or by any person giving presentations or providing materials in respect of any loss, claims, costs or expenses, including indirect or consequential damages or lost profit, arising in any way from or in connection with errors or omissions in any information provided. The Mills Fabrica reserves the right to amend the information and the presentation at any time without notice.
The PowerPoint deck may include links to other resources and websites. These links are provided for convenience only and The Mills Fabrica does not endorse, approve or make any representation or claim regarding their accuracy, copyright, compliance or legality. Nor does it warrant the performance, effectiveness or applicability of any listed sites or links in the PowerPoint deck.
By accessing this PowerPoint deck, you acknowledge and agree that The Mills Fabrica disclaims any and all liability to you or any person for any direct, indirect, implied, punitive, special, incidental or other consequential damages arising directly or indirectly from any access to or participation in or use of the information contained herein.