Events
Meet Mr. Antony Leung: Leadership In A Novel Crisis
Join us for a special fireside chat with Mr. Antony Leung, CEO of Nan Fung Group at the "Leadership In A Novel Crisis" webinar on May 5.
From surviving COVID-19 to reimagining a new world in the post-pandemic era, how can leaders manage a crisis of this magnitude?
During this period of great uncertainty in terms of public health and economic climate, now is the time for leaders to think constructively about reshaping the future of their organizations.
We are delighted to be joined by Mr. Antony Leung who will be providing valuable insight on the topic of leadership in difficult times, leveraging his past experience in leading the government and financial institutions through crises including the SARS outbreak and global financial crisis. He will share about the lessons learned, implications of the current pandemic for businesses and how we can go about rebuilding our global economy.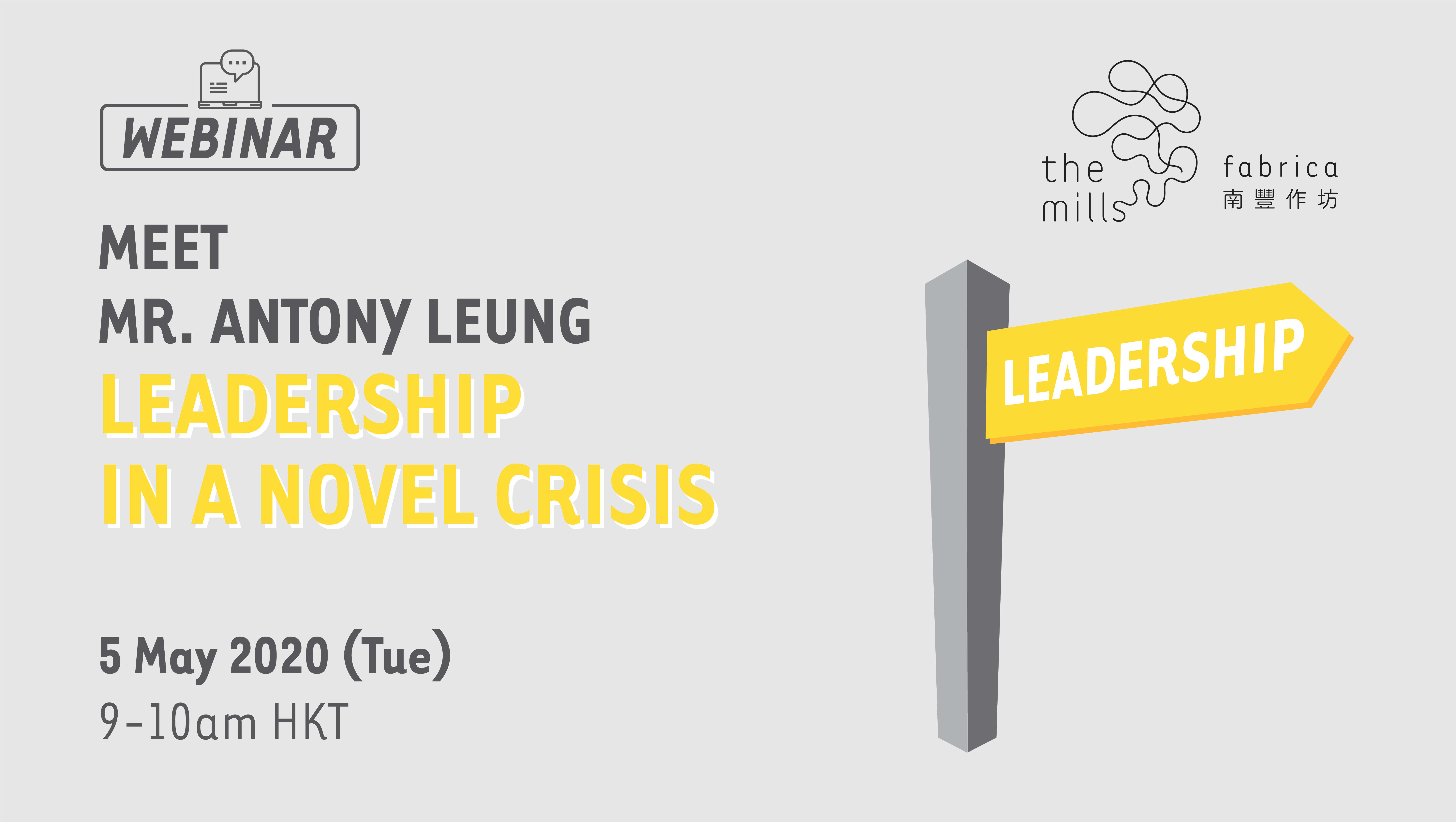 Details:
Date: 5th May 2020 (Tuesday)
Time: 9-10am HKT
Ticket: Free of Charge
* Webinar will be conducted in English with Q&A section
– – – – – – –
About Speaker:
Mr. Antony Leung, former Financial Secretary of Hong Kong Special Administrative Region, is Group Chairman & CEO of Nan Fung Group, a leading regional conglomerate focusing on property & investment businesses. He is also Group Chairman & Co-Founder of New Frontier Group, a group that engages in health care, elderly services and investment business in China. Concurrently, Mr. Leung is Independent Non-Executive Director of China Merchants Bank, Chairman of two charity organizations – Heifer Hong Kong and Food Angel.
Mr. Leung also has extensive experience in financial services, including Chairman of Greater China of Blackstone, Chairman of Asia of JP Morgan Chase, Asia Head of Citi Private Bank, Regional Head of Citi Investment Bank, Treasury and Greater China. In addition, he was Independent Director of Industrial and Commercial Bank of China, China Mobile (Hong Kong) Limited, American International Assurance (Hong Kong) Limited, International Advisory Board Member of China Development Bank and Chairman of Harvard Business School Association of Hong Kong. His past public service included Non-Official Member of the Executive Council, Chairman of Education Commission, Chairman of University Grants Committee, Member of Exchange Fund Advisory Committee, Director of Hong Kong Airport Authority and Hong Kong Futures Exchange, Member of the Preparatory Committee and Election Committee for the Hong Kong Special Administrative Region and Hong Kong Affairs Advisors.
– – – – – – –
What you will need to do:
Register now to get the zoom link!
How to ask questions during the webinar: type it on Zoom chat or send me an email at maggie.luk@themills.com.hk
– – – – – – –
Recap video: https://youtu.be/9wVMIYL-BzQ